Wildlife, Scenery, and Luxury: Experience an African Safari in Namibia in Southwest Africa
Popularised by countless celebrities and even royalty, the appeal of a luxury African safari holiday has risen exponentially in recent years.  What awaits travellers on this trip-of-a-lifetime is captivating wildlife encounters, the chance to explore majestic landscapes and the opportunity to stay at some extraordinary lodges nestled deep in remote wilderness.
Although destinations like South African and Kenya have long been championed as the ultimate luxury safari destinations there's a new contender on the block: Namibia in Southwest Africa.
The term 'awe-inspiring' is overused a lot nowadays but if there's one adjective that summarises this fascinating nation its just that. Namibia presents quintessential African beauty at every turn. Synonymous with breath-taking vistas and some of the planet's finest natural wonders, there's so much to see and do here and it can all be experienced in style.  If you're contemplating booking a Namibia luxury safari holiday, then read on below as we bring you our guide to the best places to explore on your magical adventure.
Breath-taking Areas of Nambia to Explore
Sossusvlei
Enticing thrill seekers and photography enthusiast alike, your luxury Namibia safari itinerary simply must include a visit to the famous Sossusvlei. Here, mighty sand dunes dictate the terrain, as well as unusual plants that survive despite the harsh and arid conditions.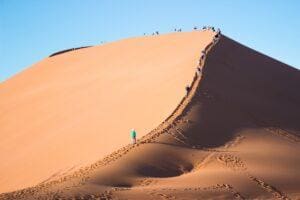 Amongst the many stunning attractions in this region are the Sesriem Canyon, Dune 45 (the most photographed Dune in the world) and Big Daddy. Big Daddy is the biggest dune in the Sossusvlei, only dwarfed by the Namib's Dune 7, which ranks amongst one of the largest sand dunes in the world.
Here visitors will also encounter Deadvlei, a petrified forest that looks as though it's been frozen in time.
The best time to visit Sossusvlei is in the Spring or Autumn, when milder temperatures make it more comfortable for exploration and clearer skies make for better snaps. Luxury activities that can be enjoyed in the region include glamourous hot air balloon rides whilst Sossusvlei houses some of Namibia's most exclusive lodges.
Damaraland
Namibia is one of the most sparsely populated nations on the planet, making it the ideal destination for those seeking serenity and an escape from the tribulations of everyday life. For peace, solitude and luxury in abundance, head to remote Damaraland in the Northwest Kunene region.
As soon as you arrive (most commonly via a private plane) you'll be greeted by some astonishing sights, such as the picture of desert-adapted elephants roaming the dusty earth. Damaraland is also home to the endangered Black Rhino whilst other types of wildlife can be spotted in the region's lusher eastern parts.
If you're planning to spend a couple of days here on your safari trip, consider booking a stay at Damarland Camp, one of Namibia's most prestigious and opulent lodges. The camp is made up of 10 elevated adobe-style thatched suites which are plush with a range of first-class amenities. Guests can cool off in the pool, enjoy a magnificent breakfast stop in the desert, or relish a fireside boma evening bursting will cultural cuisine and song, canopied by the starry sky.
Twyfelfontein
Namibia's natural wonders are seemingly endless: there's the incredible Fish River Canyon, the planet's second largest, as well as the world's oldest desert, the Namib. Joining this all-star cast of otherworldly landmarks is Twyfelfontein, a UNESCO World Heritage Site.
Twyfelfontein is home to one of Africa's largest collections of San rock art, with these engravings offering a fascinating insight into not only the history of Namibia, but the history of mankind. Brandberg, Namibia's highest mountain, is where you'll find the most extensive collection of early rock paintings, including the famous White Lady, and guided tours here can be arranged easily.
If you're visiting Twyfelfontein on your safari adventure you can also enjoy game drives along the arid Aba-Huab River valley, whilst cultural visits to the Living Museum of the Damara is another popular activity.
After a long day of exploration retreat to the luxurious surroundings of Twyfelfontein Country Lodge. Rest your head in your plush ensuite bedroom and enjoy world-class cuisine and a glass of champagne as you admire stunning mountain views.
Etosha National Park
If incredible game viewing and wildlife encounters are high on your agenda, make sure you visit the iconic Etosha National Park.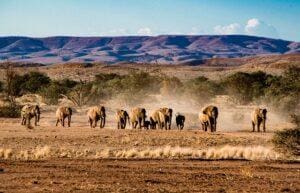 Despite what its arid landscapes might suggest, the park is rich in wildlife and boasts many of Africa's Big 5, as well as over 100 species of mammal. Birding enthusiasts will also be struck by the sheer number of avian species that can spotted here.
The best time to visit Etosha is during the dry season. This is when large swathes of animals can be found concentrated at waterholes and the grass is low, making for a better wildlife viewing experience.
As one of Namibia's most visited areas it makes sense to find several spectacular camps here and luxury safari goers will not be disappointed. Among the most prestigious options is Onguma Bush Camp. Featuring 18 deluxe rooms, Onguma offers guests a private and exclusive experience. Sparking swimming pools, private viewing decks and an impressive main dining are amongst the highlights.
Sandwich Harbour
Sandwich Harbour is a spectacular protected natural site that was formerly used as a port by whalers. The harbour comprises a freshwater lagoon that is home to an impressive variety of marine birds and special archaeological sites that showcase ancient animal tracks. The harbour forms part of Namib Sea Sand, another UNESCO World Heritage Site and one of the largest sand fields in Africa. If you'd like to visit here on your luxury safari trip, just be advised that entry is only possible with a 4×4, and all visitors should be escorted by a guide.
Just north visitors will also find Walvis Bay and the famous Cape Cross, an area home to a ginormous collection of over 200,000 Cape Fur seals. Say hello to these playful pinnipeds and if you fancy hitting the open waters you can enjoy a luxury catamaran cruise close by.