Orange County's Brewery Trail Road Trip

There's no better feeling than driving down the coast on a sunny day with your windows open and music blasting. But all that sunshine and bikini-clad people-watching is sure to make you thirsty, which is why Orange County has become one of the best destinations in the country for craft beer tasting. From the beaches to the mountains, we've put together the ultimate Orange County brewery road trip for your sipping pleasure. So grab your growler and sunglasses and get ready to hit the OC's epic brewery trail.
How to Plan a Perfect Day Out on the Orange County Brewery Trail
Ballast Point
With incredible sunset views, live music, good beers, and delicious food, Ballast Point is everything people dream about when they imagine visiting Orange County. A small group of brewing enthusiasts started Ballast Point Brewery in San Diego, CA back in 1996. Their only goal was to make better beer. Over 20 years and several Southern California locations later, they're doing exactly that.
Known for its award-winning Sculpin IPA and super popular Grapefruit Sculpin, Ballast Point believes in art over science and having fun experimenting. They're famous for their beautifully painted nautical-themed labels, created especially for them by local artist and taproom legend Paul Elder.
Just off of the scenic Pacific Coast Highway, Ballast Point's Long Beach location is an attraction all to itself. Situated in the harbor, this two-story microbrewery features a stunning patio and upstairs balcony with breathtaking views of the boats in the marina and sunset. It's the perfect place to sit back, relax, sip on a delicious microbrew and listen to some live music while the California sky puts on a spectacular show.
Pair your Grapefruit Sculpin with their spicy, citrusy Aguachile appetizer. Consisting of fresh shrimp and sweet scallops marinated in chiles and lime juice and served with housemade tortilla chips, it's the perfect accompaniment to a hoppy and refreshing Grapefruit IPA.
Left Coast Brewing Co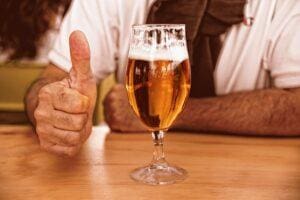 Once you've enjoyed the views at Ballast Point, it's time to hop back in your car and continue on down the coast. After passing the charming hidden gem of a beach town called Dana Point, you'll come to the Left Coast Brewing Co, Orange County's original microbrewery. This craft beer pioneer is family owned and operated and has won over 25 prestigious awards. They're passionate about using premium quality ingredients to brew inventive libations.
Left Coast Brewing Co has two locations. Their San Clemente spot is famous for being family and dog friendly, with tons of games and outdoor seating. At the same time, their Irvine brewery has a huge outdoor area where people come for some of the best bbq west of Kansas City. Be sure to try both the smoked brisket sandwich and the pulled pork, because some choices are just too hard to make.
You can even catch a yoga class and enjoy a refreshing pint of Del Mar St lager afterward. Talk about California dreaming.
Brewery X
Now that you've explored the coast, it's time to head inland and discover the other side of Orange County. After a long day of hiking in the Angeles National Forest, you'll want to quench your thirst at Anaheim's massively popular Brewery X.
Everything about Brewery X is larger than life. From their giant taproom full of games for the adults and play areas for the kids to their huge selection of craft beers that are packed with flavor. They even have live music and a rotation of popular food trucks on hand to serve the masses.
What makes Brewery X extra special is the fact that they offer more than just microbeers. You'll find a rotating selection of seasonal hard seltzers made with fresh fruit purees that are dangerously delicious. Their hard seltzers have the perfect balance between sweet and tart and are always bursting with natural fruit flavor.
The Bruery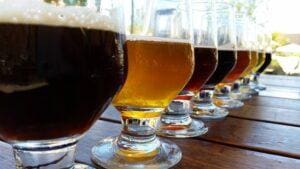 No visit to Orange County would be complete without a stop at the Bruery, which is literally just down the street from Brewery X. With over forty microbeers on tap, the Bruery's taste-driven ethos makes them unique. They don't just stick to a particular style profile but instead like to go rogue and wander down paths less explored. Their innovative beers are famous for pairing great with food and changing people's opinions about craft beer.
Inspired by characterful Belgian beers, the Bruery specializes in barrel-aged ales that'll really knock your socks off. Like the celebratory ale, Ivoire, which won the silver medal at the 2022 Great American Beer Festival. We recommend stopping here last because if you start at the Bruery, you might never leave.
When you get hungry, you can wander outside and enjoy some of Orange County's most popular food trucks. Whichever truck you choose, you can be sure the meal will go great with their food-friendly selection of tasty beers.
With striking mountains, thrilling theme parks, beautiful beaches, and delicious beers, Orange County offers something for everyone. California has always been the dream vacation destination, and now, with almost 1,000 microbreweries throughout the state, it's also the ultimate craft beer 'destination as well. This promises to be one unforgettable road trip. Hit the trail and discover your new favorite beer today!