How to make the most of your final day in New York?  Here's what to do in New York in 24 hours.

So, you're finishing up your trip to NYC and want to make the very most of your last day in the city  – or you have a layover on the way to somewhere else, and you only have 24 hours in New York. Either way, read our guide below for an itinerary of must-sees and New York  City highlights and how to maximize your short stay!
As you only have a short window of  time, we'll make all the points of interest on this little trip relatively near each other, so you  don't have to spend too much time traveling around. We're also assuming that you can  walk and take the subway.
One of the most important things to sort out, though, is to figure out what to do with any  luggage or bags you might have with you. If you have to check out of a hotel or Airbnb in  the morning, or if you are stopping in the city for a layover, you will most likely have some  of your personal belongings that could be large and bulky. These will weigh you down as  you're maximizing time in New York, so we recommend finding somewhere to store your  stuff. An excellent option for New York luggage storage is Nannybag; with their service,  you can search for locations around the city and drop your items in a convenient partner  location for around $6 per 24 hours, where it'll be insured. If you take this option, make  sure that you leave your luggage somewhere where it'll be convenient for you to pick it up  again when you're going to the airport! Now, let's get started with our New York one-day  tour.
8 am: Breakfast sandwich at a bodega  
You'll want to get up nice and early to tick as much off your New York bucket list as you can in one day. Grab a quick breakfast sandwich at your nearest bodega – these iconic corner stops, originating in Hispanic neighborhoods but now widespread in the city, sell  groceries and serve as delicatessens. Grab something quick, and it'll surely be tasty!
9 am: Morning stroll through Central Park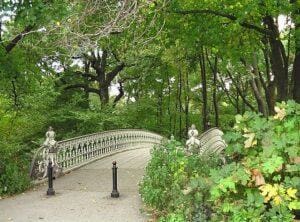 Head to Central Park from wherever you're starting the day and enjoy a morning stroll  around this iconic public park. It is big and beautiful throughout the year and provides a  welcome nature escape from the concrete metropolis of the Big Apple. You should stop by  the Bethesda Fountain or Bow Bridge to get some pictures!
11 am: Visit the Metropolitan Museum of Art  
Located in Central Park, the Metropolitan Museum of Art (aka the Met) is one of the most  famous art galleries in the world. It's the most visited museum in the United States and has  a collection of over 2 million works. Accordingly, you could spend about a week here and  not see everything, but we advise not spending too long here so you can see other things!  On a two-hour visit, we recommend seeing one of the great exhibitions that the museum
puts on. The program is constantly changing; consult the guide here to find something that  interests you.
1.30 pm: Grab lunch from one of New York's famous food  trucks  
New York is famous for its affordable food trucks serving delicious dishes from around the  world. There is a wide selection of dishes to try at these food trucks, reflecting the diversity  of the Big Apple itself. The location of these food trucks changes as they move around, but
you're always close to one. Grab something cheap and tasty, and be adventurous and try  something from a cuisine you're unfamiliar with!
2.30 pm: Take it all in at Times Square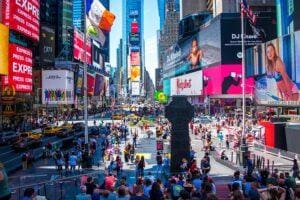 Known as "The Crossroads of the World," you can take in the bright lights and bustling  energy of this famous commercial and entertainment hub. Times Square is one of the New  York must-sees, and the glitz and glamour and the massive screens advertising the hottest  brands, films, music, and gadgets will fill you with amazement. The crowds, vibrant energy,  and magnificent scale of Times Square make you feel like you're at the center of the  universe – it's also an excellent time for a quick photo opportunity!
4 pm: Go up to the Empire State Building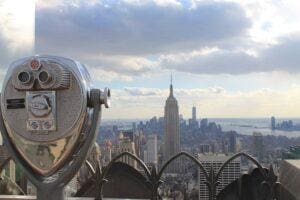 Less than a fifteen-minute walk from Times Square is the Iconic Empire State Building.  What more needs to be said about this art-deco architectural masterpiece? This was the  world's tallest building for forty years after its construction in 1931, and visitors can now go  up it to get a fantastic view of the city from its observation deck.
6 pm: Explore Macy's department store  
Most travelers to New York City want to experience some of the best shopping possibilities  in the city. Located nearby the Empire State, Macy's is one of the most famous department  stores in the world, the largest in the United States, and dates all the way back to 1858.  Even if you're not in the mood to spend money on clothes, accessories, gadgets, and  home furnishings here, its size, scale, and glamour alone should be enough to be on your  New York itinerary.
8 pm: Dinner at Keens Steakhouse  
This famous steak spot (if you're a meat eater) shouldn't be missed if you're in Manhattan.  Enormous portions, and superior-quality meat, define this traditional New York steakhouse.  A true 19th-century landmark!
If you manage to fit this all in, well done! There's so much more of the city to see – this  program only includes Manhattan – but this New York day trip guide will prove helpful if  you're trying to do lots in a day. If you were lucky enough to find the best NYC luggage storage, remember to pick up your luggage before you make your way to the airport to  (sadly) leave the city. We hope you have a wonderful time in New York City!
Nannybag is a collaborative luggage storage network that  enables business and leisure travelers to safely store  luggage all around the world for a few hours or more.  Working with local businesses, including shops,  restaurants, and hotels, travelers can use the Nannybag  website or app to book the left luggage service that suits  them best and enjoy their stay 100% hands-free!