Top Honeymoon Experiences in Fiji
If you've just tied the knot with your dearly beloved, it's time to celebrate with a honeymoon in Fiji!
The islands of Fiji, located in the South Pacific, provide the perfect destination for reveling in your newlywed bliss. After all the exciting turmoil of wedding planning and exchanging vows, your honeymoon is your opportunity to kick back, relax, and celebrate your nuptials in a tropical paradise on island time.
When you reserve a honeymoon in Fiji, you and your new spouse can spend your getaway indulging in romantic candlelit dinners, embarking on exciting island adventures, learning about the local culture, and getting spoiled with rejuvenating spa treatments. With over 100 inhabited islands, Fiji promises to deliver the most romantic itinerary for you and your partner.
Ready to get inspired? Find out our favorite reasons to honeymoon in Fiji's northern island of Vanua Levu below!
Island Adventures
The beauty of Fiji is that there is something for every couple to enjoy!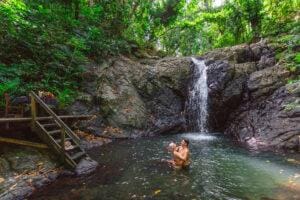 If you and your partner crave adventure, then scuba diving at Namena Marine Reserve might be at the top of your list. This exciting excursion invites you to dive beneath the surface and explore the incredible biodiversity of this unspoiled reef.
Prefer something a little more relaxing? Then don a life jacket and get ready for some Salt River Drift fun, where you can gently float along mangroves with a cold beverage in hand.
From dolphin watching to game fishing, so many intriguing island adventures are available, allowing you to pack your honeymoon itinerary with all sorts of fun.
Spa Retreats
After all the excitement (and stress!) of wedding planning, you and your honey deserve some rest and relaxation. There's no better place to turn than Namale's Valeni Sasauni Spa Sanctuary.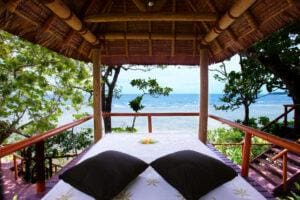 This award-winning spa pulls out all the stops, ensuring a rejuvenating and restorative experience. Indulge in a couple's massage, where you can choose from one of the seven signature massages, and then explore the many other relaxing treatments, from body wraps to facials. After your dual treatments, further unwind together in the hydrotherapy room, complete with a sauna, hot tub, and waterfall experience.
Romantic Dining
Every honeymoon calls for romantic dining, and you'll find just that at Namale Resort & Spa.
When guests stay for at least seven days at the resort, they're spoiled with a destination dining experience. You can enjoy a private, candlelit dinner for two, where you'll dine in a surprise location, such as inside a sea cave, on the beach, or even next to a hidden waterfall. As if the ambiance wasn't magical enough, wait until you taste the divine farm-to-table fare—cheers to that!
Activities for Two
If you're an athletic couple eager to try new sports and break a sweat, then you'll love all the activities available on the island.
Grab some snorkel gear and venture around the "Soft Coral Capital of the World," glide above the waterways on kayaks, or test your balance on paddle boards in the bay.
Rather stay on dry land? There are countless activities that don't require you to suit up in a swimsuit. Play a round of volleyball together, challenge your partner to a game of tennis, or shoot some hoops at the indoor baseball court—all located on Namale resort property.
Educational Opportunities
Fiji offers more than just nature excursions and pretty landscapes. This island has a rich culture and fascinating history, which you and your partner will undoubtedly want to explore during your honeymoon.
After all, the couple that learns together stays together, right? Fortunately, there are endless opportunities to learn more about the Fijian way of life, from taking a tour of the Pearl Farm to discover the region's famous pearl industry to attending a traditional Meke dance performance. You can also visit the nearby town of Savusavu, make friends with the locals at the farmers market, and join an authentic Kava ceremony to partake in the time-honored tradition. There's something new to discover everywhere you look!
Secluded Accommodations
After lounging by the poolside and venturing around the island, you and your spouse will want to retreat to an inviting sanctuary for some alone time.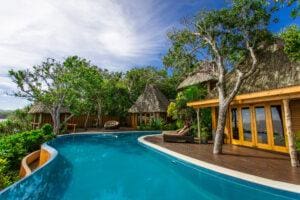 The 22 private accommodations at Namale Resort & Spa offer the utmost comfort and luxury, as you have your choice of staying in one of the cozy bures or lavish villas—there's even a honeymoon bure option! Put your feet up and relax in a room decked out in traditional Fijian decor and enjoy amenities like private decks and in-room dining. Depending on your accommodation, you may even have your own plunge or full-sized pool!
Relaxation at its Finest
While you'll definitely want to put some adventures and activities on your honeymoon itinerary, leave some time to relax in this tropical oasis.
Go for a dip together in one of the inviting pools, soak in the heart-shaped hot tub with sweeping views of the Koro Sea, or lounge on your private deck with a view of the island scenery. Whether you stroll hand-in-hand around the tidepools or order room service in your pajamas, you'll discover so many ways to relax as newlyweds in this Fijian paradise.
Stunning Photo Opps
You're bound to take as many pictures as possible to capture this special stage of your relationship, and Fiji provides the perfect backdrop for your images.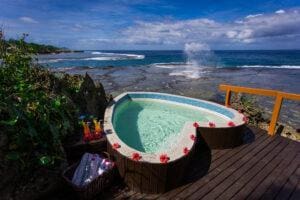 Whether you take a selfie on the volcanic cliffs overlooking the Koro Sea or snap a couple's photo surrounded by the lush jungle foliage, your pictures are sure to be amazing. During your stay, don't forget to pose for some photos at sunset at Veidomoni Deck, also known as Lover's Deck, which provides the ultimate photo opp.
Learn More about Namale Resort & Spa
Dreaming about an epic honeymoon in paradise? Then look no further than the Namale Resort & Spa on the Fijian island of Vanua Levu. Our resort goes above and beyond to ensure newlyweds have the most romantic and memorable honeymoon. Contact us today to learn more about reserving your honeymoon at our luxury, ultra all-inclusive, adults-only resort.
*******************
Image Source: Namale Resort & Spa