Celebrate Spring with a Visit to the Vibrant Carlsbad Flower Fields in California
Each spring, the Carlsbad Flower Fields near San Diego California are a stunning sight to behold.  50+ acres of vibrant flower fields burst forth in a rainbow of colors that will warm the hearts of any winter-weary traveler.
A visit to these flower fields will make you feel like you've stepped into another world.  Whether you're looking for an escape from your everyday life or just want to admire one of nature's most spectacular shows, visiting Carlsbad Flower Fields is sure to be an unforgettable experience.  This is a must-visit destination for anyone looking to experience the beauty of spring flowers coupled with the exciting city of San Diego and pacific ocean beaches.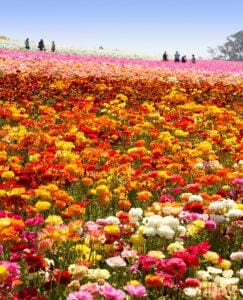 Visiting The Carlsbad Flower Fields
From March to May, acres of flower fields come alive with vivid colors and fragrances as poppies, sunflowers and 70 million ranunculus plants bob their brilliant heads.
The Flower Fields at Carlsbad Ranch are located at 5704 Paseo Del Norte, Carlsbad, CA, 92008. Single ticket admission is $23 for adults, $21 for seniors 60+ and military, $12 for children 3–10, and free for children under three. Season passes are $48 for adults, $44 for seniors 60+, $24 for children 3–10, with group tours also available
The flower fields are located just north of San Diego, and are an easy day trip from Orange County, Los Angeles and San Diego.  You can take tours where you can learn more about the different kinds of flowers you come across or enroll yourself in their workshops for creative enrichment.
New in The Fields for 2023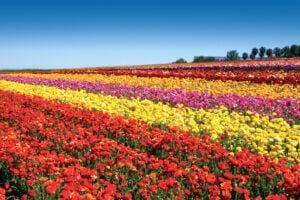 For the 2023 season, new events will be introduced like the Meditation and Sound Healing Workshop, a Flower Design Workshop, and Toddler and Me Yoga Story Time themed around plants and flora. The theme for 2023 is "Live Colorfully" with a nod to this year's Pantone color of vivid magenta.
Returning fan favorites include the live outdoor music series, Tea in the Garden and Flower Flow Yoga among other experiences like the American Flag of Flowers, Tractor Wagon Ride, Artist Gardens, a Sweet Pea Maze and Cymbidium Orchid Greenhouse. Special events will also be sprinkled throughout the season, from Kid's Day on March 25, a Canon Photography Workshop on April 16 with the season capped off with its iconic Mother's Day Celebration on May 14.
Final Thoughts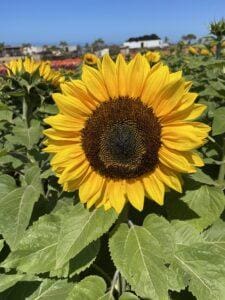 Instead of sending Mom flowers this mother's day, why not take her on a Spring getaway to see this fabulous celebration of spring flower displays. With blooming colors, pleasant scents, and captivating views – it's an opportunity to connect with nature that should not be missed!
***********************
Image Credit:  Flower Fields by Marcie Gonzalez