Valentine's Day Travel Tips: 7 Weekend Spa Getaways for Couples in North America
Every couple needs a romantic and private weekend away; it's the type of gesture that keeps giving long after you return home. It's easy for lovers to drift away due to the obligations of daily life, whether at work, school, or other activities. Spending some quiet and enjoyable time together will undoubtedly relieve stress. Regular romantic trips have been shown in studies to improve one's quality of life. Furthermore, the vast majority of respondents in a recent poll felt that romantic excursions are an excellent way to keep the spark alive in their relationship.
Nowadays, vacationers spend more money on traveling, which benefits their health. Consequently, considering the growing interest in wellness-related activities and treatments, it's no surprise that couples are arranging their holidays around them. So, if you and your sweetheart want to spice up your love life with a lavish, revitalizing environment, here are some of the best places to go for a wellness adventure in North America for a Valentine's Day break.
A Purifying Experience in California
The California coast combines breathtaking beaches, majestic mountains, lush vineyards, and diverse towns. One of the most stunning towns in California is Santa Barbara, also called the American Riviera. In Santa Barbara, the ocean and mountains blend into one, the sun is warmer, and the hillsides burst with an abundance of vivid hues.
After arriving and settling into a cozy cottage near the beach, you can start your day by clearing your head with a refreshing morning walk to watch stunning coastlines and ocean views along the Inspiration Point trail. Then book an afternoon massage for two at Santa Barbara Spa del Mar, and let their experienced therapists create a customized session to reduce stress and promote balance and relaxation.
Weekend plans may include visiting the Salt Cave Santa Barbara Spa for a purifying private Himalayan salt cave treatment. For 45 minutes, you need to do nothing more than close your eyes, unwind, and focus on your breathing. Natural and very efficient, simply breathing in air laden with salt particles can greatly benefit respiratory health. This cave is ideal for getting away from it all, getting healthy, and refreshing your mind.
An Under-the-Radar Place to Escape Together in North Carolina
Hatteras Island in North Carolina is like another universe, with enormous stretches of land dedicated to beach dunes and seaside meadows, perfect for the quiet seclusion couples seek on vacation. Hatteras Island is your only link to the Outer Banks' pre-tourist past. In addition, you may find long stretches of sandy beaches perfect for sunbathing.
Couples who enjoy the outdoors can find much to do in the area, including visiting wildlife sanctuaries, parks, and even a historic lighthouse. Reserve a session at In Touch Massage & Wellness Center to relax after indulging in these adventurous activities. Take advantage of this chance to relax deeply with a stone massage with smooth, water-heated basalt stones.
Oceanview Spa Treatments for Two in Hawaii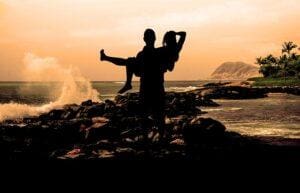 A trip to Hawaii with your special someone is a genuine trip to paradise. And witnessing breathtaking sunsets and indulging in high-end spa treatments on Oahu is the perfect way to bond and unwind in this stunning setting.
The Kahala Hotel & Resort is home to Oahu's best spa, The Kahala Spa, known for its exceptional couples' treatments. In the Couple's Spa Suite, you may request the Romance Package, which includes a full-body massage lasting 80 minutes and a facial for 50 minutes for both of you. Enjoying this one-of-a-kind activity together will spark feelings of passion in any couple.
Bond with your loved one at Moana Lani Spa, where the ocean, paradise, and healing collide. Another fantastic choice for the perfect Oahu couple's spa getaway. When you book a Ritual for Two in their beachfront couples' room, you may enjoy all services together while admiring the stunning views of Waikiki Beach. Then, add their Soaking Tub Experience for Two to your spa day to relax in Nourishing Coconut Milk and Island water while listening to breaking waves and enjoying complimentary champagne with your beloved one.
A Healing Retreat for Couples in Arizona
This beautiful state offers some of the top spas in the USA, making it an ideal location for a wellness couple's holiday. Of course, cities like Phoenix and Tucson are suitable for a romantic getaway. Still, the quieter towns of Carefree and Sedona have a lot to offer couples searching for romance and relaxation.
At the base of Pinnacle Peak, the Four Seasons Resort Scottsdale offers a spa treatment, followed by a romantic meal at one of the resort's restaurants. Then, at night, you may have the resort's professional astronomer join you for your moonlight picnic to enjoy the spectacular view of the Sonoran Desert heavens.
Castle Hot Springs is in the desert northwest of the Phoenix/Scottsdale metropolitan area. This healing retreat was founded in the late 1800s. Because it is a high-quality place in the middle of nowhere, this resort is desirable as a romantic escape. In the seclusion of your guest room, you can luxuriate in the Aroma-Wellness massage treatment with champagne and truffles to give you a deep feeling of well-being and rest.
A Sumptuous Weekend Away for Two in Cabo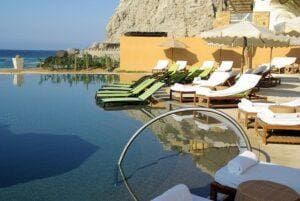 Relaxing activities can be planned in Cabo San Lucas, Mexico, such as a dusk cruise on a private yacht, a yoga session on the beach, or a day at an Award-Winning Luxury Spa. The One&Only Spa and the Desert Spa at Villa de Arco are well-liked examples of high-end places.
The luxurious One&Only Palmilla Resort, situated in the heart of Los Cabos, is the dream location for a weekend away for two. They offer three private beach coves where you can rest on a floating bed as a waitperson tends to your every need, and you take in breathtaking views of the Sea of Cortez and its magnificent rocky cliffs. And if you want to take things to the next level and reconnect as a couple, you may book spa rituals using regional, natural ingredients.
Desert Spa at Villa de Arco is the largest spa in Baja, California Sur, and is another top-notch place where couples may enjoy quality time together in style. They have created an original couple wellness experience. A foot bath routine, full body exfoliation, calming scalp treatment, whole body hot stone massage, and a Hydro-bubble bath are all part of their Time for Two and Couples Retreat spa experiences.
A Rejuvenating Stay for Lovers in Florida
Sarasota's white sand beaches, picturesque bayfront vistas, exceptional fitness opportunities, and luxurious spa treatments make it an ideal destination for a couple's wellness getaway.
The Westin Sarasota's opulent spa is available to guests of the hotel and the general public. The Look Great, Live Well massage is a 100-minute treatment that includes a face mask to revitalize your skin and is perfect for a couple's spa day. Extras like the Champagne bottle massage and the argan oil scalp treatment are available as upgrades. In addition, EVOQ restaurant offers a romantic evening of fine eating to stimulate your senses and help you unwind. This Sarasota eatery serves hearty comfort cuisine with a modern, healthy spin and an extensive wine list.
You can keep enjoying your romantic getaway at Waterside Place to experience a soothing yoga session in the morning while appreciating lake views. Then stroll across the bridge to visit the weekly farmers' market.
Leisure and Relaxation for Couples in Texas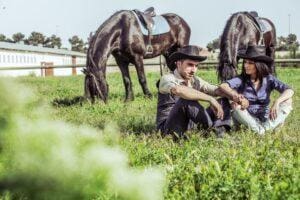 From outstanding modern art galleries in Houston and Fort Worth to stunningly desolate views in Big Bend National Park to world-famous music festivals in Austin, the Lone Star State has something for every type of couple. Many resorts in Texas are on well-maintained grounds that make them feel worlds away when you want to unwind with your mate.
Visiting the Lake Austin Spa Resort is the perfect way to spend time together and make time for the two of you. A culinary lesson, a lakeside activity, or a personal fitness session for two are all options. Couples treatments are available at the LakeHouse Spa in the unique outdoor Bamboo Suite or the lovely indoor Couple's Retreat.
The Gage, surrounded by the natural splendor of the Big Bend region, offers a one-of-a-kind spa and one of Texas' most iconic bars. Booking your next wellness journey at the Gage is every outdoor enthusiast's fantasy. Bend National Park offers everything from a sunset horse ride to trekking to the South Rim and bird gazing.
You may book the Couples Package at the GAGE Spa after spending time together outside in the morning to improve your physical and mental well-being. A foot bath, herbal teas, an Aromatherapeutic massage, and entrance to the Eucalyptus steam room are all part of this shared experience.
Plan an Unforgettable Trip for Valentine's Day
Every couple has their idea of what a romantic weekend vacation should entail. However, there is a hotel or resort that may make your ideal getaway with your special someone a reality, whether you wish for a couples' spa treatment overlooking the ocean or a romantic stargazing evening. So, if you're looking for a place to go on your next Valentine's Day weekend with your special someone to relax and focus only on each other, then one of the fantastic places on this list would do the trick.