The Grand Old City of York UK: What to See and Do on a Short Break
Steeped in rich history, culture and tradition, York ranks amongst the top stay and play destinations in the UK. With good transport links from big cities such as Leeds, Manchester and even London, this captivating city is easy to reach and serves as the perfect place to enjoy a weekend break, regardless of whether you're visiting from abroad or are a Brit searching for a fresh staycation spot.
From shopping to places to eat, attractions to hotels, York is blessed with a plethora of brilliant amenities and landmarks that are guaranteed to make your stay a memorable one. The home of Judi Dench, as well as infamous gunpowder plotter Guy Fawkes, if you're visiting York on a short break then here's all the key information you need to know…
How to get to York
York station, located in the heart of the city centre, offers travellers great access to a whole host of nearby northern cities including Leeds, Liverpool, Manchester and Newcastle. Impressively, visitors to York can even reach here via a train from London in just over two hours.
If you're jetting in to England, then the nearest airport is Leeds Bradford, although the city can also be reached conveniently via Manchester Airport, which serves a wider range of international destinations.
If you're contemplating venturing outside the city then you'll be pleased to know that York offers an extensive and reliable bus service. You can reach nearby towns, villages and cities relatively easily and you'll find bust stops conveniently located around the city centre, including opposite York train station.
Where to stay in York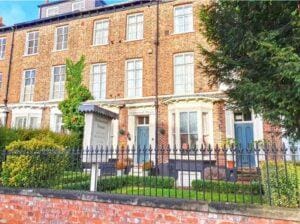 Although York is synonymous with cobbled streets, a striking Roman wall, and various other architectural monuments that pay homage to its storied past, it's equally a vibrant cosmopolitan city brimming with a plethora of brilliant accommodation options.
For a touch of opulence, consider booking the 5-star Grand York, an elegant hotel boasting luxurious rooms, a gorgeous restaurant and there's even a range of superb spa facilities on offer that you can enjoy to your heart's content.
For more budget-conscious travellers you'll find a range of lovely bed and breakfasts', each offering comfortable rooms and a friendly, Yorkshire welcome (as well as top-notch breakfast options). Popular B&B choices in the city centre include The Apple House, Holmwood Guest House and Minster Walk Guesthouse, both of which have excellent ratings on many of the most popular traveller review sites.
Finally, if B&B's aren't your penchant, and you'd prefer a moderately prices hotel, you'll find a range of perfectly fine hotel chains; The Hilton, Travel Lodge, Premier Inn and Holiday Inn all have
Places to dine in York
York's restaurant and dining scene is as diverse as it is exceptional; from quirky street food stalls to plush fine dining establishments, you'll encounter plenty of choice during your short stay.
For an inexpensive casual bite, and for a true taste of one of Yorkshire's greatest gifts to the world, grab a Yorkshire pudding wrap from The York Roast co. Filled to the brim with scrumptious toppings including perfectly roasted meat and delectable vegetables, you won't be disappointed (veggie options are also available).
For something a touch more sophisticated, or if you need a classy eatery to commemorate a special birthday or anniversary, try Arras, a modern British eatery that serves an exquisite tasting menu featuring a range of delicate dishes and intricate flavour combinations.
Alternatively, contemplate reserving a table at The Star Inn The City, another excellent fine dining restaurant in York. This gorgeous eatery is housed in what was once the site of York's Old Engine House. The menu, which proudly utilizes first-class produce from the surrounding countryside, boasts a range of expertly crafted meat and fresh seafood dishes, as well as decadent desserts. In the summer diners can even make the most of the restaurant's outdoor terrace, which affords spectacular views of the river and many popular York landmarks.
What to do in York
York visitors could easily fill up a weekly diary with events, such is the sheer volume of quality attractions and sights on offer in this grand old city.
First on your York 'to see' list must be the stunning York Minster. This incredible gothic structure has stood for centuries and welcomes thousands of visitors each week, each one mesmerised by the intricate stained-glass work and gigantic central tower.
If you're a fan of history, then you should also consider visiting the JORVIK Viking centre. This fun-filled attraction offers a fascinating glimpse into York's Viking past, and you'll even get to experience the sights and smells that this intriguing settlement encountered way back when.
If you've got a penchant for the macabre then head to York Dungeons. Get up close and personal with infamous British baddies, such as Guy Fawkes and Isabelle Billington, whilst the impressive sets and live actors add to the sense of eeriness and foreboding.
York is also a place with a proud history in arts and culture and that heritage is well and truly alive today. Throughout the year you'll find several spectacular events on show at theatres such as York Theatre Royal, everything from musicals to pantomimes to stand-up comedy performances.
Finally, and celebrating the city's famous confectionary roots, chocolate lovers simply must take a trip to York Chocolate Story. This immersive chocolate museum, located in the city centre, offers visitors the chance to make their own chocolate creations, whilst a gift shop and café offer the perfect opportunity to stock up on a huge range of sweet treats.