Your Guide to an Active Adventure Vacation in Hawaii
When most people envision a trip to Hawaii, images of soft sand beaches, crystal clear waters, rest, and relaxation come to mind. Maybe that includes a fruity adult beverage in your hand as well.  However, the Aloha State has so much more to offer than just lounging around on the beach with a Mai Tai in hand (though there's absolutely nothing wrong with that). If you're an outdoor enthusiast who loves adventure, you'll find plenty to do and experience in the Hawaiian islands.
Hawaii is home to some of the most beautiful national parks in the country, breathtaking landscapes, water adventures, and so much more. Whether you want to try something new or challenge yourself with an unforgettable activity, the islands are the place to go.  If you're not already planning a trip to Hawaii, let this guide change your mind. We'll cover some of the best active outdoor adventures you can experience across the islands of Hawaii.
Scuba Diving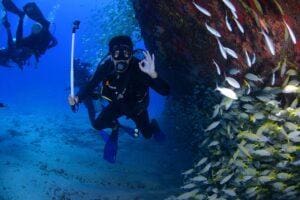 In a place surrounded by water, there's clearly no shortage of incredible scuba diving locations. You can essentially drop in anywhere and experience beautiful coral reefs and colorful sea life. However, certain scuba locations offer different experiences and sights. Oahu and Maui are widely known for shipwreck diving, where you can see pieces of history in the water. Over ten shipwrecks in Oahu are fully accessible, so you can get up close and personal with the ill-fated ships.
If you're more interested in surrounding yourself with wildlife, consider trying the Manta Ray Night Dive in Kona. It's a 45-minute dive designed to let you experience the beauty of manta rays and other sea life up close.
Biking and Hiking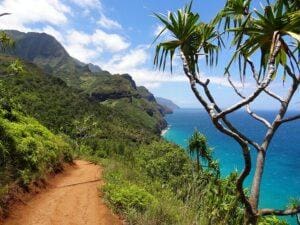 If you'd prefer to stay on dry land but still want to explore the beauty of the islands, hopping on a bike or tying up your hiking boots are both great options. There are hiking trails throughout the islands. We already touched on the beauty of the national parks, but some of the best parks for hitting the trails include:
Ala Kahakai
Haleakala
Volcanoes National Park
Nāpali Coast State Wilderness Park
Spending time outdoors can do wonders for your mental health. Being in nature helps to boost your mood, reduce stress, and improve your energy levels. Surrounding yourself with the beauty of Hawaii's national parks can offer all of those benefits. If you want to go one step further, consider stopping for a wellness program in the middle of your hike. Various parks offer these programs that focus on mental well-being in the outdoors.
If you'd rather bike your way around the islands, you'll find no shortage of amazing locations. Plus, you don't have to worry about bringing your own gear. That's especially true in Oahu, where bike rentals are easy to find throughout the island. It's hard to find locations on any of the islands that aren't beautiful to bike through, but if you really want an unforgettable experience, check out Mauna Loa Road on Big Island. It's a 12-mile road that leads to a jaw-dropping lookout of the Kīlauea volcano. On certain days, you can even see lava flowing!
Surfing
Hawaii is known for some of the most incredible surfing in the world. While it's easy to catch a wave no matter which island you're visiting, Oahu is the perfect place to catch a wave, even if you're a beginner. Some of the best surf spots on the island include:
Ehukai Beach Park
Sunset Beach
Diamond Head Cliffs
Do a little bit of research before you head to one of these locations. Some are better for beginners while others offer bigger waves that are better for experienced surfers. Diamond Head Cliffs are a unique exception, as there's something for just about everyone to enjoy.
Staying Safe and Healthy
We've barely scratched the surface of all there is to do and explore on your Hawaiian adventure. However, no matter which activities you decide to try, the most important thing to keep in mind on your trip is staying healthy and safe.
The first step to staying safe is making sure you pack the right gear for your activities. That should include things like sunscreen, protective clothing, and any special equipment you might need.
It's also important to stay hydrated and nourished throughout the day. The hot Hawaiian sun can quickly take its toll on your body, and being properly fueled and protected will make a big difference.
If you want to end your adventurous day by relaxing with a drink, be sure to be mindful of your consumption. While an alcoholic beverage or two likely isn't going to hurt (and can be refreshing after a long day), too much alcohol can have a lasting negative impact on the body. It affects everything from your heart to your immune system, and could end up making it harder to go on future adventures if you partake too much.
If you've been looking for an excuse to book a Hawaiian vacation, let this guide inspire you! You'll find no shortage of things to do if you love the great outdoors, and you'll return home with a lifetime of memories.
*********************************
About The Author: 

Amanda

Winstead is a writer focusing on many topics including technology and digital marketing. Along with writing she enjoys traveling, reading, working out, and going to concerts. If you want to follow her writing journey, or even just say hi you can find her on Twitter.
Image Source: Unsplash