20 Hidden Gems and Overlooked Wonders of Paris
Everyone who has visited Paris knows that there is just too much to see and do to fit into one visit.  In fact, travelers return again and again to delve deeper into Parisian culture and to experience more the many enchanting sites, sounds and tastes of this magical city.  Seasoned travelers fly in early, check their luggage in safe and secure Nannybag luggage storage Paris, and head out to make good use of every moment they have.  Bags can be checked securely for a couple of hours to days with Nannybag.
In this article we'll share 20 hidden gems of Paris and recommend unique activities that you may have missed during your first visit.  No matter how many times you return to the city of light, there is always more joie de vivre to experience!
Outdoor Sites to Explore
Sunday Bird Market – situated on the Isle de la Cite, near Notre Dam Cathedral since the early 1800's, the historic Flower Market (Marche aux Fleurs) can be enjoyed every day of the week, but on Sundays, it becomes a much loved Bird Market.  While exploring vibrant potted plants, you will also hear the chirps and songs of canaries, parakeets, finches and song birds of all description.  See this market while you can, as it will be closed in the coming year as environmentalists have protested its continuation.
Tuileries Garden Walk – Walking through the Tuileries Gardens from the Louvre Palace and Museum to the Place de la Concorde is one of the most enjoyable ways to spend tine in Paris.  While many visitors enjoy the surrounding architecture, fountains and park benches, be sure to seek out and appreciate the many sculptures in the garden including Rodin's The Kiss.  When you reach Place de la Concorde visit the remarkable L'Orangerie Museum with its wonderful array of impressionist artists and huge oval Lily Pad paintings gifted by Monet to the people of Paris.
La Promendate Plantee – Elevated Walkway  Constructed on the base of an old unused rail bed, this is a unique and delightful walk in the 12th arrondissement of Paris. Starting behind the Opéra Bastilleit, it ends at the entrance of the Bois de Vincennes and take about 1 1/2 hours one way.  As you walk you will enjoy varied elevations and views of the city as well as many fragrant flower plantings and lush greenery.
Marie de Medici Fountain in Luxenburg Gardens – The Luxenburg Gardens are yet another splendid place to walk, picnic and relax in the 6th arrondissement in central Paris.  One unique monument worth visiting is the fountain commissioned by Marie de Medici Queen of France.  This beautiful shady spot is a favorite with Parisians and is considered by many to be the loveliest fountains in Paris.
Montmartre Vineyard – Believe it or not, there is a producing vineyard in the heart of Paris.  Tucked along a side street in the shadow of Sacre Ceour is Le Clos Montmartre.  This vineyard is owned by the city of Paris and run by the wine society, Commanderie du Clos – Montmartre.
Paris by Bike – Who hasn't imagined biking through the streets of Paris just like they do in the Tour de France.  There are many ways to tour Paris – by foot, bus, boat, metro… but perhaps the most charming way is on a Paris biking tour.  Fortunately, there are many companies to select from so there is one that will suit your abilities.
Food and Antiques Street Markets – Paris is famous for their picturesque street markets and you should be sure to visit more than one!  Whether you're hoping to find a basket full of delights for a picnic, divine cheeses, antiques or a unique keepsake of your trip, you'll have a great time browsing through a Paris street market. Here a great recourse for the best markets in Paris.
Lesser-known Museums, Churches and Other Attractions
Le Train Blue Restaurant – step into the world of  turn-of-the-century Art Nouveau elegance, fine dining and opulence at this unforgettable Paris restaurant located at Gare de Lyon train station.  Imagine you are about to depart on a grand adventure at Le Train Blue.
Manoir de Paris – For everyone who loves a haunted house experience.  No need to wait for Halloween, this place is spooky all year long.  Inside the manor home you'll find 20 depictions of some of the most notorious villains of Paris.
Musee Marmottan Monet – Considered by many to be the most charming museum of Paris, the Musee Marmaton is located in an elegant town home in the 16th arrondisemont.  This museum displays 300 works by Claude Monet as well as pieces by Delacroix, Boudin, Manet, Degas, Caillebotte, Sisley, Pissarro, Gauguin and Rodin, with Chagall.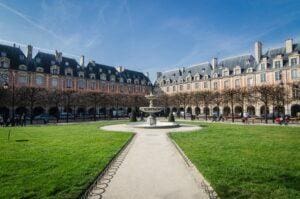 Mansion de Victor Hugo – Located in the architectually distinctive Place des Vosges in the Marais district of Paris, the elegant former home of Victor Hugo is a delight to tour.  Victor Hugo is France's most acclaimed writers having penned major works and essays over 60 years.  His novel Les Miserables is known and praised throughout the world.  Tour his second floor apartment and expansive art collections.
Musee Carnavalet – A visit to the Musee Carnavalet is a wonderful way to immerse yourself in the history of Pari from prehistory through to present day.  Collections and artifacts illustrate the evolution of the city as you walk through approximately 100 rooms in two lovely joined townhouses.
The Conciergerie – Once part of the Royal Palace of Paris, home to ruling Kings, The Conciergerie became the prison of Paris during the French Revolution.  It is most well known for housing the King of France and Queen Marie Antionette prior to their execution.  Tour the vast halls and the Memorial Chapel built at the location of Marie Antionette's jail cell.  Be sure to include a visit to the adjacent Sainte-Chapelle, the dazzling chapel that is illuminated by 1,113 stained glass windows!
Family-Friendly and for the Young at Heart
Treasure Hunt Tour at the Louvre – Bring the Louvre Museum to life for your kids with a colorful treasure hunt though the halls of the museum. Following direction in a kid's booklet, children follow the steps of archaeologits to solve mysteries and discover famous masterpieces. What fun!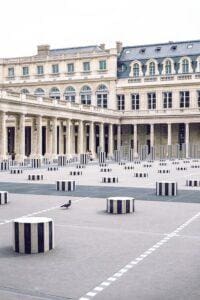 Pillars at Palais Royal – run off some engery in the courtyard of the Palais Royal in the 1st arrondissement.  The courtyard is decorated with dozens of black and white pillars of varying heights.  A perfect spot for some whimsy and a game of tag!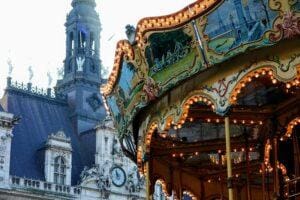 Vintage Carousels – One of the most endearing sights in Paris is to see laughing children riding vintage merry-to-rounds that are scattered throughout the city.  There are an amazing 20 carousels in Paris.  Here is a guide to finding an enchanting carousel to ride in Paris.
Rose Shaped Ice Cream Treats – We all love ice cream and gelato, and anytime is a good time to stop for a frozen treat.  When in the Latin Quarter, stop by Gelati D'Alberto where ice cream cones are topped with gelato shaped like a rose – it's sure to put a smile on every face!-
Rainy Day Hangouts

Covered PassPa of Paris – Paris has wonderful networks of beautiful covered passages that are lined with small boutiques and cafes.  There is no better way to duck out of the rain than in one of these delightful passages.  Here's a list of the Covered Passages of Paris.
Covered Book Market – Located at Parc Georges Brassens in the 15th arrondessemont is the intriguing booksellers market located in an historic wrought iron pavillion.  The book market takes place on Saturdays and Sundayshosting about 50 book merchants in a beautiful 19th-century pavilion, and it is definitely worth a visit.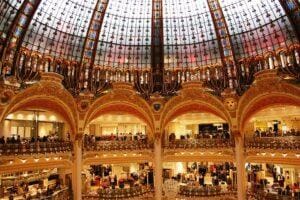 Galleries Lafayette – This is a wonderful stop no matter what the weather is.  You will be awe-struck by the fabulous stained glass dome.  Check their scheule for free fashion shows and cooking classes.  Don't miss the rooftop cafe on the 8th floor with wonderful views of the city from the outside terrace.
Concerts in Churches – Concerts are regularly held at the beautiful churches and cathedrals of Paris.  We encountered a concert at Sacre Coeur one day and it was hauntingly beautiful – a memory for a lifetime!  Here's a guide to find out where concerts and performances will be taking place in the city.