How to Be Social While Traveling Solo
Traveling solo allows you to explore on your timeline, taking in the sights and sounds that you're interested in exploring. However, traveling by yourself doesn't mean you have to be alone. Throughout your adventures, there are many great opportunities to meet new people from different walks of life. For some, being social is often easier said than done, especially when traveling in a new country. This guide will show you how to be social while traveling solo, so you can make lasting friendships and memories.
Reasons to Consider a Solo Trip
With so many areas in the world, finding a group or partner to travel with can be challenging. However, solo travel opens the door to many great opportunities you can't always get when traveling with others. So, if there's a new place you want to explore, take a leap of faith and embark on a solo adventure. Below are some of the top reasons to consider a solo trip:
Travel on your terms: One of the top reasons to go on a solo trip is that you can travel on your terms. This means you can visit the museums that interest you, dine at restaurants that you're in the mood for, and stick to your itinerary. In addition, through solo travel, you can be as selfish as you want without any guilt.
Save money: In some cases, traveling by yourself means you can save more money. When traveling with family or groups, you'll have to consider children and family members regarding lodging, food, and transportation, which can add up. Solo travel allows you to create your budget and stick to it.
Get to know yourself: In today's fast-paced and globalized world, it can be easy to become influenced by those around you. However, when traveling by yourself, you're in charge of making decisions and following your path, allowing you to understand better what makes you comfortable, happy, anxious, or unhappy.
Relax when you want: When traveling in a group, you can feel pressured to do every group activity, which can be exhausting. Traveling alone means you can choose when to stop and take a break to re-energize or get up and explore.
These are just some of the many reasons you should consider a solo trip. If you want to discover a new area, whether it's historic European cities or the tropical waters of the Caribbean, now's your time to plan your trip.
Benefits of Socialization When Traveling Solo
Being social can be challenging, especially in a new area and with people who might speak different languages. However, socializing when traveling solo comes with many benefits and even unexpected surprises, such as learning about off-the-beaten-path destinations to visit. Below are some of the top benefits of socialization when traveling solo:
Step outside of your comfort zone: Socializing with new people can be nerve-wracking. However, traveling solo forces you to step outside your comfort zone and dive into new experiences that can put you on a path of growth. From forging new relationships to learning about different cultures, many great things come from solo travel.
Meet new people: No matter where you travel, you're bound to spark conversation with someone new, whether you're asking for directions or recommendations for a restaurant. When traveling solo, these conversations can turn into new relationships, allowing you to meet new people you can stay in touch with even after your adventure ends.
Boost your emotional well-being: While traveling solo allows you to look inward and better understand yourself, it can still get lonely. Making an effort to socialize with locals and other travelers can help boost your overall emotional well-being by having meaningful conversations.
Ensure safety: When exploring a new place, you might need to learn important details about certain areas or geographic regions, which can be dangerous. Interacting with locals allows you to learn about safety precautions, what areas you should avoid, how to stay safe when exploring the wilderness, and what cultural customs you should follow to show respect.
Improve your language skills: If you travel in a group, it can be easy to communicate with those around you in your native language. However, traveling solo forces you to interact with new people you meet, allowing you to sharpen your language skills. Full immersion is one of the best ways to learn a new language, and traveling alone is the perfect opportunity.
These are some of the many benefits of socializing when traveling solo. So if you're looking for a sign to take a solo adventure, this might be it.
Tips to Meet Other Friendly Travelers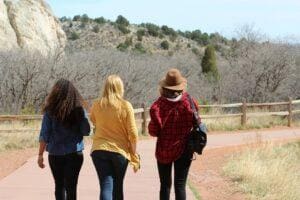 As stated, meeting new people is often easier said than done. If you're wondering how to meet other friendly travelers, consider some of our top tips below:
Sign up for group travel: Signing up for a solo travel learning experience is a great way to meet like-minded travelers. Joining a group travel program with an organization like Road Scholar—the world leader in educational travel for older adults allows you to maintain your independence while having the safety of a group. Along the way, you can enjoy spirited conversations and discover new areas with new people while still having the opportunity to enjoy alone time.
Lodge in a hostel: A hostel is low-cost shared lodging where travelers can either rent a bed or a private room. Hostels are often lively and consist of travelers similar to you, giving you an excellent opportunity to meet fellow solo travelers looking to meet new people.
Join a walking tour: Many popular cities have free or low-cost walking tours that bring you throughout the area to teach you about history, architecture, and culture. During your walking tour, you can converse with other travelers in the group, allowing you to learn more about others and meet someone new.
These are some great ways you can meet people when traveling solo. Other great ways to start conversations with others are volunteering or using social media to connect with other travelers.
If you're wondering whether a solo trip is right for you, now is the time. Solo travel allows you to meet new people, learn more about yourself, and discover new areas on your terms.