Plan a Festive RV Southern Christmas Holiday Road Trip
The calendar reads November and the holiday season is in full swing.  There's no better time of year to plan an enchanting RV road trip to visit Christmas lights and festivals.  While the Christmas Markets of Europe are the ultimate dream, America also offers many colorful Christmas Markets, celebrations and brilliant holiday light displays. We'll take a look at some of the most captivating holiday celebrations in southern states that will make an unforgettable holiday RV road trip.
Preparing For Your Holiday Road Trip
Your journey through three southern states will primarily be on excellent roads and highways, but you should always be sure that your RV is well supplied with everything you will need on your journey.  Safety equipment is of paramount importance.  Be sure that you have a fully equipped firstaid kit, road flares, leveling blocks and preferably a subscription to a road assistance service.  It's also a good idea to bring along a portable power supply to be sure you always have the power and lights you need whether you in a campground or off roading it.  You could even decorate your camper with Christmas lights to add a festive flare in the evenings if you have a portable power station along on the trip .  With a portable power generator you will always have the power you need without depleting your camper's battery.
6 Fun and Festive Christmas Markets in South Carolina, North Carolina and Georgia.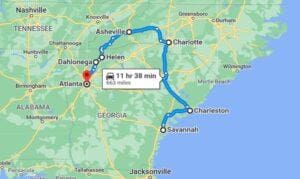 Savannah, GA – Stop #1
Savannah is a fascinating city at any time of the year, but at Christmas time it really sparkles.  The Plant City District hosts their "tradtional Salzburg style" Savannah Christmas Market along the riverside.  Elsewhere in the city you'll enjoy Savannah Holly Days with a Gingerbred Trail, Historic Home Tours, Holiday Boat Parade and Arts and Craft Festival.
Charleston, SC – Stop #2
Charleston, known as the Holy City for its 7 prominent churches, is a gracious city that is escpecially wonderful during the holiday season.  Holiday Happenings occur all during the month of Decembers.  There are holiday home tours, water tours, festive strolls, carriage and sleigh rides, tea parties and carolling.  Visitors delight in viewing the imaginitive decorations of the famed antebellum homes.
Asheville, NC – Stop #3
Asheville draws thousands of visitors every Christmas season to witness the spectacular holiday decorations at the Biltmore Estate.  Biltmore is the largest private estate in the United States, built by George Vanderbilt in the late 1800's in the mountains of Georgia. Known for their lavish parties and amazing holiday decorations, Biltmore remains a spectacular site to see at any time of the year.  Whether you're touring the home, experiencing a candlelit evening there, or wandering through the fabulous botanical gardens, Biltmore never fails to amaze visitors.  While you're there be sure to take in the Dickens Festival in Biltmore Village as well.  If you're lucky, there may even be a dusting of snow!
Helen, GA – Stop #4
For the next best thing to going to Europe for Christmas, Helen Georgia can't be beat for authentic Kris Kringle atmosphere.  Helen is a quaint German-inspired Bavarian Village surrounded by pine trees and the Blue Ridge Mountains.  This cozy town is so nostalgic that it's often used in the filming of Hallmark movies.  During November and December the whole town celebrates the holidays and Christmas Markets and holiday festivals.
Dahlonega, GA – Stop #5
Just a bit south of Helen, the charming mountain town of Dahlonega goes all out to celebrate the holidays.  Dahlonega's Old Fasioned Christmas celebration continues through December with festival lights and musical performances at the Historic Holly Theater.  Dohlonega is most well known for dozens of acclaimed vineyards in the area.
Atlanta, GA – Stop #6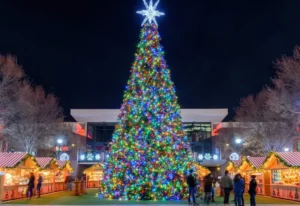 The city of Atlanta goes all out with holiday lights and celebrations throughout the season.  Be sure to catch the Atlanta Christkindle Market at Centennial Park with 50 vendors, German food, and lots of festivities.  Ponce City Market celebrates with a Christmas Market, fire pits, firepits, toasted s'mores, hot chocolate and cider, an icerink and igloo cabannas.  Enjoy a Winter Waterland at the Atlanta Aquarium, and Holiday Nights at the botanical gardens with 30 acres featuring a million dazzling lights, beautiful lighted topiaries, light and msic show and a stunning tunnel of lights.  The town positively glitters with holiday displays.