MD: According to Condé Nast, Mérida is Among the 5 'Best Large Cities' in the world to travel to. Keep reading to find out why.
Why Mérida is Among the 5 'Best Large Cities' according to Condé Nast
Mérida ranked fourth in this year's Condé Nast election of Best large cities in the world to travel to. This city in the north of Mexico has participated many times in the election for the best travel destination and has ranked highly in most of them. This is no surprise, as Mérida is a great destination for enjoying the Yucatec cuisine, art, and culture. Find out why Mérida is one of the best urban travel destinations in the world with this article.
Where to stay in Mérida
Mérida is known for its exquisite hospitality scene. The city is filled with hotels and hostels for all budgets. You'll find beautifully repurposed hacienda's and oceanfront properties to stay during your city trip. Most Mérida Mexico hotels are concentrated in the heart of the city and are a perfect starting point for walking around the historical city center. Choose a hostel to meet other like-minded travelers or book a luxurious boutique hotel with a pool for ultimate relaxation.
Source: photo from Pixabay.com by Israel Trejo https://pixabay.com/photos/merida-cathedral-mexico-1719839/ 10-07-2016
What to eat in Mérida
The Yucatán peninsula is known for its unique food, which dates from the Mayan era. You'll find food here that you won't be able to find in any other Mexican state. The Mayan people were responsible for growing corn and potatoes, alongside many other crops. It's thanks to them that Mexican cuisine is so popular around the world.
Cochinita Pibil
A popular dish is Cochinita Pibil. This slowly stewed pork meat is wrapped in banana palm leaves and traditionally slow cooked in a large pit in the ground. It is for this reason that this dish is called Cochinita Pibil, which means buried pig. The marinade is made with annatto seeds, grounded into achiote paste, and citrus juices, which were brought by the Spanish conquerors. This dish is traditionally paired with pickled red onions and served in a tortilla.
Sopa de Lima
Another dish special to Yucatán is Sopa de Lima. This soup has a base made with the lima fruit, native to the Yucatán peninsula. It's boiled with lots of spices, including pepper, cloves, cinnamon and garlic and is richly filled with shredded chicken and fried tortilla strips. The sour and spicy taste of this soup is perfect to cool off the Mérida heat.
What to do in Mérida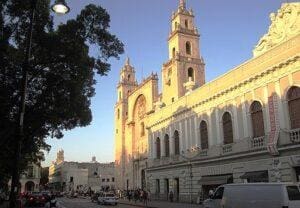 Wikimedia Commons by: Elelicht
Learning about Mayan culture and cuisine, and relaxing at the colonial squares, while enjoying exquisite architecture: it's all possible in Mérida. Go to one of the many museums or squares to make your Mérida trip complete.
Learn about Mayan culture at the Gran Museo de Mundo Maya
If you're interested in learning about Mayan culture, you should definitely visit the Gran Museo de Mundo Maya Mérida. This museum of the Mayan world, houses over 1000 Mayan artifacts for you to explore. This museum was built to show the development of the Mayan culture from the beginning until the end. Unfortunately, the museum is situated outside the center, but is easily accessible by taxi or Uber.
Take a free walking tour
Just like other popular travel destinations, Mérida offers free walking tours to explore the city with a knowledgeable guide. The tours are based upon a "pay what you can" principle and are led by locals and tourism students. The tour will take you to the most popular destinations, but will also include places that no other tours include. You'll receive lots of information and see the most beautiful spots of the city. If you're searching for local places to eat or have a drink, your guide will be happy to point you in the right direction.