Picturesque Places to Visit While Staying in Sydney
If you are one of the millions of people that are planning to visit Sydney, you will no doubt want to take lots of photos to remind you of your trip. Fortunately, Sydney is a picturesque place, which provides plenty of opportunities for you to get some great shots to share with friends and family. Below, is a roundup of some of the best.
Head to Observatory Hill for skyline views
If you want to photograph Sydney's skyline head up to Observatory Hill. It is also the perfect place to take an interesting shot of the harbour and the Sydney Opera House. If you can, go up there two times. Once during daylight, then again to take photos at sunset. Provided you are patient enough, once it is dark, you will also be able to take a few of the city lights. But you will need to book in advance, it is free to get into the observatory, but so many people go up there at night that numbers are restricted.
See the Sydney Opera House in all its glory
Visiting the Sydney Opera House and taking the tour is on most tourists' to-do lists, and so it should be. It is a beautiful building with a fascinating history, so it is well worth going inside and learning more about how things work behind the scenes. But you are going to get the most interesting shots from outside. This article contains a dozen suggestions along with a photo taken from each location to help you to decide where to go. Many of the sites are near other tourist attractions meaning that you are not making the trip just to photograph The Sydney Opera House.
Visit some of the city´s picture-perfect cafes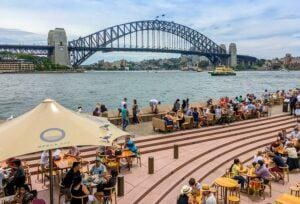 Sydney has a great coffee culture. It is a friendly and social space, so there are plenty of good cafes to stop at for a rest. A lot of them serve exceptionally good brunches, which is the perfect way to take a mid-morning break. If you do decide to do this, check out this most instagrammable cafes in Sydney article. It includes cafes that are located close to all of the most important tourist destinations. Two of which provide you with magnificent views of the harbour. They all serve great food in photogenic environments.
Wendy Whiteley's Secret Garden
Sydney is full of beautiful green spots. One of the nicest and least well-known is Wendy Whiteley's Garden. It is located on the edge of Lavender Bay, which overlooks Sydney Harbour. The entrance is not marked, but you can find it by looking for the huge fig tree.
Milk Beach
If you want distance shots of the city, head to Milk Beach. It is a small crescent of sand that is located in the ritzy Vaucluse neighbourhood. You get there by walking from Shark Beach in Nielsen Park.
Interesting sculptures and statues
Sydney is full of statues and monuments. Some of which are very grand, unusual, or beautiful. For the best shots head to the following places:
  Botany Bay
  Macquarie Street
  Shakespeare Place
  Hyde Park near Elizabeth Street
Alternatively, you could follow this sculpture walk. You may also enjoy taking photos at Luna Park. It can´t exactly be described as picturesque, but the theme park's rides are colourfully decorated with frontages which are almost sculptural in appearance.
Visit The Royal Botanic Gardens
The Royal Botanic Gardens – head to Mrs Macquarie's Point to get more photos of the bay and The Opera House. But go during the day, so you can take photos without being blinded by the sun.
The Royal National Park in Sydney
Opposite Sydney Harbour Bridge is a beautiful National Park. It is Australia's oldest. There you can photograph the rugged cliffs, the smooth sandy beach, and its indigenous rock art. As well as take shots of beautifully manicured lawns spotted with tall sculptural trees. It is also possible to rent a kayak and take some beautiful photos from the water.
Bradley's Head Amphitheatre
If you fancy enjoying a picnic during your stay in Sydney visit Bradley's Head Amphitheatre. It really is a beautiful spot from which you can get some wonderful shots of the wild sand dunes, crystal clear water and the city beyond and Fort Denison.
The above offers you just a taste of picturesque Sydney. Once you start looking during your visit you will find many more. The trick is to take a look at Google Maps' satellite view before you visit an area. Doing this will help you to uncover some hidden spots, for example, the grassy knoll that sits in a small reserve and provides you with a panoramic view of Bondi Beach.