Guide to Exciting Sailing with Inflatable Catamaran Sailboats
Recreational sailing is one of the most popular water sports for exciting leisure activity.  However, getting started can sometimes seem daunting.  Many people learn to sail on vacation or by taking lessons in a small day-sailer.  However, inflatable catamarans make an easy, affordable and very stable option.  When you learn how to sail, you want a durable, stable, and easy-to-handle boat. It is an excellent investment that will provide years of enjoyment and last for a long time.
An inflatable catamaran sailboat is one of the most reliable sailboats around. Because it is inflatable, you can store it without difficulty, and you will not need a trailer.  Any sailboat is a big purchase, so be aware of your choices before you shop inflatable catamaran sailboats.
How do I choose the right inflatable catamaran sailboat?
For starters, here are considerations that will give you a basic idea of what you should look for in an inflatable boat.
Stability
An inflatable catamaran sailboat may appear less reliable than trailered sailboats, but that's not necessarily the case.  Inflatables have a lightweight design. Both sides of the boat have wide beams and double-hulled tubes.  Compared to a monohull, the inflatable boat does not heel when sailing. It is also less susceptible to rocking when it is at anchor.
Inflatable boats are very stable and difficult to flip because they have a buoyancy tube on each side and a low center of gravity.
Affordability
An inflatable boat is less expensive compared to the fiberglass kind. You do not need to pay for a trailer. The shipping costs are lower, too.  The cost of building a boat, shipping it, and logistics contribute to the hefty price of a boat. The cost of shipping an inflatable is around 10% of the total purchase.
In comparison, shipping and logistics for trailered boats can go up to 60% of the total price. Both, however, offer the same quality and experience.
Portability
The boat is portable enough to allow you to bring it to and from the water without trouble. You can also launch it from beaches and docks without effort.  If you need to take the inflatable boat with you on a plane, you can check it as luggage. It will also make an excellent accessory for trailers and RVs.
Versatility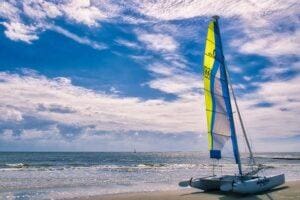 An inflatable catamaran sailboat is for boaters with varying experience levels. It makes it easy for them to adapt to diverse setups.
The boat has a specialized hull design, which helps boaters navigate more challenging bodies of water. It also makes boating more convenient for inexperienced enthusiasts.
Safety
Inflatable boats are safe. Even the military uses them on different terrain and rough waters. Manufacturers put them through many tests to make sure the boats are puncture-proof.  The boats have high-quality and durable PVC fabrics that withstand most impacts. The material can also endure much damage before any tear or puncture occurs.
An inflatable boat is also hard to sink. Its many air chambers hold air even when the others are punctured or leaking. It also has stabilized flooring, making the boat as safe as conventional boats.
Storage
An inflatable boat does not take up too much space. You can store it without a lot of fuss. Traveling with it also does not pose problems because you can fit it in your car without difficulty.  Storing an inflatable catamaran sailboat is simple. Once it is clean and dry, you can fold it into a compact size. You can then put it in a cool and dry spot, away from dust.
Armed with basic knowledge, you can start making sailboat comparisons. To be sure, have a sailboat-buying guide that will teach you what to look for when choosing a boat. A sailboat-buying guide will walk you through the considerations you need to know.
Sailboat choices abound, so it can make the buying process more difficult. Get a guide in buying sailboats to feel more confident when going through the options.
Is an inflatable catamaran safe on the ocean?
A well-maintained inflatable catamaran sailboat is safe to use at sea. It may be lightweight, but it is unlikely to capsize while sailing.  A catamaran is excellent in rough seas. It has a design that gives the boater a choice to maneuver from the inside during unpleasant weather.  Its design allows an easier way to manage any body of water. It can cut through waves, turn faster, and maneuver out of tight spots.
Some people would prefer to avoid using inflatable boats in the ocean. But these boats are trustworthy due to their reliability and performance.  The Navy SEALs use inflatable boats when moving tactical elements to various destinations. Rescue operations and law enforcement also use inflatable boats.
How does one care for an inflatable catamaran sailboat?
To care for your inflatable sailboat, you should first understand cleaning and maintenance. While this sailboat has the build and the composition, it still needs proper care like any other boat.
Why is caring for an inflatable catamaran sailboat a crucial task?
Preserving your boat is fundamental to keeping its resale value. If you keep it well-maintained, you can put it on the market and fetch a better price. Safety is another sensible reason why caring for your inflatable boat should be a priority. You can rely on it if it is clean and in good shape, especially during an emergency.
How often should maintenance be done?
Maintenance will depend on how often you use your boat. If you take it out for a sail every week, you should perform maintenance every week. If you use it only once or twice a year, you don't have to do frequent intensive cleaning and maintenance. You only do thorough cleaning during heavy use.
Do you want an inflatable sailboat that does not need rigorous maintenance? Consider buying a boat with minimal upkeep.
NMMA Certification
When you buy a boat, you want to be sure that the vessel meets industry standards at the least. The National Marine Manufacturers Association (NMMA) certification requires boat manufacturers to follow safety standards and federal regulations.
For a boat to get NMMA certification, it has to meet or exceed the established standards. The NMMA provides a list of the latest certified boat manufacturers.
The Final Takeaway
An inflatable catamaran sailboat is a good choice for anyone interested in taking up boating. Since there are countless models, features, and accessories to choose from, it pays to do due diligence.  A boat is a serious investment. Educate yourself before starting your search. This way, you get the best inflatable catamaran sailboat that fits your preferences to get the best value for your money.
*******************
Image Credit: redbeardsailing.com