The Rise of Eco-Friendly Tourism – Why Travelers Are Going Green
Do you consider yourself an eco-friendly traveler? If not, you should start thinking about it – because the trend of eco-friendly tourism is on the rise. And there are a lot of good intentions behind the movement. Eco For one thing, it's becoming increasingly easy to find and book eco-friendly hotels and tours. And more importantly, travelers realize that choosing eco-friendly options can make a real difference in reducing their environmental impact.
If you want to decrease your carbon impact while vacationing, check out these Eco-Friendly Tourism ideas for doing so without sacrificing any of the fun.
What Is Eco-Friendly Tourism, and Why Is It Becoming More Popular?
In recent years, eco-friendly tourism has been on the rise, as more and more people are looking for ways to travel with minimal environmental impact.  There are many definitions of eco-friendly tourism, but at its core, it is about making sustainable choices that protect local ecosystems and communities. This can mean choosing accommodations that use renewable energy to eat locally sourced food. It can also involve things like volunteering or donating to local conservation efforts.
For many people, eco-friendly tourism is about more than just reducing their carbon footprint – it's about connecting with nature respectfully and sustainably. With the help of sustainable travelers, we can all do our part to promote eco-friendly tourism and make the world a better place.
How Can Sustainable Travelers Make Their Trips More Eco-Friendly?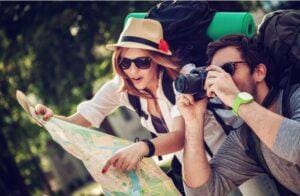 If you're interested in making your next holiday more eco-friendly, you can use a few simple hacks to make a big difference. Here are a few ways to get you started:
Bring a reusable water bottle – This will allow you to avoid buying single-use plastic water bottles, which are a significant source of pollution.
Pack light: Travel with a backpack or small suitcase instead of a larger one. This will prevent you from overspending on unnecessary items and help to reduce your carbon footprint.
Choose public transportation – Whenever possible, take public transportation instead of renting a car. This will decrease your carbon footprint and save you money.
Eco-friendly accommodations –  Look for accommodations that use renewable energy, such as solar power.
Eat like a local – Eating locally sourced food is not only good for the environment, but it's also a sustainable way to support local businesses.
By following these simple tips, you can make your next trip more eco-friendly and help to protect the environment without sacrificing any of the fun.
What Are the Main Benefits of Eco-Friendly Tourism?
Eco-friendly tourism has many benefits, both for the environment and the traveler. Here are a few of the most notable benefits:
It's good for the environment – One of the most apparent benefits of eco-friendly tourism is that it's better for the environment. By making sustainable choices, you can help to protect local ecosystems and reduce your carbon footprint.
You'll save money – Traveling in an eco-friendly way can save you money. For example, eating locally sourced food is always cheaper than dining at restaurants. And public transportation is usually less expensive than renting a car.
You'll have a more authentic experience – When you connect with nature and the local community, you'll have a more real and memorable travel experience.
Eco-friendly tourism is a win-win for everyone involved. By making sustainable choices, you can help to protect the environment and support local communities. And, you'll save money and have a more authentic travel experience. What's not to love?
Examples of Sustainable Destinations That Are Great for Eco-Friendly Tourism
Although there are many sustainable places to travel to, these are a few of my favorite eco-friendly destinations I have visited and wanted to share.
Bhutan
One of the reasons Bhutan is such an excellent sustainable destination is that it produces more renewable energy than it consumes. The country is exporting hydroelectricity to other countries such as India and Nepal.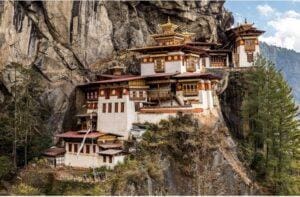 Let's not forget about Bhutan's incredible and diverse wildlife. According to the World Wild Life Fund (WWF) and UN Environment Program, the country is home to 103 endangered Bengal tigers and 687 wild elephants. By visiting Bhutan, you can help to support conservation efforts while also getting an up-close look at some of the world's most amazing animals.
And lastly, Bhutan also has a thriving traditional culture based on Buddhism. This means visitors can experience a different way of life while enjoying some of the most beautiful scenery on earth.
To read more about planning your next trip to Bhutan, read here.
Cape Town, South Africa
Cape Town, where I'm from, has recently been voted by Tourlane as one of the most eco-friendly cities in the world. The city has a thriving green economy, and its renewable energy, waste management, water treatment, energy efficiency, and sustainable agriculture practices are all exemplary.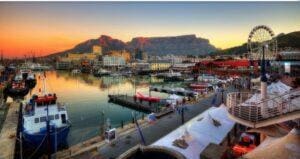 Cape Town is a beautiful city with plenty to do for outdoor enthusiasts. Table Mountain provides stunning city views, while Clifton Beach and Camps Bay offer opportunities to surf or relax by the water. Hermanus is perfect for whale watching, and there are many more activities to enjoy in Cape Town.
Last but not least, some of the most famous wines in the world, such as Groot Constantia's Sauvignon Blanc, are produced near Cape Town. So, whether you want to spend time outdoors or just sit back with a glass of wine, Cape Town is an excellent choice.
Find out more about Cape Town by clicking here.
La Reunion Island
La Reunion Island is a great sustainable destination for several reasons. First, it is powered almost entirely by renewable energy, making it one of the most eco-friendly destinations in the world.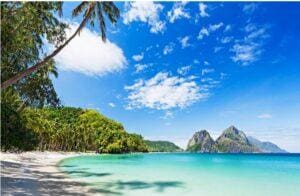 Second, La Reunion Island is home to several protected natural areas, including the Reunion National Park, a UNESCO World Heritage Site. This park covers a staggering 42% of the island. Visitors to the island can look forward to white sand beaches, lush rainforests, and incredible volcanic landscapes. This commitment to protecting the environment makes La Reunion Island an excellent choice for sustainable travelers.
Finally, La Reunion Island is also an excellent sustainable destination for foodies. The island's Creole cuisine is a delicious blend of African, Indian, Chinese, and French influences.
If you're looking for an eco-friendly destination with plenty of activities and delicious food. In that case, La Reunion Island is a great choice.
The Future of Eco-Friendly Tourism
One of the most popular trends in eco-friendly tourism is "voluntourism," where travelers combine volunteering with traditional tourist activities.
This can involve anything from helping to build houses in developing countries to working with endangered animal species. As awareness of the importance of preserving the environment grows, eco-friendly tourism will likely continue to increase in popularity.
With its many benefits, it's hard to imagine why anyone would choose to travel any other way.
Final Thoughts About Eco-Friendly Tourism
Eco-friendly tourism is a great way to see the world while helping preserve it. By choosing sustainable travel options, you can enjoy all the benefits of tourism without harming the environment. There are many eco-friendly destinations to choose from, so there's sure to be a perfect destination for everyone. Whether you're looking for a memorable adventure or a relaxing vacation, eco-friendly tourism offers something for everyone.
What are your thoughts on eco-friendly tourism? Have you ever volunteered while traveling? Share your experiences in the comments below!
********************
About The Author:  Adriaan is a world traveler from South Africa who has visited over 42 countries. He's a sailor at heart and believes in traveling the world sustainably. He loves to make people laugh and thinks it's possible to have fun while still caring for our planet.
Image Source:  Cana Pro