A Literary Travel Guide To Portugal
Portugal is the land of sun, outstanding personalities, white-sand beaches, delicious cuisine, and welcoming people. If you have never considered Portugal a must-visit place, then we encourage you to start planning your Portuguese vacation right away.
Portugal welcomes thousands of tourists from all over the world each tourist season, which lasts from May to October and even into winter months with pleasantly cool temperatures. In this article, we are going to tell you more about marvelous Portugal and share travel tips and tricks with a literary twist to convince you definitely need to visit this fascinating country.
Reasons to visit Portugal
Before proving to you that Portugal is a perfect place for literary lovers, we also would like to prove to you that Portugal is the country that you certainly need to visit at least once in your time, and here is why.
Perfect place for tourists who adore literature
Portugal is known for being a native land for numerous worldwide writers whose writings became outstanding and remain popular these days. You may find a lot of museums of classic and contemporary art, tons of bookstores, and libraries where you can find the rarest editing of particular books, guided literary tours, and so on. You are going not only to have a rest but also to gain valuable knowledge about Portuguese literary art.
Marvelous beach areas
Portugal is known for the scalable number of picturesque beaches with white sand and broad coastlines. Some of them are overwhelmed with lots of tourists and a huge variety of cafés, while you can also find wild beaches to spend time in complete peace.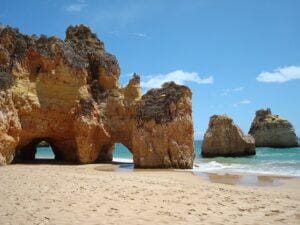 Among the most popular beaches we would mention Altura, Praia do Castelo, Troia peninsula, and others located in various Portuguese regions. It is recommended to rent a car not to restrain yourself and be able to visit different locations and beaches while traveling Portugal.
Delicious cuisine
Being located near the coastline, Portugal is known for its Mediterranean cuisine, particularly fresh seafood prepared in different recipes and dishes. Moreover, seafood dishes are very affordable, so you can definitely try the local dishes with any travel budget. Among other national cuisine propositions, we also recommend tasting the famous national Pasteis de nata, Cataplana de marisco, Açorda, and others you will easily find in local restaurants.
Outstanding architecture
Portugal is a combination of various architectural eras and styles including the Renaissance, Gothic, contemporary styles, and many others. Lisbon and Porto are considered to be the most beautiful towns if we talk about architecture. So don't pick only a lazy beach vacation. While being in Portugal, you absolutely need to visit local sights like museums, churches, ancient towns, etc.
Tips for decent literary traveling in Portugal
Attend weekly book market in Lisbon
The first place we would recommend visiting is the regular book market in Chiado's Rua Anchieta which is organized every Saturday. There you can find numerous old and valuable books, editions of which you will not probably find elsewhere in the world. Besides, you can get unique publications, and you can also exchange the books you love with others.
You just need to bring one or several of your favorite books and take the same number of books you found in the market and would like to read and return. If you are looking for an ancient edition of a stale book or author, probably this is a great chance to try to find it as you can also consult with the resellers to find the required book.
Consider taking literary guides tours
Portugal has become an endless source of inspiration for many worldwide writers who originally didn't come from Portugal but fell in love with its culture, nature, and architecture. These days there are various guided tours like Writers in the North you can find in Portuguese cities that will conduct a detailed excursion in the places and routes where these writers were creating their works or which they described in their novels.
It is a great way to replenish your knowledge about the worldwide literature and the impact of Portugal on the art of many writers you might know. Here you can find the popular literary guided tours in Portugal you may consider visiting.
Book a ticket for Fernando Pessoa Lisbon Walking Tour
Fernando Pessoa is considered to be one of the most outstanding and unique poets and writers of all time that comes from Portugal. There are many literary events and tours related to investigating the life and art of this personality. We would like to present to your attention Fernando Pessoa walking tour where you will be guided through the places and locations where the famous poet was born, lived, and was inspired to create his writings.
By attending this tour, you will probably meet other people with similar literary interests, which will make your tour even more exciting as you can discuss and share your impressions with each other. Moreover, you can also cooperate and attend other guided tours and exhibitions together during your trip.
Visit Ler Devagar bookstore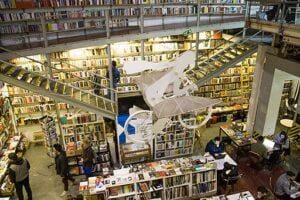 Ler Devagar is one of the best combinations of the bookstore and library you can find in Portugal. When coming into the building, you see a huge, just tremendous number of shelves and books. The name of this bookstore is translated into English as "read slowly". Many tourists are willing to visit this bookstore just to slow down and relax while reading one of their favorite books. Here you can also have a cup of coffee and some snacks, which allows you to spend the entire day there. This is a real paradise for literary lovers.
To Conclude
We hope our travel guide about the beauty and excitement of Portugal you are going to get there has made you want to plan a vacation in this country. The Portuguese trip, just like any other trip, requires planning in advance—flights, apartments, car rents, etc. So pick the dates you are free and book your tickets right away.
********************************
About The Author:  Frank Hamilton has been working as an editor at essay writing service Trust My Paper and an author at custom writing company Best Essays Education. He is a professional writing expert in such topics as blogging, digital marketing and self-education. He also loves traveling and speaks Spanish, French, German and English.