Places To Visit In London: A Quick Guide To Help You Plan Your London Trip
London is an exemplary metropolitan city that oozes with class, elegance, modern and ancient architecture and is sure to blow your mind away.  From small alleyways dotted with shops to antique Thames river boats and historic tunnels, the entire city of London is a work of art. Every nook and cranny is as important as each stroke of the brush that helps create a masterpiece.  London is the city of dreams, that can evoke joy, fascination and enthusiasm.
Let's explore how you can make the most of your time here in London. The best ways to discover the most of London at your own pace.
Planning Short Trip to London:
Day Time Activities

Short on time? Here's how you can plan your day trip in London. First off, Getadayroom at a convenient hotel. In the morning, visit St Paul's Cathedral and see its spectacular interior before ascending to the Golden Gallery for a panoramic view of the capital.
After that, you can witness the popular Changing the Guard ceremony at Buckingham Palace. Active British Army men with crimson tunics and bearskin helmets swap service with the King's New Guard.
Visit Tower of London at noon. The Tower of London was one of King Henry VIII's favourite prison and execution site.
During the afternoon, you can go and visit the London Eye, followed by Greenwich. After riding the London Eye, you can take a riverboat to Greenwich, one of London's most lovely and underrated neighbourhoods.
Short Trip to London: Night Time Activities

London is a vibrant city that's as busy at daytime as it is during the night-time. After dark, the cityscape changes drastically. From the magical illuminations, legendary theatre performances, night clubs and restaurants, you can find it all here in London.
You can find free night walking tours and night tour buses. You can also visit St Paul's Cathedral at night or the Big Ben and Westminster Cathedral's Gothic architecture. Soho and West End have neon-lit nightlife. Get ready to get swoon away!
Stargaze in Hampstead Heath or view bats in Hyde Park at night. After a long day and night wandering around London, visit the Polo Bar in Liverpool Street for 24/7 greasy spoon cuisine.
More Must-Visit Activities in London
Travel through time and discover British history at the Tower of London and Crown Jewels Exhibition
You should not miss exploring the 11th-century Tower of London. William the Conqueror established this UNESCO site in 1086. London's castle is a fortress, palace, and jail. Discover why the resident ravens are called the Tower's guardians.
On Tower Green, two of Henry VIII's wives were executed. You may enter the tower where the British Crown Jewels will enchant you. The British royal jewels are the world's largest operating collection.
The Imperial State Crown includes 2,868 diamonds, 273 pearls, 17 sapphires, 11 emeralds, and 5 rubies. The Yeoman Body will provide in-depth information on the Towers' history. Yeoman Warders may tell you about the Tower's history when tours aren't available.
Delve deeper into the world of Harry Potter: A Guided Walking Tour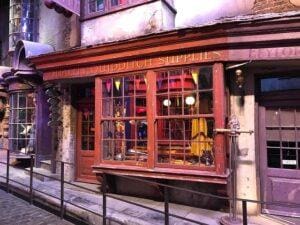 If you are a Harry Potter aficianado, there is a great opportunity to walk in the footsteps of your favourite wizards (and witches) across Muggle London. You can take a tour of the Warner Bros studio or the fictional platform 9 ¾. You can see the places that influenced J.K. Rowling—from Shakespeare's Globe to the London streets that served as the model for Knockturn Alley—while competing with other Houses in an interactive quiz seems like a lot of fun.
You can pass through the mysterious wizarding inn The Leaky Cauldron, Diagon Alley, where Harry buys his first wand; You may ride the London Underground or a riverboat for part of your guided tour. Both routes are as follows: 2. Westminster Abbey Market Golden Hinde Winchester Palace 5. Clink Museum Globe Theatre Bridge Millennium 8. DRA London Eye 10. London 11. Sherlock's Pub 12. G.S.P. Gringotts Bank 14. Miniature police station 14. London Knockturn Alley Diagon Alley Palace Theater.
Satisfy your inner artist with Rock 'n' Roll History Bus Tours
See the sites that inspired some of the world's greatest musicians in London. Learn about the 'Swinging Sixties' from your guide. London is full with history and rock stories. Abbey Road, Soho, Camden Town, Mayfair, the Strand, or Piccadilly Circus. Follow British music stars' lead. See rock icons' homes and recording studios (and some sadly died). If you plan to hire a guide, ask your guide about your favourite musician and plan a tour accordingly.
Step into London at night with the Open Top Bus Tour
You can enjoy a glittering night-time view of some of London's top attractions with the London by Night Open Top Bus Tour. London by Night Open Key Bus Tour offers a night-time perspective of top sights.
As night sets, embark on an open-top bus to tour downtown London. You can travel through Trafalgar Square and Piccadilly Circus.  You will also be able to see Buckingham Palace, Tower Bridge, Big Ben, The London Eye, and St. Paul's Cathedral illuminated against the night sky.
For detailed information visit this link: London by Night Open Top Bus Tour tickets and dates – Bus Tour – visitlondon.com
For Longer Visits to London at your own pace:
Here's a list of 26 must-see attractions in London
If you are like us and want a deeper and more immersive culture dive into the city of London at your own pace; don't be worried. We have covered 24 of the must-see attractions and places in London. If you have enough time, you shouldn't waste on these opportunities. Here are some amazing places that you should visit in London.
Greenwich
Hyde Park
Westminster
Camden
Soho
Shoreditch
Hampstead Heath
BFI
Thames Cruise
Baker Street
Brixton Academy
The O2
Brick Lane
Chinatown
Electric Avenue
Piccadilly Circus
Oxford Street
Leicester Square
Galleries
Harrods
Platform 9 ¾
Museums
Bond Street
Buckingham Palace
Interesting Places to Visit

Greenwich
Greenwich is where eastern and western hemispheres meet. Explore its ancient sites, stunning architecture, and panoramic scenery on foot. You'll be able to see Cutty Sark, the lone surviving tea clipper, and Sir Christopher Wren's Old Royal Naval College to list a few.
Shoreditch
Shoreditch is one of London's trendiest neighbourhoods after recent redevelopment. It's one of London's trendiest places to stay and is one of the hottest nightlife areas.
Its pubs and restaurants make it a great area to spend the day and evening. Circus-themed Trapeze offers beverages in popcorn tub-style cups.
Far Rockaway is a pub and restaurant boasting comic books, band posters, and 90s nights. Or you can visit the Blues Kitchen for ribs and blues.
Camden
Camden is a popular London district. Goths, punks, rockabillies, and tourists swarm this alternative-culture hotspot. Camden's body mod culture includes piercing and tattoo establishments.
Camden Market offers foreign street food, toys, and distinctive artwork. Cookies And Scream is one of the city's top vegan pastries and vintage clothes shops.
After shopping, go to Camden Lock and down Regent's Canal to King's Cross.
Soho
Soho is London's sex capital. Soho is becoming the most popular nightlife place, but sex stores give it a risqué feel. Soho is the core of the city's LGBTQ* scene, with several gay and lesbian pubs.
Soho's theatres, jazz bars, and restaurants make it a cultural hub. Its closeness to Leicester Square makes it a perfect spot to have a drink after a concert or theatre show.
Soho remains attractive throughout the day. There are music stores, cafés, and bakeries. Take a brisk break and watch different culture of people while enjoying a cup of coffee on Old Compton Street.
Hyde Park
Hyde Park is London's most renowned and largest park. The park has rich heritage, including hosting Suffragettes' protests.
Every week, discussions, demonstrations, and performance artists fill Speaker's Corner in here. The park has two bodies of water, the Serpentine being the most renowned. Paddleboat, observe swans, and breathe fresh air near the city centre.
Baker Street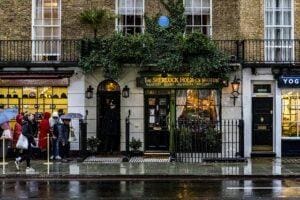 Baker Street, where Arthur Conan Doyle's Sherlock Holmes resided, is a London landmark.  After the BBC revival 'Sherlock,' a Sherlock Holmes Museum opened near a subway station.
Madame Tussauds, where you may pose with celebrities, is nearby.
After Baker Street, visit Regent's Park or Primrose Hill for London's best views.
Westminster
Westminster hosts the Houses of Parliament and Big Ben, London's prime political epicentre. Big Ben, the clock tower's bell, still rings every hour.
Westminster Abbey is open most days to tourists. You can visit the Parliament Square that boasts monuments of Nelson Mandela and Winston Churchill.
Bond Street
Bond Street is a retail sector that links to Oxford Street. Bond Street's shops are more exclusive and designer-focused than Oxford Street's. Bond Street is one of London's most expensive retail streets.
Many storefronts have doormen. Watchmakers, jewellers, and even handbag retailers display diamonds. This street has Tiffany's, Cartier, and Ralph Lauren.
After window shopping, you can pose with the 'Allies' monument of Winston Churchill and Franklin D. Roosevelt. Find London's oldest outdoor sculpture over Sotheby's. Ancient Egypt's 3,000-year-old sculpture.
Buckingham Palace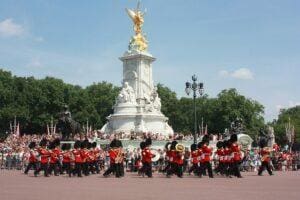 Green Park is the best place to see Buckingham Palace in London. Since 1837, the royal family has lived there. 775 rooms and London's biggest private garden.
Some of the palace is available to guests so they may witness royal life. Watch the Guard Change from outside. This practise occurs many times a day and is a terrific chance to see a historic custom and the Royal Guard's highest discipline.
Brixton Academy
Live music venues flourish in London. You may witness up-and-coming performers at open mic nights or niche venues. Brixton Academy in south London is a great venue if you are fortunate enough.
Brick Lane
Brick Lane is the hub of London's Bangladeshi community. Brick Lane is a cosmopolitan area with English and Bengali road signs and several curry eateries.
This is the place to go for spicy food, but don't miss the sweet shops for true South Asian delicacies. The area's trendy bars and markets draw a youthful, stylish audience.
For art, check out Whitechapel Gallery or Brick Lane's Street art spread all around.
Chinatown
Gerrard Street, between Soho and Leicester Square, is London's Chinatown. This neighborhood's Chinese lanterns and crimson arches make it hard to miss. Chinatown has real Asian eateries, groceries, and hidden pubs. HK Diner serves great roast duck, outstanding service, and large quantities. They provide bubble tea, a popular Asian drink.
Thames Cruise
The Thames has long been London's economic lifeblood. England's longest river flows into the North Sea. It was a key location for the Romans, English Kings, and both World Wars.
Several firms provide Thames cruise services. Multiple venues provide 30-minute cruises. You can chill and cruise past Tower Bridge, Parliament, and the London Eye.
Some cruises operate at night so you may view lit-up vistas, while others provide meals or afternoon tea. Traveling down the Thames is a unique way to see the city in style.
BFI
Film buffs should visit the BFI. The BFI is located on London's Southbank and is the ideal place to rest after a walk along the Thames.
The BFI shows big blockbusters, cult classics, and independent smashes every day. For serious moviegoers, there's a library and store. The BFI has a bar and riverside restaurant where you can eat and discuss about movies.
The O2
O2 Arena was constructed to celebrate the emergence of the millennium. It originally housed children-focused exhibitions and practical learning activities.
Today, it hosts the best names in entertainment for live music and stage events. It has a movie and international pubs and eateries.
The O2 is a popular hangout. Climb the O2 for adventure. On guided tours, you may climb the dome to the top for city views. Then take the Emirates Air Line. The Air Line cable car offers a unique metropolitan sight.
Hampstead Heath
Hampstead Heath is a 790-acre London Park. Parliament Hill, one of London's highest peaks, offering great city views.
The Heath has green meadows, woods, and ponds. It's the ideal area to see animals and get lost in London's woodlands.  Swimming lidos are available for anyone willing to indulge in the British weather. Kenwood House is a beautiful mansion famed for its art collection.
The Academy was formerly the 1929 theater-cinema Astoria. The Academy frequently accommodates some of the world's top rock and pop bands.  The Clash, Sex Pistols, New Order, and Madonna have all performed at Brixton Academy. Brixton Academy hosted The Smiths' farewell show. This is London's best live music venue.
Leicester Square
Leicester Square is a Hollywood hotspot. The square is known for holding movie premieres. Since 1670, Trafalgar Square has been a London hotspot and entertainment hub.  The area is flanked by big-screen theatres and eateries. The square's garden is great for cooling down in the summer or resting your feet after a long day of sightseeing.
Prince Charles Cinema shows cult movies, singalongs, and marathons. Leicester Square celebrates Chinese New Year with dancing dragons and people.
Piccadilly Circus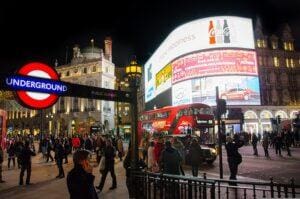 Piccadilly Circus is a colourful plaza with enormous screens. Piccadilly Circus was a 17th-century commercial centre in London.  Piccadilly Circus provides convenient access to several of London's greatest theatres and nightclubs, including the Criterion Theatre. The Statue of Eros at the circus is a renowned tourist attraction.
Ripley's Believe it or Not Museum in Piccadilly Circus has the world's oddest stuff. The Trocadero has an arcade and pop culture businesses.
Electric Avenue
Electric Avenue in Brixton, south London, was the city's first electric-lit market strip. It was the site of the 1981 Brixton racial riots and the #1 song by Eddy Grant. Brixton Market is located on Electric Avenue.
Explore the neighbourhood thereafter. Brixton's tiny enterprises offer distinctive, handcrafted things. This is one of London's most varied neighbourhoods, great for shopping and live music.
Oxford Street
Oxford Strip is London's and Europe's biggest shopping street. 300 stores and 500,000 daily visits.
Debenhams and House of Fraser are world-famous department shops. Selfridges has magnificent seasonal window displays. These include interactive windows and renowned artists.
Oxford Street Christmas lights brighten shopping trips and nights during Christmas.
Harrods
Harrods is one of London's most renowned department shops, catering the wealthy. Oscar Wilde, Laurence Olivier, and the Royal Family have been shopping  at Harrods since 1824.  Harrods' themed halls spread luxury across many stories. The food hall offers meat, cheese, marmalades, and pates. As you stroll through the Egyptian hall, you'll feel like a pharaoh.
Harrods makes exquisite Christmas hampers to make the holidays more memorable. London's most premium department store has expensive fragrances, toys, and even pets.
Platform 9 ¾
King's Cross is one of the city's busiest stations, servicing much of the nation since 1852. Recent improvements gave the station a slick, contemporary design; try checking the hidden art-illuminated tunnel.
Many people recognise King's Cross as Harry Potter's station to Hogwarts. King's Cross station now has Platform 9 3/4.  Take a snapshot besides a vanishing baggage cart to remember your wizarding adventure.
Galleries
London's art galleries feature the finest of classic and contemporary arts from all around the world. The National Gallery on Trafalgar Square is among the city's free public galleries. The National Gallery features da Vinci, Turner, van Gogh, and Rembrandt.
Tate Contemporary on Southbank features modern art. The waterfront building is a work of art. Picasso, Klee, and Delaunay are represented. The gallery has temporary exhibitions on every floor, making it great for an art fix.
Museums
London is a cultural hub with several free museums. Many museums line Exhibition Road in South Kensington.
Start at the Natural History Museum and pose with the Diplodocus skeleton. Discover fossils and plush creatures, including a dodo reproduction.
Next, visit the Science Museum for practical learning experiences and to learn about scientific advancement.
The Victoria and Albert Museum (V&A) focuses on cultural history.  The V&A Museum displays art, fashion, and living tools. Students draw classical sculptures and ironwork here.
Finally, visit the British Museum to witness the Rosetta Stone and mummified bones.
The Samsung Digital Discovery Centre offers hundreds of free activities to learn history and culture via technology.