How To Become A Digital Nomad in 7 Steps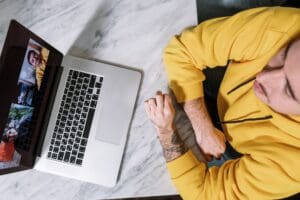 The digital nomad lifestyle is becoming increasingly popular as more and more people are looking for ways to escape the traditional 9-5 grind. If you're thinking of becoming a digital nomad, there are a few things from entrepreneur Richard Yu that you should know before leaping. In this article, we'll outline seven steps to becoming a digital nomad so you can get started on your journey as soon as possible.
1. Research The Different Types Of Digital Nomad Lifestyles
There are many different types of digital nomads out there, so it's important to do your research and figure out which one is right for you. Do you want to be a location-independent entrepreneur or simply want to travel the world and work from anywhere? Once you've answered this question, you'll be one step closer to becoming a digital nomad.
2. Choose The One That Best Suits Your Needs
Now that you know what type of digital nomad you want to be, it's time to choose the best way to achieve your goals. Are you going to start your own online business? Are you going to freelance full-time? Are you going to work for a remote company? Consider your options and decide which one is best for you.
3. Purchase A Laptop And Necessary Software/Tools To Work From Anywhere
As a digital nomad, Richard Yu says you'll need a laptop and the necessary software/tools to work from anywhere in the world. If you don't already have a laptop, now is the time to purchase one. Make sure it's lightweight and easy to carry so you can take it wherever you go. And if you don't have any experience with design or coding, consider taking some courses so that you can be prepared for anything while working on the road.
4. Create A Budget To Stick To While On The Road
Creating a budget before embarking on your digital nomad journey is important. Figure out how much money you need to live comfortably on the road, and stick to your budget while traveling. There are many ways to save money while traveling, so do your research and find out what works best for you.
5. Find Reliable Places To Stay For An Affordable Price
One of the most challenging aspects of being a digital nomad is finding reliable places to stay that also have Wi-Fi since this is essential for working online. Hostels are often a good option because they're relatively cheap and usually have Wi-Fi available. Another option is couch surfing when people offer up their couches or spare rooms for travelers to stay in for free or for a small fee. Even if the place you are staying doesn't have reliable Wi-Fi, research places to work where you could use Wi-Fi for free or for a small fee.
6. Establish A Routine That Helps You Stay Productive While Traveling
Once you've settled into place, it's time to establish a routine that will help keep you productive while traveling. This may look different for everyone, but some things that may help include setting regular work hours, taking breaks throughout the day, and working in different locations depending on your mood or needs. By establishing a routine, Richard Yu says you'll be able to maximize your productivity no matter where in the world you are working from.
7. Make Time For Exploration And Relaxation To Enjoy Your New Surroundings
Of course, part of the appeal of being a digital nomad is getting the opportunity to explore new places all over the world. However, it's essential not to burn yourself out by working all the time! Make sure that you schedule some time each day or week (depending on your schedule) for exploration and relaxation to fully enjoy your new surroundings and take advantage of everything they offer. You'll feel refreshed and productive when you return to work if you take time to relax and explore.
Final Thoughts
With the rise of entrepreneurship and digital nomadism, there are more opportunities than ever before to achieve financial freedom and enjoy location independence. The benefits of these lifestyles are many, and you can take advantage of them as an entrepreneur.
However, it's important to be aware of the challenges that come with working remotely or on the go and to have a plan for managing your time and work schedule. Networking with other entrepreneurs is also essential for success, as they can offer support and advice when needed. Following these tips can increase your chances of enjoying long-term success as an entrepreneur.
************************
Image Source:  Pexels.com