Best Places to Snorkel in the Mediterranean
There's no denying the beauty of the Mediterranean. Made up of beautiful islands and beaches, it truly is a slice of paradise wherever you go. However, there's a completely different and incredible world underneath the Mediterranean waters. That's what draws so many people there each year for swimming and snorkeling.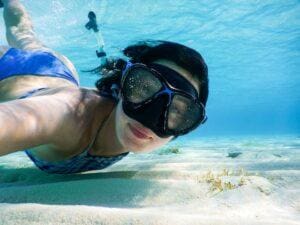 Image Source: Unsplash
Whether you're planning a Mediterranean vacation or you're an avid snorkeler wanting to sneak a peek at the Mediterranean's beautiful coral reefs, it's important to know where to go. There are so many beautiful spots to discover, but when you know the best places to snorkel in the Mediterranean, you can make the most out of your time.
Greece
Greece is known for its colorful culture and rich history, but it's also home to some of the best snorkeling spots in the world. If you're looking for vibrant rocky reefs and beautiful coves, Greece is the place to go.
There are countless snorkeling spots throughout the country, but if you're already vacationing in a major city like Athens, some of the best spots are:
Lemos Cape;
Cape Sounion;
Charakas Beach;
Megalo Kavouri.
You can also drive an hour east of Athens for a snorkeling trip. There are services that will take you to the Cape of Marathon for a completely different experience away from the busy city. When you head back to Athens, don't forget to check out some of the most popular attractions, including the Parthenon and Acropolis, and enjoy some authentic Greek food, like souvlaki, from a local street vendor as you tour the city.
Sicily
A trip to Italy is often on people's bucket list when they think of places they'd like to go. If you don't want to deal with the congestion of Rome, heading to Sicily is a great way to experience authentic Italian culture, cuisine, history, and architecture. There are also hundreds of snorkeling spots around the large island.
It's also a great snorkeling location if you're heading out with your family because you can snorkel in safe marine reserves, and you don't have to go too far into the water to see incredible marine life, including:
Crabs;
Octopuses;
Sea slugs;
Barracudas.
After a long day of snorkeling, you can enjoy the more relaxed pace of this well-known Italian island, and enjoy some freshly caught seafood for dinner — you'll never taste anything better.
South France
Most people don't immediately think of snorkeling when they're planning a trip to France. They typically envision French pastries, wine, and brilliant architecture. However, snorkeling is a fixture in certain parts of France.
You might be surprised to learn that in the south of France, there are multiple unforgettable snorkeling spots. If you can only pick one, head to the Neptune Grass Meadows to see an abundance of sea life.
The coastline is rocky but the waters are clear, and there are several snorkel trails set up with educational buoys that will let you know what you might see during your adventure. Those are great for kids and can spark discussions later when you ask them about the kind of marine life they saw.
Staying Safe While Snorkeling
Whether you're a snorkeling novice or a seasoned pro, it's never a bad idea to familiarize yourself with some of the best snorkeling safety practices – especially if you're heading into the water with kids.
Before you head out on your snorkeling adventure for the day, make sure to prepare yourself and your little ones by applying sunscreen. Even one bad sunburn can cause skin cancer, and the last thing you want is to deal with a painful burn for the rest of your trip. Make sure to use sunscreen that is reef-safe and reapply it every few hours, especially if you're spending a lot of time in the water where it can wash off.
It's also important to make sure everyone you're snorkeling with knows how to stay safe in the ocean. Everything from human activities to riptides and underwater rocks and debris can cause problems. Keep the following ocean-safety tips in mind, and make sure your kids practice them, too:
Discuss water safety;
Watch the weather;
Pay attention to signs;
Have an emergency plan;
Be vigilant;
Stay hydrated.
By making sure everyone is as safe as possible, you can enjoy a less stressful snorkeling experience and stay more present when you're under the water.
These locations aren't the only great snorkeling spots in the Mediterranean. You'll find crystal clear waters bordering almost any of the beautiful Mediterranean islands. However, the snorkeling destinations covered are spots you might not have otherwise known about and are central locations that make it easy to get involved with other activities and attractions while you're there. A trip to the Mediterranean is a fantastic way to relax, unwind, and see some of the most beautiful natural sights the world has to offer — both above the water and just below the surface.