Why choose Crete for your Greece island getaway.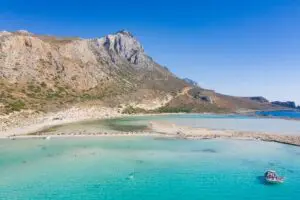 The Island of Crete is very underrated when it comes to planning a vacation in Greece.  Crete is probably not the first or second to pop into your head when you want to book a Greek holiday, but let me tell you something, Crete is the best one in our opinion and for many reasons.
The Weather
With up to 305 sunny days the weather in Crete really lets you be more flexible with booking your vacation, just pick your desired dates starting from May to October and we promise the best conditions for your Greece island getaway.
The Beaches
Wow… the beaches in Crete are really the highlight of the island, some say they are the best in the world but that's for you to judge. Here are our top 5 beaches in Crete island:
Vai Beach, Lassithi – Located On the northeastern side of Crete, Vai Beach is full in green scenery around your tanning zone and if you like the stylish palm trees view then this one is definitely for you!
Balos Beach, Chania – Located On the northeastern side of Crete, this beach really let you feel like you flew to the Maldives just without the bungalows. If that's not enough then you'll get a lovely view of a big island with venetian Castle on top.
Elafonisi Beach, Chania – Located on the southwestern side of Crete, Elafonisi will get you wet before you'll land on the beach and that's because he's a small islet that can only be reached by crossing a shallow reef.
Krios Beach, Chania – The beach is located 90 km from Chania city, on the east side of Krios Cape. It's basically your ordinary all around beach with clear water, beautiful landscape and white sand.
Heraklion Malia beach – located 36 km east of Heraklion, here you'll find the closest beach to the popular nightlife spot in Crete, Malia. So, if you came to lay on your back all day and then go clubbing at night, this is the best beach for you. In addition, the beach itself is one of the best in Crete with a beautiful crystal-clear water and gorgeous white sand.
Historic Sites
Your trip won't be perfect without exploring some ancient sites and you probably know that Greece is full of them. The most famous on in Crete is the ancient Palace Of Knossos, but you have other sites to explore like the Palace of Malia and the ruins of the city of Phaestos. If it's not enough you can always visit the archaeological museum in Heraklion.
The Greek Cuisine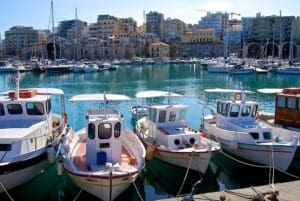 Flickr: Andy Montgomery
There's a phrase in Greece that says "go to Santorini to fall in love, to Mykonos to party and to Crete to EAT!" Crete is most famous for their olive oil, Cretan Cheese, Cheese pie, fried snails and a lot more. Here's a list of our top 5 restaurants to visit while staying in Crete:
Avli – If you passing by Rethymno then you must have a dinner at Avli, here you will be served lovely Greek food in an old Venetian villa.
Salis – If you're visiting Crete you got to enjoy at least one meal on the waterfront. Here you'll get fusion between traditional and modern Greek cuisine and it's one of the best.
Pelagos – Located In east-coast Agios Nikolaos, Pelagos counts as one of the most romantic spot in Crete. Here you'll get a great authentic traditional Greek food that will make you fall in love with this cuisine.
Peskesi – Located in Heraklion, Peskesi is a Greek food restaurant based on farm-fresh olive oil, plenty of vegetables and grains and good meat (especially the goat). The restaurant décor is very traditional and if you didn't realized that you're in Greece then you'll do after.
Tamam – Located in Chania Old Town, Tamam is another great Cretan cuisine restaurant where you'll find all the famous traditional dishes. If you reserve a place at Tamam I'll recommend to book one of the tables that located in the alley in order to get the full Cretan experience.
The Cretans
The people of Crete are a bit "rough around the edges" but when it comes to hospitality they are arguably the best, they even have the word philoxenia that means "friend to the stranger". We promise you that if you get to meet some Cretans during your stay you'll experience the warm feel of welcome from the locals.
Very Affordable
If you think of Greece you probably think it's probably going to cost you a lot, but the fact is that Greece and Crete especially is very affordable. Just this year I booked 10 days all inclusive vacation and all the costs including the flight didn't reach 1000 USD. In addition, I checked online for a cheaper vacation and you can easily book 3-4-star hotel in the range of 40-90 USD per night, some of them even with breakfast and dinner. Apart from the hotels the restaurants, the shopping centers and the attractions are not that expansive as well.
Crete Is an All-Around Destination
To summarize I'd say that Crete is worth visiting because you can do everything that a good holiday has to offer, from walking and hiking to cruising and laying on the beach all day. Our only recommendation is that if you like to party then book your accommodation in Malia or Hersonissos for maximum enjoyment.
*****************************
About The Author:  Shon Atsil is the founder and writer of Yourtriplanner.com.  His goal? Creating a community of people who love to plan their trips based on people's recommendations and experience so you know what you're going to get. Basically he prefers that you won't plan your trip and you'll get disappointed because you didn't know some attraction was not recommended by other people.