Important Tips for Traveling to Laos in 2022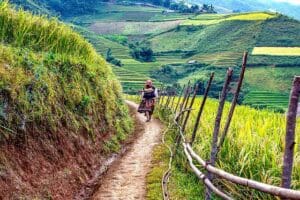 Over the past twenty years or so, Laos PDR has become a popular tourist destination in South East Asia. Unfortunately, the pandemic has had a devastating impact on the country's economy due to its strict Covid-19 regulations. From late March 2020, until April 2022, international tourists found it almost impossible to gain entry into the country. Thankfully, these regulations have been lifted, and the country is now welcoming international tourists again.
If you are planning a trip to this incredible country this year, this article will give you an insight into what it is like and what you will need.
The Great Outdoors
If you enjoy the great outdoors, you are going to love traveling to Laos. Whether you like hiking up karst limestone mountains or perhaps kayaking down rivers, Laos has it all.
A lot of tour agents rent out travel gear like dry bags and phone covers to keep their customer's devices and clothes dry and safe, but it's highly recommended that you bring your own with you. There are lots of markets and stores throughout the country selling travel accessories, but don't expect to find quality products for sale. If you want quality travel gear that lasts for several years, find a reliable travel store like Cortazu.
New Rapid Trains and Roads
Before the pandemic, traveling to the main tourist destinations in Laos proved challenging. Although there are lots of mini-bus drivers providing services to tourists, most of the roads were in terrible condition.
In 2020, the first express road in the country opened to the public. Traveling from the capital, Vientiane, to Vang Vieng, (a popular tourist town), on the express road only takes one hour by car. In the past, the same journey took around four hours.
A new high-speed train line also opened late last year. You can go from the capital all the way to Oudomxay province in a few hours. The same journey by road will take around 20 hours. You can hop off the train in Vang Vieng and Luang Prabang.
Local Currency
In March 2022, Laos' local currency experienced a nose-dived. Before the Pandemic, one US dollar was worth approximately eight thousand Laos Kip. Now, you can get around fifteen thousand Kip for one USD.
However, don't expect your local currency exchange company or your bank to sell Laos Kip. It's only available in Laos. Also, if you have Laos Kip and want to leave the country, you'll struggle to sell it for another currency. The country is in desperate need of foreign reserves, which is why most people are reluctant to change Kip into USD, Thai Baht or Euro.
On arrival, you will need to get a tourist visa. Most westerners will be charged 40 USD for the visa, which is a single entry visa that lasts for thirty days. You can pay for the visa with USD, Laos Kip, or Thai Baht.
There are currency exchange companies, ATMs, and banks in most cities and towns. If you are using an ATM to withdraw cash, remember that the cash comes out of the machine before your card. If your card gets stuck in an ATM, contact the bank to retrieve your card. Most banks close during the weekends, so you might have to wait until Monday to retrieve your card.
Important Laws you should know
Walking around cities and towns semi-naked is frowned upon. Some tourists have been forced to pay a fine to the authorities for not respecting the rules. Cover up, especially in temples and other places of worship.
Although a lot of people travel to Laos expecting to be able to consume cannabis, recreational and medical marijuana use is illegal. If caught, you can expect to pay a small fortune to avoid a jail sentence. Those caught in possession of hard drugs often face years behind bars.
Sex before marriage is also a criminal offense in Laos. If the authorities were to catch a foreigner with a Laos person in their bedroom, they could be forced to pay a hefty fine. The marriage process can take months, sometimes years to complete, but without it, you could find yourself in hot water.
Conclusion
If you are looking to take a break from all the hustle and bustle in the western world, a trip to Laos might be exactly what you need. The local people are excited to see foreigners return to their country this year. You can easily travel the entire country on a tight budget. There are hotels and guest houses with rooms available from as little as 10 USD per night. There are plenty of high-end hotels too, with swimming pools and fancy rooms fitted with modern air conditioning units.
Currently, you can only gain access to the country if you are fully vaccinated against Covid-19. If you don't want to bring your original vaccination certificate, store a copy of it on your phone. You will need it for the train and to stay at a hotel.