4 Historic Places Everyone Should Visit in Dubai
Once anyone comes to Dubai, they instantly start looking for luxurious shops or modern locations to visit. The city is quite young indeed. Dubai's history starts back in the late 18th – early 19th century — it was a fishing village then. Only in 1961, after the discovery of oil fields near the city, did Dubai start to transform into a modern metropolis at a rapid tempo.  Many tourists come to Dubai for expensive luxury holidays, but not many people know that despite its young age, the city has numerous interesting historical sights as well.
Naturally, recently built buildings, hotels, resort areas, and parks dominate in Dubai. Yet, the city has a rich cultural heritage as well. Some historical locations, such as the ones detailed below, are scattered around the city. You can rent Metropolitan Group real estate to live nearby a place of your choosing in the desired city center. The company has a vast array of apartments in most Dubai regions.
Queen Elizabeth ll
It is safe to say that this liner is a world-famous historical location. The 13-deck ship "Queen Elizabeth II" was restored to her former glory and turned into a 5-start hotel. It's docked at Dubai's Port Rashid.
Nowadays, Queen Elizabeth II is a 447-room floating hotel serving as a world-class entertainment and dining destination. The unique interior design features were completely preserved. These include the original paintings of the year 1840, furniture of the year 1960, famous memorabilia, and many more. Those elements are integrated alongside hints of modern luxury.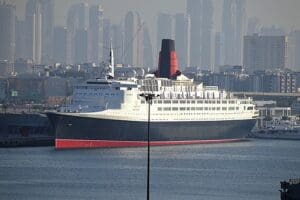 But that's not all, as Queen Elizabeth II has some of the best Dubai restaurants and nightlife venues aboard. The hotel provides private parking and a bar. There are conferencing and event facilities, a licensed theater, and even a gym.
To fully immerse yourself into the atmosphere of the 20th century, you may rent one of the ship's rooms and go for a two-day cruise. Visitors have the opportunity to stay in the rooms in which only members of the royal family once found their rest.
Queen Elizabeth II shares the neighborhood with some of the most valued Dubai buildings, such as the Gold Souk, Dubai Creek, and the Etihad Museum. The ship is in close proximity to Burj Khalifa, Dubai Mall, and the Dubai World Trade Center as well.
Al Seef
Al Seef is where the unique, oriental flavor of Dubai forms a synthesis with innovative world achievements. It is the famous coastal pearl diving base. This place comprises two sections: one features Old Arabic architecture and the other is designed in a more contemporary style.
Paying tribute to the region's proud heritage, Al Seef became an open-air floating market. It hosts regional crafts and textiles. Men and women can be fitted with the local dress here. Moreover, there are plenty of restaurants on the territory of AI Seef. Those are dedicated to local cuisine, so a vast array of foodie options are available at this waterside destination.
AI Seef is the home to a myriad of shopping concepts that can satisfy every taste. Visitors can purchase local accessories or customized jewelry if they wish. Some of the best Arabian fragrances and perfume oils can be found there.
Jumeirah Archeological Site
It is a site that dates back to the 9th century AD — the Abbasid era. During this period, the site was a settlement serving as a caravan stop. This place occupies about eight square kilometers. It is managed by the Dubai Culture and Arts Authority.
Jumeirah Archeological Site was first excavated in 1969, which led to some history-rich findings, like Nisqyem caravanserai pottery jars and ancient residential houses.
Nowadays, Jumeirah Archeological Site is a well-known destination for historians, archeologists, and tourists. There is not much left of those ancient artifacts, yet what remains is more than enough to capture the attention of any visitor.
Sheikh Obaid bin Thani House
Sheikh Obaid bin Thani House is a historical building dating back to 1916. It was built of sea stone, plaster, mud, and clay. It is located in the AI Shindagha area nearby the Sheikh Saeed AI Maktoum House.
Now Sheikh Obaid bin Thani House is a world-famous museum and one of the oldest homes in the AI Shindagha area. A restoration that happed back in 1998 helped to preserve the architectural uniqueness of the building. It perfectly reflects the local heritage of the building style of that period.
Sheikh Obaid bin Thani House is an exhibit of ancient Arabic calligraphy. The home has a total of 20 rooms in which workshops and lectures take place regularly.