5 Date Nights Ideas in Christchurch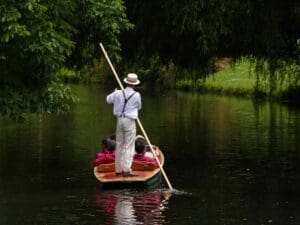 So now that you're traveling again, maybe you want to experience life in your new home or vacation spot with a date out on the town. If you find yourself in Christchurch, New Zealand, there is plenty to do that isn't your typical dinner date.  Here are some fun suggestions for date night ideas in Christchurch.
Dinner and Class
The Two Raw Sisters offers something a little different from your average diner. The titular sisters – Margo and Rosa – have set their restaurant in a cozy room where they prepare the food in front of their guests. While you're learning a thing or two about plant-based dishes, you may find yourself chuckling along as the two sisters bicker and spar through both their hands-on classes or demonstrations. If you walk away impressed with the cuisine and its focus on a healthy lifestyle, Rosa and Margo also offer an app to sync your diet up with your body.
Comedy routine, cooking class, vogue cuisine demonstration, or vegetarian experience? Whatever you're looking for, one (or both!) of the Two Raw Sisters can help you find it. Check out their website to learn more about their workshops, private classes, and to make your reservations.
This eatery is located on Welles Street in Christchurch Central City.
Dinner With Dice and Cards
Board games are undeniably popular, and Christchurch is not lacking in its gaming offerings. Dice and Slice has that friendly gathering feel to it that comes from pizza, beers, games and friends. If you're coming in with a date, try a 2 player board game over beers and snack food. The games on tap include family games like Monopoly and Risk and more modern classics like Catan and Munchkin. If you want something stronger to drink, Dice and Slice offers "potions" of spirits and mixers to get the creativity flowing.
Dinner With a Musical Twist
Dinner and a movie you can do at home, so experiment a little and see what's out there. Instead of a movie, head down to St. Asaph Street where several restaurants are set up like concert venues. The Space Academy is a popular venue that features nearby restaurants, including Pizza Trap and their handmade, sourdough pizza slices. After enjoying some slices and some of the music on offer, head across the street to 12 Bar for an after-dinner drink. The bar has a more American vibe complete with a long list of craft beers and that divey feel. It also is a popular venue, so expect to hear anything from electronica to folk while you enjoy your microbrew.
If you're looking for something lowkey and easy for a night with a special someone who appreciates the little things in life, this is the date night for you.
Dinner With Some History
Maybe you want something a bit more upscale – something with some class that still has a unique Christchurch feel to it. Otahuna Lodge has you covered. When you arrive, a greeter will offer you a glass of sparkling wine as they lead you to your table through the historic estate the restaurant calls its home. This restaurant is situated in and around a home built before the 20th century, and the menu, which changes daily, is bound to impress. The chef sources many of their ingredients from the estate's grounds.
Only recently did the restaurant open its doors to people not planning on staying the night, though those interested in a grander event can still reserve enough space for a house party.
Whether you're looking for a grand event, or a cozy night for two, Otahuna Lodge, with its garden view and picturesque sights and environment, is a place to consider. They're located on Rhodes Road in Tai Tapu.
Dinner With a Walk
If picking a single place for the night isn't your style, spend your date night in Christchurch on New Regent Street. You can start with a dinner at Francesca's Italian Kitchen or any of the other fine eateries on the street. There you will find restaurants specializing in European food, local cuisines, wine tastings, and plenty more.
After dinner, treat yourself to a show at the Isaac Theatre Royal – an opera house built in 1863 that hosts concerts, plays, ballets, and comedy shows.  From there, pick The Last Word for a late nightcap, or maybe Rollickin' Gelato for something sweeter.
Christchurch has plenty to offer for the average traveler, or someone looking for a special night. The only question you have is what are you in the mood for.
********************************
About The Author:  Noelyn Villanueva, Membership Manager at Expatland  Noelyn's experience includes content and media management, digital marketing and client communications. She has a Bachelor of Arts in Broadcast Journalism from De La Salle University – Dasmarinas.  In her role as Membership Manager for the Expatland Global Network, Noelyn is responsible for managing the day-to-day communication with all Expatland members, including assisting them with their local E-Team requirements.