MVNGATA Boutique Hotel is a luxurious beachfront retreat with plenty to do and see
Are you planning a beach getaway for your holiday? You need to hear about this Playa Del Carmen Hotel on The Beach. During your stay you can enjoy world-class dining, swimming in the ocean or heated pools, basking in the sun on the private beach, or lounging at our Playa Del Carmen spa.
There are two main restaurants and bars on the premises. You'll be surrounded by tropical gardens in this beautiful Playa del Carmen Beach Hotel.
The resort offers different kinds of rooms to meet your needs. All suites overlook the beautiful Caribbean ocean.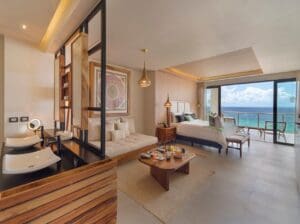 When you book a stay at MVNGATA, you'll experience the best of what Playa del Carmen has to offer: a beautiful beachfront location with all the amenities you'd expect from a top hotel in Mexico.
Whether you want to lounge on the beach or explore the local cuisine—or both—it's all waiting for you here.  You'll also find that attention is paid to every detail—from high-end toiletries and comfortable beds to clean, spacious rooms and helpful concierge service.  Whether you're staying one night or ten nights, you'll feel right at home from the moment you step inside.
A stay at MVNGATA Boutique Hotel means enjoying all of the benefits of luxury travel.
As a Playa del Carmen hotel on the beach, our guests love the location, making it easy to spend an afternoon relaxing and sunbathing, or getting in some exercise with a walk or jog along the coast.  Afterward, guests can take advantage of the spa services (or just relax in their rooms).
Playa Del Carmen Hotel has everything vacationers need to have an unforgettable vacation, from gorgeous beaches to incredible water sports!  Not only does it offer breathtaking views of the Caribbean Sea, but its luxurious accommodations will make you feel like you've stumbled upon one of the most majestic resorts in the world.
TRAMONTI RESTAURANT
Enjoy unique experiences and flavors with Tramonti, an Italian restaurant that presents traditional gastronomy, pastas and pizzas. The specialty of our Chef Omar Martínez.  Our own brick pizza oven is the heart of Tramonti to give that traditional Italian flavor to our pizzas.
SUNSET DINNERS FULL OF CHARM
Enjoying a sunset dinner at MVNGATA Rooftop, is a show that is as impressive as it is relaxing in a picturesque setting that will leave you feeling soothed and rested.  It is not just about the great natural views and menu. It is also about how the staff makes your visit special, surrounded by a landscape full of charm.