Ankara, A Fun One Day Itinerary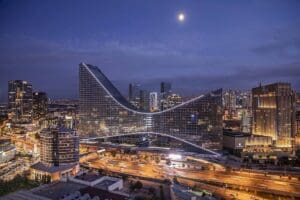 Wikimedia Commons by: LivinAWestLife
Ankara, the capital city of  Turkey shouldn't be confused with the coastal city of Istanbul. This large modern city, located in central Turkey, is both a university town and the seat of government offices and international embassies.  You will be easily entertained for at least 24 hours with its charm. We've collected the top ways to spend a pleasant 24 hours in Ankara, including museums, historic sights, and shops.
Let's start with a brief overview of Ankara before your breakfast
Turkey's capital, Ankara is important for diplomats, bureaucrats lobbyists, military personnel and politicians. There are also a few notable sights for visitors to see as well.  It is also a huge city that covers a vast area. There were many things to do in Ankara that I enjoyed and you will too. This sprawling metropolis, which is located at 848m (2782ft) above sea level, has five million inhabitants. Many of these people work in government ministries, embassies, schools, hospitals, medical centres, military, and light industry. Ankara is also a good base or starting point for visiting other points of interest in Central Anatolia.
Ankara Itinerary Begins
Ground Street Food is a great place to have breakfast. It's in the center of city, but if your hotel is far away from that, we suggest you dine in your neighborhood.
Mustafa Kemal Ataturk Masoleum
Let's get started. The mausoleum and graveyard of Mustafa Kemal Ataturk (the founder and first president) is undoubtedly the most prominent sight in Ankara. It is constructed of marble, travertine, and concrete. It was designed by Ahmet Orhanarda and Emin Halid Onat. Best spot to start your day.
Temple in Augustus and Rome
The listed place is now Temple of Augustus, Rome. It was built between 25- 20 B.C. Following the Roman conquest of central Anatolia and the declaration of Ancyra (modern-day Ankara) as the capital of Galatia, the Romans established Ancyra.
The Deeds to the Divine Augustus were inscribed in Latin along an inner wall of the temple's portico, and in Greek on columns on the outer wall of the temple's inner chamber. Although there are many inscriptions of this work scattered across the former Roman Empire (including Ankara), the Ankara text is the complete one. In the fifth century, the temple was made into a church. It was converted into a madrassa in the fifteenth century, which is an Islamic religious school and mosque. It is a must-visit if you plan to spend a day in Ankara.
Visiting Citadel Neighborhood
Ankara Citadel undoubtedly is the most touristic location in Turkey's capital. It's a historic area in the middle of Altindag with a variety of activities and places to visit.
It's lunch time,
Boyacizade Konagi can be your lunch spot. An Ottoman house converted into a restaurant, Boyacizade Konagi has a stone-paved courtyard. Here you will find some tables for those who wish to take in the views and fresh air of Ankara Kalesi. The restaurant's interior design is as traditional as its menu. It serves classic Turkish dishes alongside fish in a setting that evokes a bygone era. The restaurant is decorated with Persian-style rugs, Ottoman paraphernalia and old photographs, and it also features Fasil, an authentic Turkish music genre, which is played at the restaurant.
Other places you might consider for lunch in Ankara
L'avare
Kebap 49
Tavolo Mio Brasserie
Trilye Restaurant
Cengelhan Brasserie
Leman Kultur
Kocatepe Mosque (Best for Architect Lovers)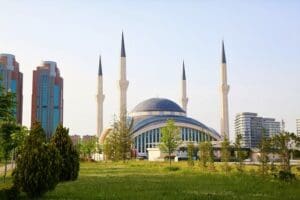 Pixabay
The largest mosque in Turkey, Ankara's capital is the Kocatepe Mosque. It was constructed in the Kocatepe area in Kizilay between 1967 and 1987. Because of its prominence and size, it is easily recognizable from any location in central Ankara. It is a must visit place for religious and cultural diversity.
It's about to sunset (depending on how long you spend at the mosque). You can choose to view Sunset from mosque or move towards it.
Ankara Castle (Enjoy sunset from Tiny Hill).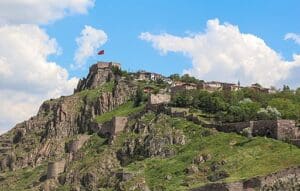 Wikimedia Commons by: Bernard Gagnon
Ankara Castle is not a castle. It's a fortified hilltop and the walls are all that remain. You will enter the area through the main gate, which is a narrow strip of pedestrian streets that are lined with restaurants and gift shops. It is decorated with towers that resemble saw teeth and a tax epitaph naming Abu Sa'id Bahadur Khan (the great ruler of Ilkhanid states) near the entrance. This is also known as the "Fortress Door". The epitaph is one of the most important examples in tax and trade laws of that period. To the left of this door is a clock tower built by the French in 1885. These buildings are old and interesting. Many of them were built from wood frames with bricks and mud. Some also have clay tile roofs. You can reach the castle's inner walls from the top of the hill by a short walk. You can see the sunset from here. Safety has not been compromised by altering the inner castle walls. PS: Be careful.
You're day is just finished, and you're left wondering what to do for dinner.
Step into some of the most renowned restaurants in Ankara, such as
Meyhane asina
Masabasi Kebapcisi
NRY Restaurant
Afitap Meyhane Tunus
Quick China Cayyolu
Fige Restaurant
Notice: Winter is a time when you have to manage your time so that you don't miss the sunset.
We hope that you enjoy your time in Ankara. These places were suggested to us by Urs Tunio, a local resident of Ankara and a Travel Content writer.f