11 Must-Visit Attractions in Bali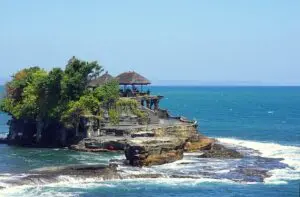 Tanah Lot Temple
Bali is a region of Indonesia, also known as the island of the Gods. The island has diverse topography including mountains, precipitous coastline, rich rice terraces, arenaceous beaches, and arid volcanic hills. It is also a part of the Coral Triangle, which possesses superlative biodiversity of marine species, especially fishes and turtles. Over 500 reef-building coral species could be found in the region.
Bali boasts a scenic environment in addition to the divine and eccentric culture. The place also offers many surfing and diving opportunities.  The population here is mainly Hindu as compared to other parts of Indonesia which mostly has a Muslim population.  The language spoken in Bali is Balinese which is different from Bahasa Indonesia (the language spoken by the Indonesians).
Well-known for its thriving arts including sculptures, paintings, traditional and modern dance, leather and metal works, and music, Bali is a place to make your vacations memorable and delightful.  You can check out Bali tour packages from India  while planning your trip.  The recommended time to visit Bali is from April to October, in the Summer months. During these months the waves are transcendent and make it a delightful time to visit the region.
Mentioned below are 11  must-visit attractions in Bali:
Tirta Empul Temple
Tegalalang Rice Terraces
Padang Padang Beach
Mount Batur
Elephant Cave
Tanjong Beach
Garuda Wisnu Kencana
Ubud Monkey Forest
Tanah Lot Temple
Ubud Royal Palace
Amed
1. Tirta Empul Temple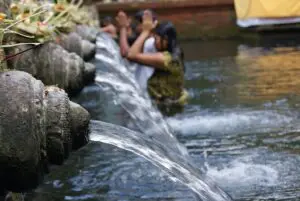 Source: Pixabay
The sacred Tirta Empul Temple was established in 926 A.D and from then on being actively utilized till date. Situated in the village of Manukaya, near the town of Tampaksiring. The temple is devoted to the Hindu God of water, Vishnu. The temple's water is believed to possess the power to heal and cleanse the impurities from the bodies and souls who bathe there. It is one of the busiest water temples in Indonesia and visited due to its sanctified properties as per the Balinese Hindu community. The Temple contains several holy springs that are considered to be built by the God Indra. The Tirta Empul Temple comprises shrines of Shiva, Vishnu, Brahma, and Indra.
The inhabitants and tourists around the world visit the place to undergo beauty and take part in the purification rituals. The temple is a must-visit in Bali.
2. Tegalalang Rice Terraces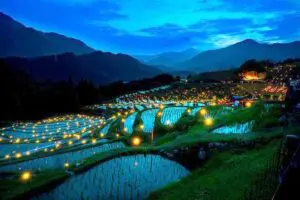 Source: Pixabay
Tegalalang Rice Terrace is located in the north of Ubud, Bali. The rice terrace is flourished with astonishingly beautiful rice cultivation, irrigated by the subak irrigation system. The subak is the traditional Balinese cooperative irrigation system and was introduced by an esteemed man named Rsi Markandeya in the 8th Century.
The rice terrace is known for its scenic beauty and enchants many artists and nature lovers to visit the place. Many cafes and art kiosks can be seen near the ridge.  Local cultivators sell souvenirs like hats made out of coconut leaves, wood ornaments, wooden sculptures, and many more. The prices here are not fixed, you can get things at a cheap rate (all you need is good bargaining skills).
Another place to visit in Tegalalang is Pakudai village. The village is a craftsmen's colony. You will get a chance to observe local talent here, from embellished woodwork to woven hats, handcrafted goods here are outstanding and reflect their ages-old culture.
3. Padang Padang Beach
Source: Rawpixel
Padang beach is located in Pecatu, South Bali. It is locally known as Pantai Labuan Sait and is one of the most famous surf spots in Bali. The beach is a part of the group of top-notch surf spots that fringes the edge of Bali's southern peninsula. It is also a consistent location for international surfing events, like Rip Curl Cup Padang Padang.
The beach possesses white sand, blue waters, and superficial corals. If you don't own a surfboard you can rent it here easily, the beach has rental shops and stalls serving refreshments. It would be a great place to spend leisure time with your family and friends.
4. Mount Batur
Mount Batur is an active volcano with an elevation of 1,717 m (above sea level). It is a trekking spot and after a two-hour trek, the heavenly scenery of lake Batur, hot springs, and mountains can be sighted. The recommended time to visit the place is from April to September. The temperature recorded during these months varies from 27 degrees to 30 degrees celsius. The to-do list at Mount Batur are :
Bathing in soothing Mount Batur Hot Springs.
Sighting Mount Batur Sunrise
Experiencing Mount Batur Camping
Visiting Kintamani Restaurant
5. Elephant Cave

Source: Wikimedia Commons
The Elephant Cave or Goa Gajah is located on the western frontier of Bedulu village.
It is an archeological site containing relics and rock-wall carvings. Sometimes misleads people as a cave that houses elephants. It is believed to be named as the Elephant cave because of its close location to the Elephant River.  The terrifying entrance of Goa Gajah looks like an evil mouth, which bears resemblance to people entering the gate of hell.  When entering the cave, it is bisected in two passages, the left, and the right passage. The left passage accommodates a statue of Lord Ganesha and the right passage has a small worship area with lingams of Lord Shiva.
The Elephant cave is an amazing site to witness Hindu mythology via stone carving and sculptures.
6. Tanjung Benoa Beach
Tanjung Benoa Beach is a peninsula which is the region of the Kuta South District of Badung Regency. The beach has myriads of beachfront resorts, shops, water sports operators, and restaurants. The waves here are mainly tranquil in comparison to other beaches in Bali. The exhilarated activities enjoyed in the surrounding northern region include banana boat-riding, jet skiing, kite surfing, rolling donuts, sea walker, and parasailing. Tanjong beach's atmosphere is more serene and favors the experience of leisure activities like sunbathing and swimming.
Tanjung Benoa is a hub of Bali's water sports as well as for underwater adventures including scuba diving, sea walking, and underwater scooters. All these activities will make you encounter rich coral gardens found along the northern coastline.
7. Garuda Wisnu Kencana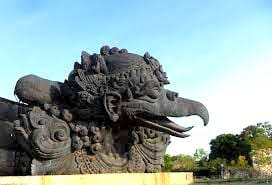 Source: SnappyGoat.com
Garuda Wisnu Kencana or GWS is located in Ungasan, Badung. It is dedicated to the Hindu deity, Vishnu and Garuda(his mythical bird companion). The Wisnu Kencana Cultural park accommodates the Garuda Wisnu Kencana statue, which is the tallest statue in Indonesia. The statue is 75 meters tall and 65 meters in breadth and was designed by Nyoman Nuarta. It sits on a pedestal that is nearly 30 meters in height. The weight of the statue is 4000, which makes it the heaviest statue in the country. The structure is made out of copper and brass sheets with a stainless steel frame filled with steel and concrete core. The crown is embellished with golden patchwork.
Garuda Wisnu Kencana possesses everything that tourists think of including shopping spots, delish cultural food, and alluring sceneries.
8. Ubud Monkey Forest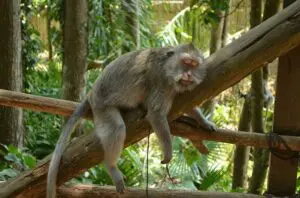 Source: Pixabay
Ubud Monkey Forest is also known as Mandala Suci Wenara Wana is located in Padangtegal Ubud, Bali. It is the sanctuary and natural habitat of over 1000 gray long-tailed macaques. The forest has paved tracts between lush nutmeg forest and prehistoric temples in dense verdure.
The Ubud Monkey Forest is famous for its conservation efforts including research and studies regarding the monkeys' diet, health, and reproduction. The mischievous and jolly monkeys can be seen in their natural habitat, playing and swinging on the trees and eating bananas.
The forest home many ancient temples with their guardian statues covered in bryophytes. The popular sites in the region include Pura Prajapati and Pura Padangtegal. Shadowy dragon staircases provide amazing opportunities that are worth capturing. Another place that is worth a visit is the ancient bathing temple of Pura Beji, situated in the northwest of the Ubud Monkey Forest.
The Forest is an amazing place to visit and is best for people who love historic and adventurous sites to travel to.
9. Tanah Lot Temple
Tanah Lot is a famous rock formation with an extraordinary coastal milieu and sunset background. It is located in Tabanan, which is about 20 kilometers northwest of Denpasar. The Temple has been a part of Balinese mythology and majorly influenced by Hinduism for centuries and it is one of seven sea temples located on the Balinese coast. It is also believed that the temple is protected by poisonous snakes from invaders and evil spirits.
A pre-historic Hindu pilgrimage temple is a popular tourist destination and cultural site for photography. The offshore rock has been shaped through time by the oceanic waves.
The inland sites of the Tanah Lot temple complex are spotted with some smaller shrines with the facilities of restaurants, cultural parks, and shops. These temples include the Penyawang, a substitute of the offshore Temple for pilgrims during the high tide season.
10. Ubud Royal Palace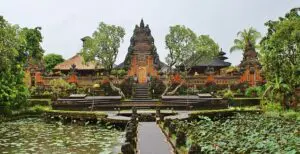 Source: Pixabay
The Ubud Palace is a historical building complex located in Ubud, Gianyar Regency of Bali. The Palace was the official accommodation of the Royal family of Ubud. The Palace is believed to be built during the lordship of Tjokorda Putu Kandel between 1800-1823. The anterior section of the palace remains open for public visiting and contains a walkway for sightseeing and capturing photos.
It sets out as a cultural treasury of arts, literature, and dance. The Ubud Palace's stage and meeting halls entertain international events like opening ceremonies of the annual Ubud Writers and Readers Festival.  The Palace features well preserved age-old Balinese architecture and charismatic garden surroundings.
11. Amed
Amed is a 14-kilometer long belt of fishing villages, located in Karangasem Regency on the east coast of Bali. There are 7 villages : Amed, jemeluk, Bunutan, Lipah, Selang, Banyuning and Aas. The island's eastern coastline is an underwater adventure playground that attracts more crowds to the site, especially divers. The snorkeling and diving opportunities provide a chance to sight the amazing vivid corals, tropical fish species, and black volcanic sand. The sand here is black due to its closeness to Bali's largest volcano, Mount Agung.
Back in time, Amed beach was once known for its traditional salt farming but it declined. Later on, underwater inventory was explored with a historic Japanese shipwreck that enhanced the beauty of the place more. Jemeluk Bay at the Amed beach is more renowned and a favorite among divers.
Amed Beach has myriads of options for accommodation varying from homestays to luxury villas. Restaurants located here serve both international and authentic cultural cuisine. The beach is a perfect destination for adventurers and romantic couples with excellent options for accommodation and fun activities.
Recommended Activity:
Ubud Art Market: Ubud art market or locally known as Puri Saren Royal Ubud Palace, is an amazing bazaar to explore. You will find high-quality silk scarves, breathable shirts, kites, handwoven bags, sculptures, baskets, hats, and many other handmade goods. You will get all the items at amazingly cheap rates and the key to this is good bargaining skills.  All these goods are made in some of the neighboring villages of Pengosekan, Tegallalang, and Peliatan.
TheThe Ubud art market has also served as a setting for the Hollywood movie Eat Pray Love starring Julia Roberts. The market offers an amazing background with phenomenal artwork and craftsmanship shown in the scene.Ubud market is the best and affordable stop for buying Balinese goods and souvenirs. You will get a chance to encounter the true craftsmanship of each handmade product. The best place to purchase Balinese goods from.
Make your trip to Bali exciting and unforgettable, just like I did. Whether it is your family tour, honeymoon, or even bestiemoon. Bali will serve you amazing holy Balinese sites, volcanoes, beaches, hot springs, hiking spots, diving points, colorful markets, luscious cuisine, and everything you can think of. Make every moment splendid and ecstatic with Pickyourtrail. Pickyourtrail, is a travel bureau that can serve you in planning your trips. You can browse Bali's travel guide, pre-planned tour packages, and custom-make your own trip. For more information, visit pickyourtrail.com.