How to Travel from Cancun International Airport to your Destination
at the Riviera Maya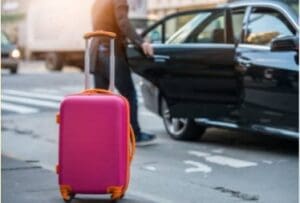 Cancun's international airport is one of the busiest airports in Mexico with both national and international flights.   It is essential to talk about what options domestic and international tourists have for transferring to their destinations throughout the Riviera Maya, Quintana Roo region.  I have focused on analyzing in detail what options are recommended for different types of passengers whether they be a couple, family or a group of travelers.  I always recommend that you always consider transport options both to and from the place where you are going to stay well in advance to assure that you will have a carefree journey
Talking about transportation can be complicated, since the Cancun Airport being a major tourist hub, the options are typically immense. We talk about different types of transport, different companies, brands, prices, etc.  I will tell you more about my personal experience since, from my perspective, I am usually very analytical in this kind of situation. From my point of view, there are three essential points to take into account: comfort, service, and above all, safety.
Let's take a look at the transportation options you can find at the Cancun airport:
Taxi Options at the Airport
The taxi option is usually one of the most expensive choices because it is taken on the spot without planning or reservation. In addition, you must consider that most of the time the limit of people in a cab is four and if you bring suitcases with you, unless you can find a taxi van, your capacity will be limited.   So, taking a cab from the Cancun airport is always an option, although probably the most expensive one.  The use of Uber-type services continues to be a touchy subject in Mexico.
Resort Transportation
Most people come to Cancun and the Riviera Maya to enjoy their vacations at one of the major resorts. Resort properties usually give their guests the option to include not only the hotel accommodations but also a hotel van transport to the resort from the airport.  At the end of their stay, they also give them the option of transportation from the hotel back to the airport. I understand that if this option is included in the reservation, it is usually cheaper than any other means of mobility and the hotel is responsible for getting you to and from the airport safely and conveniently.
Private transportation at the Cancun airport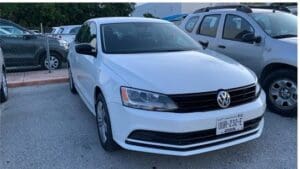 Currently, this type of transportation is the most convenient, since this is the one you must book in advance with a car service.  The good thing is that when you arrive at the Cancun airport, you have to go out to the arrivals area of the airport and an agent of the company you have booked with will be waiting for you, As an example, an agent of the Cancun Airport Transportation company will be waiting for you outside with a sign and will direct you to the van you have been assigned for the transfer to your hotel.
Since there are so many brands of private transportation, the problem is always which one you go with, and this is where you have to analyze what you are looking for in detail. As I mentioned, the three most essential things, in my opinion, are service, comfort, and of course, important, safety.
Airport Shuttle Vans
There are various companies to consider.  Of those, I always go with this Shuttle in Cancun airport. Actually, in my experience, they always meet my needs. So if you find another option that fits your needs, take it. You know what you need for your vacations, remember, all based on my experience.
Rental Cars at Cancun Airport
There is not much to explain here. If you plan to explore all of Cancun and even the Riviera Maya yourself, renting a car is your most reliable option. If you ask me which option is the best when choosing a car rental agency, well, in my experience coming to Cancun, I have only rented a car on two occasions, and it was for particular cases.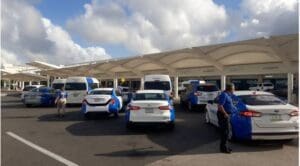 This cancun car rental at airport can be an option; if you are looking for economical cars, they have them without any problem. However, if you are looking for something luxury, they also have it. Therefore, it is also recommended to do it in advance to have the option to reserve the car you want specifically.  I recommend it because it is the only company I have enjoyed renting from. However, that doesn't mean that I will look for more options in the future since I tend to be a person who likes to try different options depending on whether they catch my attention and meet my requirements.
Anyway, the purpose of this post was to share the means of mobility that I saw in Cancun when arriving at the airport. And writing about my personal experience with some of them has helped me have more clarity on what options I should take according to the situation I will face when I return to Cancun or the Riviera Maya on vacation.