Here's How To Add Some Romance and Excitement To Your Travel Transport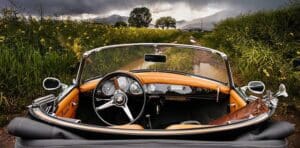 When you're travelling to your holiday destination, you might not be thinking about how you can make it more romantic. But your travel transportation is the start of your holiday, so don't you deserve a little romance? Here are some tips for how to start your holiday right with this list of romantic travel transportation.
Charter A Helicopter
Are you travelling a short distance, but want to avoid the hassle of going by train or public transport? Why not charter a helicopter? As an example, if you're travelling from New York to the Hamptons, you can take a helicopter to the Hamptons and be there and back in the day, with the added benefit of a private cabin and an added dash of romance to your travel plans.
Go By Vintage Train
There are hundreds of vintage train routes across the world that can make your trip more romantic. Think of the Orient Express, the Eurostar, or the Caledonian Sleeper in Scotland. Many of these routes offer dining cars, double beds, and stop offs in various famous cities along the route. You can make a vintage train the focus of your travels, or simply use it as a fun way to get from point A to B.
Travel By Canal Boat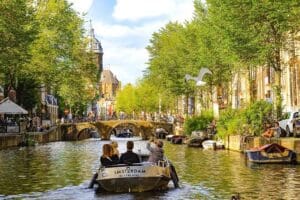 Canal boats take on a different meaning depending on the location: you might take a gondola in Venice, or stay on a river boat in the UK. If you want to go all out on your trip, there's even a three day boat cruise going from Aswan to Luxor in Egypt. Making a boat a permanent base for your stay can take the stress out of travelling and make your trip more romantic and relaxed at the same time.
Hire A Vintage Car
Many companies worldwide allow you to hire a vintage car and travel the country. One of the most popular ideas in terms of road trips is to drive along Route 66 in a vintage Mustang. Driving a vintage car can make your trip more exciting and make you feel like you're travelling in style. Whether you're in a Bentley, Maserati or a Ferrari, being on the road in a luxury car can really make your holiday memorable. Being in your own vehicle also allows you to have more flexibility over where you visit.
Ride In A Hot Air Balloon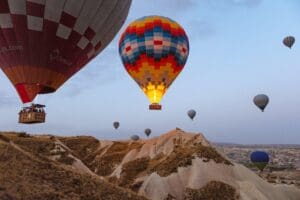 Hot air balloons exist all over the world and allow you to enjoy breathtaking views of stunning landscapes and scenery. Hot air balloon flights are usually short and sweet, as they can stay in the air for between one and three hours, but it's a great way to add an exciting day out to your existing travel plans. There are many balloon trips worldwide you can take with your significant other while admiring a sunrise or sunset.
Travel In Style
The way you travel to a destination is ultimately what sets the tone for your whole holiday. If you're looking for a romantic trip away, why not arrange for some luxury transportation to ensure that you're getting the most out of your travel plans from the minute you start your journey.