The Top 5 Theme Parks Around the Globe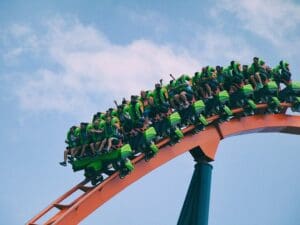 Are you in the process of planning your next holiday? Do you want to plan an adventure-based holiday that will allow you to explore one of the best theme parks in the world? While it's nice to visit nearby theme parks, there's something really special about planning a whole trip around one, and it can potentially take you to a different country entirely. Here are the top five theme parks around the globe, each of which could be worth visiting on your next vacation.
Disney World, Orlando, Florida
Disney has several theme parks located in different countries, but it's hard to beat what Disney World Florida has to offer. This park caters to families, couples and even solo travelers who want to explore the world of Disney. The Florida park in particular will leave you in awe thanks to the many resorts and hotels on-site and the different parks.
There is the iconic Magic Kingdom Park, which is a must-see, but also Disney's Animal Kingdom, Disney's Hollywood Studios and EPCOT. If you're visiting in the summer months, you may also want to cool down at one of two waterparks – Disney's Blizzard Beach and Disney's Typhoon Lagoon.
The parks are so much more than rides and experiences though, as it has also become a world-class destination for dining, shopping, events and tours, entertainment, and character experiences. For those who don't want to be dealing with a rush of crowds, be sure to visit in late January to mid-February. Late August and all of September also tend to be a little quieter in the parks and resorts.
Tivoli Gardens, Denmark
While this park may not have all the high-tech and buzzed-about rides that some of the other theme parks have, this one has a history. Tivoli Gardens is one of the oldest amusement parks in the world, so there is something really special about the grounds. It is over 175 years old and features rides, restaurants, meticulously groomed gardens, theaters, and attractions. Thanks to its history it has a unique feel that other parks just can't compete with. This one will be appreciated by history buffs and those with a love for authentic feeling theme parks.
Universal Studios, Hollywood, California
For those who like the idea of an amusement park but want more experience-based rides instead of the standard rollercoasters, a visit to Universal Studios, Hollywood, is an absolute must. This park has many notable attractions and rides including the relatively new Jurassic World – The Ride which is filled with heart-stopping thrills and adventure. You'll feel like you are part of the movie thanks to the life-sized animatronic dinosaurs including the famed Indominus Rex and Tyrannosaurus Rex.
Other notable rides, attractions and experiences include:
Character sightings
Fast & Furious – Supercharged
Harry Potter and the Forbidden Journey
Flight of the Hippogriff
The Wizarding World of Harry Potter
DinoPlay
Jurassic World
Revenge of the Mummy – The Ride
King Kong 360 3D
The World-Famous Studio Tour
There is so much to discover and explore in Universal Studios Hollywood that you will probably want to plan on visiting for a couple of days.
Ferrari World Abu Dhabi, United Arab Emirates
If you like the idea of an exotic destination with a high-tech luxury theme park experience, then Ferrari World Abu Dhabi can tick off all the boxes. Everything about this park is jaw-dropping and surreal. It is home to the world's fastest roller coaster and the world's highest loop ride. You'd expect nothing less from a park with the name "Ferrari". To top it off, there are 40 record-breaking attractions. Of course, one of the main highlights here is the Ferrari driving experiences. The dining options and live entertainment shows make sure there's never a dull moment.
Fuji-Q Highland, Japan
Then we have Fuji-Q Highland in Japan, which gets its name from the famous Mount Fuji. Because the park is located near the base of Mount Fuji, you'll be able to get great views while touring around the park. Fuji-Q Highland has built quite the reputation for itself thanks to some record-breaking rides. Thrill-seekers will appreciate the fact they can ride some of the best high-octane rides in the world here. The main attraction is Fujiyama, a rollercoaster that opened in 1996. It held the title of the world's fastest and tallest rollercoaster when it opened. Another must-ride is Dodonpa which currently holds the record for the fastest acceleration on a rollercoaster.
Plenty of Fabulous Parks to Choose From
As you can see from this list of theme parks, there are many to choose from both at home and abroad. Many of these parks are so action-packed that you'll need to spend multiple days visiting just to scrape the surface of what's available to experience. So, the only question left to ask is, which one will you get started with?