How to Select the Best Summer Camp in Switzerland for Your Kids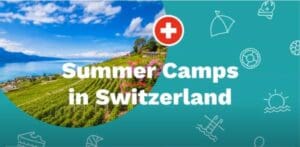 Choosing the best summer camp in Switzerland for your kids can be daunting. What with the numerous options available? How then can you select the best choice for your child? The ideal camp offers a wide range of learning opportunities and activities to ensure your child gets an all-around experience. Here are tips to help you make an informed choice of a summer camp for kids in Switzerland.
Define Your Expectations
Before choosing a summer camp facility for your kid, you must define your expectations. What will my child gain at the end of the camping experience? Do you want them to meet and interact with children from different cultures with common interests? In this case, you may want to choose a summer camp that specializes in things they are passionate about.
If you want your child to improve their thinking skills while still having fun, choose a facility that offers fun academic-based programs to stimulate them intellectually. Involve your kid in the decision-making process and find out about their expectations. You don't want to pick a facility where the kids will neither appreciate nor be happy.
Your core goal should be to keep the kids thrilled with the idea of summer by choosing programs that connect them to the things they are passionate about. Involving your kids in the planning process helps you find a camping facility that you and the kids love.
Decide Between Day, Overnight, or Virtual Camps
Some parents are torn between choosing day camps or overnight camps. With virtual centers becoming popular in today's modern world, parents will get more confused. Worth mentioning is that all these camps offer different experiences. For example, children attending day camps may participate in numerous activities but miss out on developing essential life skills like teamwork and leadership.
Unlike day camps, overnight camps offer a thoroughly engaging program. Day campers might also miss the opportunity to engage in fun activities featured in residential programs. Sometimes you want to consider an overnight camp to maximize your child's potential.
Besides offering different topics and customized content that meets camper's interests, virtual camps are an ideal option for parents, especially during uncertain pandemic times. Virtual camps are a fun way to keep the entire family engaged and happy without thinking about the logistics of attending day or overnight camps.
If your child is going camping for the first time, day camps can be the best option. These facilities allow your child to socialize, learn new things, and play their favorite sports without staying away from home for an extended period.
Older children who are comfortable attending overnight camp will experience independence within a supervised setting.
Identify Instructors that Your Kids will Love
The right camp instructor can help your child have an unforgettable experience. The ideal instructor should be passionate and committed to being around children. You don't want an instructor who spends more time on their smartphones than they do teaching campers. The instructor you choose should be knowledgeable, upbeat, fun, and passionate about what they teach.
Choosing an instructor is daunting but achievable. Many summer camps in Switzerland offer an instructor segment on their websites detailing the qualifications, experience, and skills they need from potential instructors.
Some provide interviews with their staff, instructor profiles, or comprehensive editorials. Such information can help you choose the instructor whose profile best meets your child's needs. Reading reviews from parents and previous campers can help you understand what to expect from the instructors. You can also call the camping facility and ask them for references you can talk to before deciding.
The summer camp you choose should offer a low student to instructor ratio of around ten campers per instructor for the best experience. Ensure the camps run background checks on their instructors to be on the safe side.
Know Your Budget
Summer camp prices in Switzerland vary. However, substantial price tags should not scare you from sending your child to camp. Instead, consider camping an investment. Teens and young kids benefit from attending camp, such as meeting new friends, boosting self-confidence, and gaining independence within an inspiring and safe environment. While some campsites can be costly, the benefits your child can gain from attending them outweighs the expense.
Remember, the cost reflects the quality of a summer camp and can be associated with what the child will gain out of it.
For example, some sports camps are cheaper because they only require an open field and equipment to operate the facility. However, tech camps are more expensive, seeing that the initial software and hardware investments can be massive and costly. Virtual camps can help you cut down on costs.
Always strive to understand what the final price of the camp includes because extra benefits can escalate the total cost. Does the facility pick and drop day campers? Do they provide lunch? Ensure you pay for the most crucial things for your kid. Watch out for discounts. Some camps in Switzerland offer sibling, multi-week, and fixed discounts that you can use to make some savings. Reach out to the facility and determine how you can save.
Research Extensively
Before, you will have questions, and one of the best ways to answer your questions is through research. Research extensively to ensure you are making the right decision. There are many strategies you can use to learn about camps that can benefit your kids. For example, you can browse websites, attend local camp fairs, read reviews, or visit the camping facility.
You can also discuss the facility's courses and programs with a camp representative. Reach out to your friends and family for suggestions. Ask friends who have sent their children camping previously for their experience.
A recommendation from someone you know is usually an indicator of your kids' expectations. Collaborate with other parents and send your children to camp together. Kids will always enjoy camp while in the company of their friends.
Finally: Determine Whether the Facility Offers Pastoral Care
The personal and social well-being of your child is crucial. As a parent, you want the best for your child, and sending them to camp can sometimes be worrying. How will my child adapt and cope in the new environment? Some children require more nurturing than others, and the best summer camp in Switzerland should offer emotional support to the campers.