Top 8 Reasons Why People Love Florida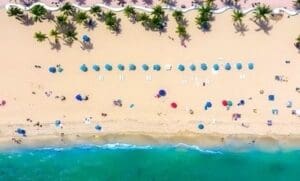 Pixabay
Florida is in the news for attracting a record number of people to live, work and play here.  The state has many beautiful areas and it is actually quite amazing and enjoyable for many generations of people who  love visiting or even living here. Florida has a lot to offer and there are many amazing things to do whether you are visiting for a week or two or you live here. So, if warm, nice weather all year round isn't enough to convince you this state is amazing, here are some additional facts about Florida that may catch your attention.
Beautiful Natural Springs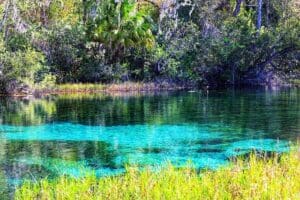 Pixabay
Florida is filled with natural beauty. The landscapes in this state are often breathtaking and you may even fall in love with them. There are over 900 amazing freshwater springs in Florida, such as Devil's Den, Crystal River, Rainbow Springs, Juniper Springs, Weeki Wachee, and many many others. What is more, these mesmerizing natural reservoirs have become key locations for the exploration of some of the most untouched ecosystems in the state!  Many of the springs are in State Parks which offer camp grounds, swimming, snorkeling, paddleboarding and kayaking.
Amazing Theme Parks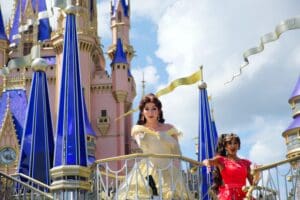 Unsplash by Brian McGowan
Florida is famous for its theme parks and for a good reason. Orlando, and the surrounding area, attracts more people than any other area in the United States due to its abundance of amazing theme parks. In this state, there are some of the most famous parks, including Disney World, Bush Gardens, Sea World, Disney MGM Studios, Universal Studios, LegoLand and Aquatica. And all of these theme parks can easily be enjoyed throughout the entire year, thanks to Florida's warm weather and the easy proximity to each other.  It's no wonder that families of every age head to Orlando to experience what is surely the world capital of amusement parks.
Great Weather All Year-Round
This state has sunshine and great weather throughout the whole year. They have 10 months of warm weather and for everyone that hates winters, this is probably the best place to live in. Why is this perfect? Well if you love the outdoors, this is the perfect state to enjoy some outdoorsy activities like hiking, kayaking, and many other watersports. Plus, all the outdoor sports can easily be played throughout the entire year, and that is a great advantage.
Fantastic Beaches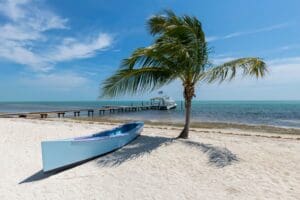 Unsplash by Keith Luke
Beaches are probably the main reason why people adore Florida. Residents of this state have access to some of the most beautiful beaches in the world right outside their door. Some beaches in Florida have even won awards, and these include Sarasota's Siesta Public Beach, Pensacola Beach, Clearwater Beach, St. Joseph Peninsula State Park, Panama City Public Beach, Grayton Beach and so many others. All of them are gorgeous, there is plenty of space to enjoy the sand and warm water and there are plenty of amenities on those beaches to keep you entertained.
Mouth-Watering Food
Not only is the weather great in Florida, but there are some amazing foods for you to try here as well. According to many, Florida is the place that has the best Cuban sandwiches in the US. To find the best of the best, make sure to go to Miami, Tampa, or Key West. Besides these sandwiches, Florida holds a great variety of different tasty dishes with much of it based on the super fresh shell fish and seafood. And if you want the best of the southern dishes, make sure to look for southern food in Miami and you won't be disappointed.
Reasonably-Priced Cost of Living
This state has one of the strongest real estate markets in America. Also, new housing developments are happening everywhere you look. This makes Florida one of the rare states with reasonably-priced real estate. What is more, it is not as expensive to live there either. And even though there are many seniors relocating to Florida, it is for a good reason, including a lower cost of living.
No State Income Tax
For many people, this is the biggest benefit of living here. There is no state income tax, which means that you get to keep more of the money you've earned. This is because Florida tends to earn money from millions of tourists that come there all year round. So, once you become a resident, rather than a tourist, you won't have to pay income taxes and you will be happy to see every tourist come in because they are enabling this lack of taxes.
Plenty of Sports Teams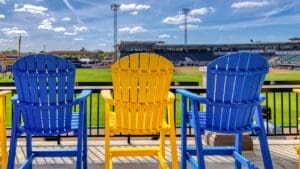 Unsplash by Mick Haupt
Florida is also a nice home to all of you who love sports. This sunshine state houses many professional sports teams including football, hockey, baseball, soccer and basketball. Some of the most famous team names certainly are the Orlando Magic, Miami Heat, Jacksonville Jaguars, Miami Dolphins, Tampa Rays, Tampa Bay Buccaneers and many more. Each year, in the spring, many MLB baseball teams train in this state, so you may even get a chance to see some of the up and coming players getting ready for the season.  And while not a team sport, Golf attracts a major segment of tourism every year as they have some of the country's best golf courses in abundance.
Florida has a lot to offer and it can provide pleasure and entertainment to all generations and to all kinds of people. What is more, the residents are kind and pleasant, so you may never encounter any problems while you are enjoying Florida.
************************
About the Author:  Eve Anderson is a marketing specialist turned blogger. Interested in sports and exciting travel destinations. Love to share content that can inform people.