Rediscovering the Best Golf Courses in Europe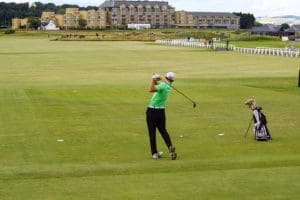 Europe is rich with beautiful culture, lovely accents, and spectacular views. Whether you travel for business or for leisure, it should be on your travel list!  Golfers can also look forward to some of the most amazing golf in the world. One of the best things about Europe is that it features vastly different climates, terrain, and nature depending on where you are, so every round of golf here is an adventure.
The following courses are widely regarded as some of the best golf courses in Europe. If you're nearby, play a round. You won't regret spending a few hours of your time on any of these courses, both in terms of the exciting gameplay and the stunning scenery!
PGA Catalunya Stadium Course – Costa Brava, Spain
This spectacular 18-hole, par-72 course should be on every golfer's bucket list of golf courses that you just have to play.
Although it has hosted numerous PGA European Tour events, golfers of all skill levels will love the layout and the challenge that it provides.  Every hole is varied, with undulating terrain, large greens, wide fairways, water hazards that feature early on, and strategically-placed bunkers.
The signature hole, number 13, has magnificent views before you come back down the hill from the elevated tee.  Golfers have to choose their club wisely, as they'll need a strategic and accurate shot to reach the green. But keep the approach shot to the left of the green, which falls away on the right-hand side towards the lake.
Arrive an hour before your tee-time and make use of the world-class practice facilities, which will provide you with opportunities to use every one of your golf clubs.  You can also rent one of the pre-installed Trackmans on the range to help you analyze your speed, club path, and attack angle.
Spending a few days in Costa Brava will give you time to play Catalunya's second course, The Tour Course.  It's about 1000 yards shorter than the Stadium Course, but it provides a fun, memorable, and challenging round.
Circolo Golf Villa d'Este – Italy
Golfers will find it easy to be distracted by the breathtaking views of the foothills of the Alps and the Montorfano-Lake. Definitely an Instagrammable spot!  But this 18-hole, par-69 course will demand strategy and precision, as it will put both your long and short game to the test.
This cleverly-designed course features narrow fairways lined with trees, small raised greens, and many strategically-placed bunkers. Fortunately, water only comes into play once, on the 12th hole.  Golfers are in for a treat, as this course provides 6 excellent par 3s that are extremely challenging, as well as some interesting par 4s that will make for a memorable round.
Each hole is varied and it will be difficult to choose a favorite. But that being said, golfers will find the 3rd, 5th, 9th, 10th, 12th, 15th, and 18th holes to be notable.
St. Andrews Links (Old Course) – Scotland
If you want to experience links golf at its most natural, you won't get better than St Andrews, in the heart of Scotland where links originated.
This course is very special and rich in golfing history, which is why it should be on your "must-play" courses list. Golfers will find that there are many memorable holes on the Old Course, but the most infamous is the 17th. It's a par-4 that stretches over 495 yards. Your tee shot will need to carry over the railway sheds on the hotel grounds nearby.  Your second shot needs to be precise if you're going to hit the small green, which is protected by a vast bunker just in front of it. A road and stone wall is the final hazards behind the green.
Golfers will need to be strategic in their approach and choose between playing to the left of the fairway or carrying over the hotel grounds.
Bro Hof Slott Golf Club (The Stadium Course) – Sweden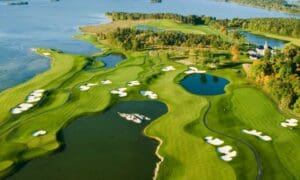 This 18-hole, par-72 course provides a unique golfing experience that's both testing and fun. Most of the course is set along the waters of Lake Målaren, and the wind coming off the lake will make your round more challenging.
Golfers of all skill levels will be able to play, as there's a range of tees, the fairways are pristine, and the large elevated greens are fast with well-placed bunkers.  The layout flows nicely, but you'd need to play each hole with precision as any errant drive or approach shots will be punished by the thick roughs and the elevated greens with runoffs.  It's important to note that the black tees, which stretch the course to 8,056 yards, are reserved for professionals and competitions.
If you can, plan your golfing trip so that you can also play a round of golf on The Castle Course. It will remind you of a Scottish links course but provides a very different challenge to that of the Stadium Course.
Carya Golf Club – Turkey
This golf course is designed to mirror the traditional heathland layout found in the UK. In fact, huge amounts of heather were planted in order to create a feeling of authenticity.
Golfers of every skill level will enjoy playing this course. The fairways are wide and forgiving, but the greens are where the course truly shines. They're large, sloped, and fast, so you will need to bring all your strategy and precision.  Although there is no particular signature hole, the finishing section from the 12th hole onwards is particularly tough.  The 12th features a dogleg that's played through the forest, with a green that slopes from front to back. The 13th has an elevated green that will make you lose a shot if you miss it.  Probably the most notable tee-off is the 16th, which has a famous tee shot off the top of the villa over the pool. It's spectacular, but be careful to clear the villa with your shot!
One of the most notable things about this course is that every hole is lit with floodlights, allowing golfers to play late into the night. It's the first of its kind in Europe.
*************
About the Author:  Jordan Fuller has been playing golf for decades and has been lucky enough to play on courses all over the world. When he's not discovering new golf courses, he's researching and writing for his website, Golf Influence.