Tops Tips For Preparing For An Adventure Trip
If you've never been on a walking, hiking or cycling holiday before, you might be stressing about how to prepare and pack efficiently without leaving important items behind. Maybe you're travelling solo or going on a group adventure tour. We have lots of useful suggestions for planning a great walking or cycling excursion.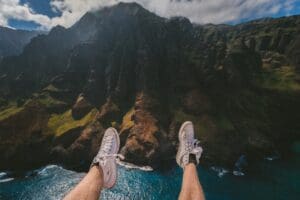 Photo by Jakob Owens on Unsplash
Carry Light But Focus on Needs
Make a list of all the gear and equipment you might need and determine what you need to begin looking for it. Then before you pack, lay it all out and decide if you really need it all. Next, pick a bag or rucksack that fits your travel requirements, such as 20kg or 22kg pack, to serve as your luggage.  Test it to see if everything fits. Check off your list as you pack it. You can also bring smaller hand luggage, such as a small knapsack for daily adventure requirements.
Sporty and Casual
For outdoor adventure tours you will be wearing sports clothing. Pack a spare full set of clothes for your activity. You may need to wash and dry clothes, so have a second whole set on hand. If you're going away for an extended time, or if it's likely to be in rainy or hot weather, pack more outfits. Socks, multiple layers, and a lightweight insulated jacket could be plenty. Bring along one nicer outfit in case you go to a restaurant or socialize during the evening.
Be Ready For Any Weather
There is always the risk of a rainy day or perhaps a brief downpour, so take a waterproof jacket. A light jacket is fine for mid-summer travel to sunny locations. Pack waterproof over-trousers if you expect wet days on the trails. These goods are light and can be hidden in a corner of your knapsack all week – until you need them!
It May Be Cold
Travelling to higher locals whether by foot or bike requires extra layers, such as a lightweight fleece jacket, to keep you warm. Wind might also be a factor, thus a windproof jacket is a must. Even in the height of summer, nights can be chilly, so the jacket can double as a blanket as well. Take additional gloves, hats, and neckwear or buffs if you will be in a freezing climate.
Wear Comfortable Hiking Boots
It is best to bring familiar attire and equipment so you know in advance that it's comfy. For example, you must bring hiking boots or shoes that you have worn before to avoid unexpected blisters. The same is true for cycling shoes and padded shorts. A new rucksack may potentially cause pain if it rubs or does not fit properly. Again, choose a pack that you are familiar with. This applies to all of your apparel. Holidays for walking or cycling are not the time to try out new gear.
Travel Documents
A valid passport, visas (if required), travel tickets and information, travel insurance (coverage for destination and activities), European health card, driving license, bank card, cash in the proper currency, mobile phone, are all essential to organize and carry in a secure place. If you've decided to rent a motorcycle with Twisted Road or other outdoor adventure make sure you always have your insurance details and booking details to hand.  When you are in a new place and participating in adventure activities, it's important to be covered by medical and travel insurance.
Important Essentials
Many items might be easily forgotten when packing. This is especially true if you are travelling during a cooler season. Among other things, don't forget sun cream, anti-chafing lotion for cyclists, insect repellent (midge nets), sunglasses, a tyre puncture repair kit, (painkillers), a water bottle, your prescribed medications and earplugs.  If you wish to rent a bike, bring your own cycle shoes, pedals, and seat for the best comfort.
Buy Abroad
Don't panic if you forget something. It is typically easy to buy what you need abroad, despite language or location issues. It's obviously better if you don't forget anything that is really important, however, you should never let this spoil your trip away.
Make Use Of Mobile Apps
There are several beneficial apps to download before travelling. In addition to these, there are apps for podcasts and novels to read while you're away. It's also worth considering how much using your phone overseas will cost. Check with your cellphone carrier and ask before you go how your usage will be effected.
Final Thoughts
In high season, don't leave a pet or plant care arrangements to the last minute, make arrangements well in advance. For peace of mind, plan these items as soon as you book your vacation.