Experience an Unforgettable Tanzania Safari with Kids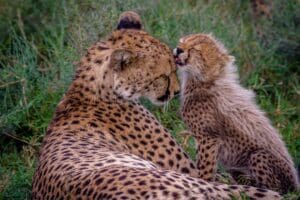 If you are thinking about going for an African safari and do not know what to expect, this article should provide you with some information. African safaris with your kids are all about reconnecting with the family without any distractions. Tanzania is an amazing place to visit with your family with its numerous action-packed game drives that create wonderful memories for adults and children alike. You can visit Tanzania to watch a variety of wildlife spread across the country. The best time to visit Tanzania for a family-friendly experience is July to October. Enjoy watching your children's jaws drop as they see they react to seeing an elephant or lion for the first time.
Tanzania Family-Friendly Safaris
1) Materuni Waterfall Safari
Materuni waterfalls is an enchanting and soothing spot filled with eucalyptus, lemongrass, passion fruit, coffee, mango and banana trees. Due to the numerous waterfalls on the way to the path to the park can get a bit muddy but is manageable for the little ones. On your way to the Materuni waterfalls, you will pass Materuni Village which is named after the Materu tribe that is the majority in the village.
It is a beautiful setting with this gushing water, and on a clear day, it is so vibrantly green and lush. Visitors can swim in the shimmering waters. Materuni waterfalls offer a fun adventure for families who, just want to unwind in nature and have a slice of the exciting Tanzanian safari.
2) Tanzania Northern Circuit Family Safaris
The Tanzania Nothern Circuit family safari consists of 5 National parks they are :
Serengeti National Park: This protected area contains many game reserves and is home to 70 different mammal species and 500 bird species. The national park entertains one of the second largest terrestrial mammals migration and, this sets it as one of the ten natural travel wonders of the world. The highlight of this park is the big five animal sightings, Wildebeest migration and Maasai village.
Ngorongoro Conservation Area: This conservative area is a UNESCO World Heritage site within Northern Tanzania. Some of the animals you can spot during a safari are black rhinoceros, Cape buffalos, hippopotamuses, giraffes, zebras, gazelles, cheetahs and lions. The highlights of visiting a Ngorongoro conservative area are Olduvai Gorge, Ngorongoro Crater, Empakaai Crater, Laetoli, Gol Mountains.
Kilimanjaro National Park: This national park is situated 300km south of the equator and is an adventure-filled safari. The highlight of visiting this park are the sightings of Cape buffalos, elephants, leopards, blue monkeys, etc. You can also enjoy other activities with your family such as swimming in the Materuni waterfall, Kikuletwa hot springs, taking a Kilimanjaro coffee plantation tour, or canoeing on Little Momella Lake.
Lake Manyara National Park: Lake Manyara National park lies between Lake Manyara and the Great Rift Valley. Some of the animals spotted during a safari are zebra, bushbuck, waterbuck, Grant's gazelle, impala, Thomson's gazelle, Cape buffalo, giraffe, hippopotamus, baboon, warthog, elephant, lion, leopard, African wild cat, spotted hyena, black-backed jackal, cheetah and African golden cat. Cultural excursions and flamingo watching are some other highlights of going on a safari in Lake Manyara National Park.
Tarangire National Park: Tarangire National Park received its name from the Tarangire River that crosses the park that is a water source for wild animals. The park is wildly known for its abundant elephants and baobab trees. You will also find herds of other animals such as zebra, lion, leopard, cheetah, caracal, honey badger, African wild dog, giraffe, wildebeest and cape buffalo. Along with having a healthy population of wild animals, it is also home to around 550 bird species.
3) Tanzania Southern Circuit Family Safaris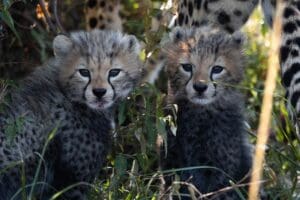 Tanzania's southern circuit family safari consists of three National parks and is home to Africa's largest game reserve that covers 55,000 sq. km. Selous game reserve offers sightings of lions, hippos, African wild dog sightings and herds of elephants and zebras. Another highlight of the game reserve is that it offers year-round boating safaris and has numerous luxury lodges for you to have the best experience.
Mikumi National park and Ruaha National park are the lesser-known parks of Tanzania. They receive fewer visitors and provide children with the opportunity to enjoy nature to its fullest with its scenic landscape. The Mikumi National park has a high wildlife concentration. Its key feature is the hippo pool and the Baobab treehouse. On the other hand, Ruaha National park is known for the adventures it offers such as hiking and walking safaris. Since Mikumi is known as a bird-watching destination, some of the birds you'll spot are Black-bellied bustard, saddle-billed stork and cattle egret. During your safari, you will also spot elephants, lions and African wild dog sightings.
4) Chemka Hot Springs Safari
The crystal clear water is bliss. Enjoy a relaxing day with your family by munching on the local cuisine and swimming in the lagoon. On a pleasant day, light rays stream through the Chemka region during the middle of the day and are truly remarkable. If you are looking for an adventurous family trip you can use some of the trees to jump into the hot spring, there are also numerous rope swings that you can use. On your journey to Chemka, you have the chance to interact with locals and observe the daily life in that region.
5) Tanzania Camping Safaris
You can take your family on an adventure under the starry sky, wake up with a spectacular view of the sunrise and spend the day enjoying the experience of visiting Tanzania's primary national parks. At the end of each day, you'd head back with your family to the heart of these national parks where you can take in the incredible views as the sun sets, presenting a picturesque view of the nightlife.
Final Thoughts
Travelling with your family will help you strengthen your bond as you spend quality time in the wild together. It is vital that before planning a trip to Tanzania, proper research is done. While travelling through the built-up areas in Tanzania, be vigilant of your personal belongings. Beware that many of the camp lodges have taken measures against bugs and other insects but it is better that you carry some extra bug repellent for your family. Plan your trip in advance to experience the best that Tanzania has to offer.
***********************
Image Source:  Pexels.com