Fascinating New Year Traditions Around the World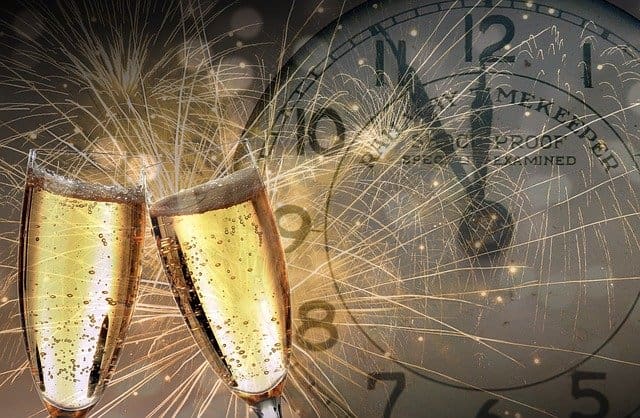 The world celebrates New Year in unique and festive ways. Many people worldwide spend their holidays on beaches or ski slopes, while some celebrate with family and friends at home. Whatever the tradition may be, one thing is for certain: there is always a desire to welcome new beginnings, discover new things, and spread joy — particularly during the winter season — within our communities.
New Year's traditions vary widely from country to country (and sometimes, even region to region). Still, many of these festivities focus on renewal and reflecting upon the past year's accomplishments (and failures). From fireworks displays to all-night dancing parties, from family feasts to revered religious ceremonies, from flour fights in the streets to golden coins being thrown in wishing fountains, let's take a deeper look at some New Year traditions around the world.
New Year's Traditions in Italy
In Italy, people celebrate by throwing flour, eggs, and tomatoes at each other while singing traditional folk songs about food! An Italian tradition is to make lentils for good luck on New Year's Eve (a leftover from an old pagan festival), complete with garlic-and-sage-flavored sausage. While meatballs are always served on Christmas Eve, fish dishes are the main attraction during the New Year celebration; seafood soup or baccala (dried salted codfish) are popular choices. Concerning drinks, Italians enjoy sipping hot cocoa throughout the night while dancing the hours away. Fireworks also ring in the New Year all over Italy, lighting up the sky with colorful explosions (some say this tradition began when criminals used fireworks to distract their victims while robbing them). And it seems that even Italian donkeys get into the act; January 2nd is known as "the Donkey Day" in Italy when these animals are paraded through the streets and decorated with wreaths.
While many people worldwide enjoy watching New Year's Eve on television or online, Italians like to celebrate by attending private balls. Throughout December 31st, private palaces open their doors for lavish parties; some of these extravagant ceremonies can last until 6 am. At midnight, live orchestras play music while guests dance away the hours of the New Year. Champagne flows freely and, of course, there is always a delicious spread of food to enjoy.
New Year's Traditions in Scotland
In Scotland, the New Year is welcomed with a traditional ceilidh (kay-lee), Gaelic for "a gathering." At this event, people come together to celebrate Scottish culture through song, dance, and storytelling. Some of the dances often performed at a ceilidh are the reel, the strathspey, and the Highland fling. A popular drink at these events is whisky (a type of alcohol made from barley), which is often enjoyed along with shortbread cookies.
Another Scottish tradition is to watch the Hogmanay Fireworks Display. This event, which takes place in Edinburgh, is one of the largest fireworks displays in the world and attracts over 100,000 people every year. The show usually lasts for around 25 minutes and features a variety of colorful fireworks.
The New Year is also celebrated in Scotland with a "first footer." This is a tradition where someone (usually a man) visits his friends and family shortly after midnight on January 1st, bringing them good luck for the coming year. He typically arrives with a gift (usually alcohol or food), which is considered unlucky if he does not bring something with him.
New Year's Traditions in Japan
New Year's is celebrated in Japan with various traditions meant to bring luck and peace for the upcoming year. One of these is eating a type of black rice cake called kurikinton, shaped like a peach (to symbolize long life). The Japanese also make an effort to finish all of their old work before January 1st to leave everything behind them for good luck in the New Year.
The Japanese people are very fond of fireworks, which used to scare away evil spirits during this period. They start setting off fireworks at midnight, using every possible location around their homes to light up the sky with spectacular explosions. Traditionally, Japanese children place tiny grass hats on top of bamboo sticks in front of their houses; wherever there is no hat-stick, it is said that the evil spirits have entered that house.
New Year's Traditions in Brazil
Brazilians celebrate New Year's in an upbeat fashion, with lots of music and dancing. One popular tradition is to dress up in white and attend a "Festa Junina" (June party), a dance celebration that happens throughout the country during June. Another tradition is to eat lentils on New Year's Eve, as it is believed that this will bring good luck and money in the coming year.
Brazilians also enjoy watching fireworks displays, often set off at midnight all around the city. These displays are usually quite colorful and elaborate and often large crowds. Some of the most popular places to watch the fireworks are Copacabana Beach and downtown Rio de Janeiro.
New Year's Traditions in South Africa
South Africans celebrate New Year's by attending various private parties and events. One popular tradition is to go to a casino, where people often spend their entire night gambling away.
Another tradition is to attend a "braai" (an outdoor barbecue). At this event, people come together to cook meat over an open fire and enjoy each other's company. A standard drink at these events is beer, which is often served in giant jugs called "buckets."
South Africans also like to watch fireworks displays on New Year's Eve. These displays are usually very colorful and typically. The most popular places to watch the fireworks are the V&A Waterfront in Cape Town and Sandton City in Johannesburg.
New Years Tradition in the USA
In the United States, New Year's is typically celebrated with a giant fireworks displays in nearly every community in America. This event, often held in a major city like New York City or Washington D.C., attracts tens of thousands of people every year. The show usually lasts for around 30 minutes and features a variety of colorful fireworks.
Another popular tradition is to attend a New Year's Eve party. People often enjoy drinking champagne, eating heavy appetizers, and dancing the night away at these parties. Some parties also include a countdown to midnight, at which point everyone cheers and drinks to the New Year!
Many people choose to ring in the New Year by watching the ball drop in Times Square in New York City. This tradition began in 1907 and has continued ever since. Thousands of people attend this event every year, broadcast live on television worldwide.
What are you waiting for? Call your closest private transportation services in Fort Lauderdale, book a ride to the airport, and choose the best destination to spend your New Years' Eve. Ring in the New Year with fireworks, good food, and new sights.
Conclusion
Whether you're ringing in New Year's Eve from some exciting foreign country or at home with family and friends, you probably have a Unique New Year's tradition or two of your own. But whatever it is, be sure to spend your vacation with your loved ones.
Cultures around the world ring in the new year in a variety of ways, with each custom intended to instill hope, optimism, and luck throughout their communities for the year ahead.
*****************************************
About The Author:  Hello, readers! Jenna is a writer and travel enthusiast who is always on the lookout for new and interesting traditions to explore. In her free time, she enjoys hiking, biking, and spending time with her friends and family. Jenna is a travel enthusiast and writer who is always on the lookout for new and interesting traditions to explore.   When she is not writing, Jenna can be found hiking, biking, or spending time with her friends and family. The author is a native English speaker from Massachusetts who lives in Los Angeles. They are avid traveler who have explored more than 30 countries around the world.