Four Places to Spend New Year's Eve in the UK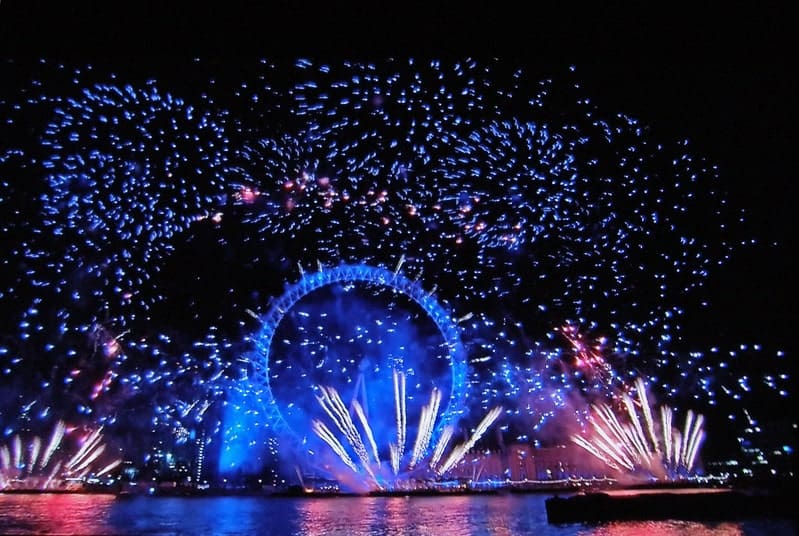 New Year's Eve is a tradition as old as the calendar that marks it; from the Babylonians, through Pagan celebrations of solstice, to the present day of fireworks, new year's resolutions and the famous ten-second countdown to a brand new year. New Year's Eve is celebrated differently across the UK even today, with vast city-wide parties and small village traditions happening simultaneously. But where to choose for your own New Year's Eve celebrations? Here are four of the best places to ring in the New Year.
Edinburgh
Edinburgh is the place to be for street-based celebrations, as it rings in each New Year with the annual Hogamanay celebrations. Hogamanay is a Scots word from the 17th century, linked to old Gaelic celebrations of the winter solstice. Today, though, Hogamanay is a party like no other, to which revellers travel from across the globe. The night before New Year's Eve sees a torchlight procession through the streets, while the night itself is home to a street party for the ages, with fireworks, music and dancing until the early hours; not bad for a 300 year old tradition! Scotland is, however, on the colder side of the UK, making packing your thermals a must in preparation for a night in the streets.
London
For a different flavour of New Year's nightlife, London is an absolute must. Rather than one central street party, London is a hotbed of activities to ring in the New Year, from the fireworks at the South Bank to the New Year's Eve cruise that passes it, and the myriad club and bar parties in between. There are firework displays throughout London, visible from the Tower Bridge and London Eye, as well as a special event at Trafalgar Square.
St Ives
For a more quintessential flavour of a New Year's celebration, St Ives in Cornwall is a fantastic choice; a far quieter affair, with strong, quirky traditions sure to pique your interest and a beautiful vista to boot. Each year St Ives' community and visitors take to the fancy-dress shops, garbing themselves in all manner of costumes past and present before taking to the streets and marching down to the harbour, where a breath-taking fireworks display can be seen to take place.
Flamborough
East Yorkshire has a secret, in Flamborough – a coastal village near to Scarborough, and home to New Year's celebrations like no other. Flamborough has a Viking past, and traditions to suit; come for the beautiful shoreline, locked between stunning cliffs, and stay for Flamborough's annual Fire Festival, a reflection of the Viking rituals whereby fire cleansed the village of bad spirits ahead of a new year. A Viking longship is built in the Summer, and set ablaze on the shore to see in the New Year; there is also a fire procession, and requisite fireworks display to tie it all together.
No matter where you roam in the UK, you'll find fun and colorful New Year's Eve celebrations to say farewell to the old year, and welcome in a fresh new year full of promise.
******************************
Image Source:  Flickr by: Amanda Slater