5 Best Things To Do at Global Village Dubai 2021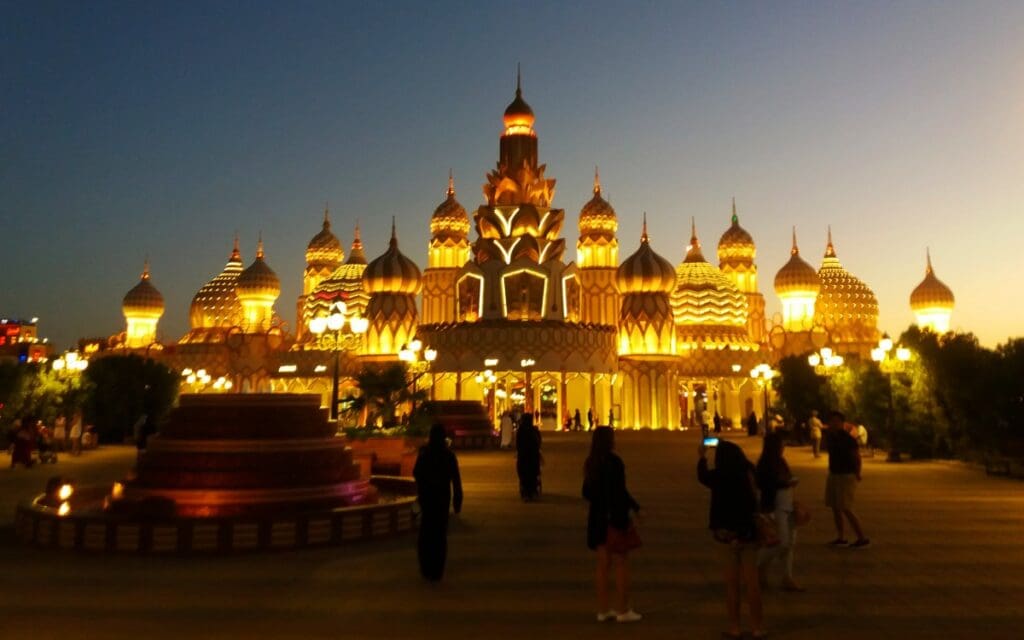 It is time for the festivities in Dubai to come alive. Every year, after the intense summer that extends from May to September, the temperature in Dubai starts cooling in late October and becomes pleasant by November. Apart from the usual popular attractions like the Burj Khalifa, desert safari, dhow cruise, Dubai Marina, Dubai Frame, etc. there are many more reasons to visit Dubai during the winter season.
Starting October, Dubai hosts several events and festivals, and the Global Village is one of the most important ones. Now in its 26th year, the Global Village is one of the much-awaited events of Dubai. Here are the 5 best things to do at the Global Village Dubai in 2021.
What is Global Village?
The first Global Village event was held in 1997 with just a handful of kiosks. 25 years later, it is one of the biggest events that happen in Dubai. Lasting around 6 months, the Global Village Dubai sees around 6 million visitors. It is considered to be the largest tourist, shopping, entertainment, and leisure project in the world. You would get to see the pavilions of more than 78 countries under one roof. The Global Village is a great place to know about the culture, heritage, and food of the different countries of the world.
 5 Best Things to do at Global Village Dubai 2021
The 26th edition of Global Village Dubai was announced in July 2021. This year, the event would run for 167 days. The Global Village event would open on October 26' 2021 and would last till April 10' 2022. During the 5-6 months of this event, you would get to enjoy numerous things. Here are the 5 best things that you should not miss at Global Village Dubai.
Shopping at the Pavilions
The pavilions are at the center stage of Global Village. You would find 25 pavilions representing around 78 countries, some of which include e UAE, Americas, Thailand, European nations, Turkey, India, Pakistan, Kuwait, Bahrain, Azerbaijan, Japan, China, Africa, etc. At each pavilion, you would find the architecture, arts, craft, and food of the countries it represents. While it is a great delight to wander around the pavilions exploring the uniqueness of each country, the highlight here is the retail therapy you can indulge in here.
At every country's pavilion, you would find shops, stores, and kiosks selling products that are unique to each one of them. Argan oil from Morocco, Shea butter from Africa, silk and spices from India, honey from Yemen, scarves from Egypt, coffee from Turkey, etc. are a few of the things that you can buy at the Global Village. You would also see artisans working on their craft in front of you, and giving you the chance to buy things like wood carvings, calligraphic art, handcrafted shoes, traditional jewelry, etc. directly from them. If you are visiting during the Dubai Shopping Festival, you are likely to get some major discounts and deals at most of these stores as well.
Shows and Events
While the pavilions and the shopping opportunities they offer are the main attraction of Global Village, they are not the only thing to look forward to. On the other hand, Global Village offers a variety of entertainment opportunities as well. Right from live shows to concerts, you would get to see the performances of local and international artists on the Global Village Stage. While each country pavilion hosts its own shows to showcase their culture, several shows happen at the main stage as well.
Signature shows from world-class performers are a star attraction at Global Village Dubai. Then there are kids' shows that would keep your little ones hooked as they would see their favorite characters on stage. Street shows are also performed here on a daily basis. However, one show that you should not miss here is the stunt show. Right from bike flips to car chases, the stunt show performers would not fail to keep you on edge during the entire show. Apart from these, the Global Village hosts some amazing events throughout the season.
Food From Across The World

Food is one of the prime reasons for visiting Global Village for most people, as you get to try cuisines from all over the world here. You would find authentic bites and snacks of each country at their respective pavilions. But this is only a small slice of the food scene at the Global Village. Right from globally popular fast food to authentic local food, there is nothing that you would not get to eat here. In other words, it is a heaven for food lovers.
If you want to relax and give your legs a rest after all the walking you did at the Global Village, there are numerous restaurants here that would give you the chance to try some authentic flavors. There are also several cafes where you can not only enjoy a variety of coffee and other drinks but also some great views. If you want to have some food on the go, you can also explore 150 kiosks and food carts that offer an array of street food from all over the food. Some other places to look out at the Global Village Dubai are the floating market, Indian Chaat Bazaar, the Happiness Street, and the Fiesta Street. From Pan Asian to delicacies from Europe and America, the Global Village has something to satisfy all taste buds.
Carnaval
One of the things that attract kids to Global Village Dubai is Carnaval, a funfair that promises lots of fun, entertainment, and adventure. The main attraction of the place is the 30+ thrilling rides that would be loved by adventure enthusiasts. Miami Surf, Manila Mayhem, Wheel of the World, and Moscow Max are a few of the rides that you should definitely try at this funfair. Apart from the rides, there are several classic arcade games, including a lovely carousel. You can also try your luck and play games where you have the chance to win anything from a plush toy to mobile phones and play stations.
Other than the rides and games, you also get to enjoy some exciting experiences at the Carnaval. The most popular is Transylvania Towers, which is a haunted house. Introduced in the 24th year of the Global Village, Transylvania Towers has easily become one of the most popular attractions at the Carnaval for teens and adults. With the help of some amazing animations and side effects, this place would not fail to spook you. This is one of the best things to do here if you are visiting with a group of friends.
Fireworks
Fireworks are an important part of Global Village Dubai. The event begins and ends with spectacular fireworks that illuminate the Dubai skyline. Apart from the opening and closing days, you would get to see the fireworks every Thursday and Friday at the Global Village at 9. Fireworks can also be seen on special occasions like UAE National Day, which falls on December 2) and New Year. Apart from UAE, you would see fireworks at Global Village when the clock strikes midnight in 6 other countries, which include India, Pakistan, Bangladesh, Philippines, Thailand, and Istanbul.
Along with the above-mentioned top 5 things to do at Global Village in 2021, do not forget to visit the Ripley's Believe It or Not Museum to see some extraordinary and unique exhibits. All in all, Global Village Dubai is a place where you can spend a memorable and fun evening with your family and friends.