Digital Nomad: Portable Monitor and Other Gadgets to Have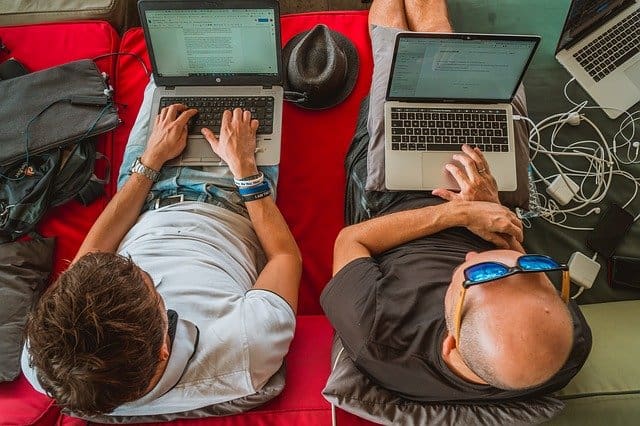 Are you planning to change your lifestyle completely and become a digital nomad? You know, the group of people who work, play, travel all while having an exciting time? It used to be a crazy notion to spend one year in Bali, then cozying up in an RV while exploring Norway with the Northern lights as your backdrop each night. With modern technologies and flexible work schedules, it's now possible to live the life of a Digital Nomad and wander the world.  Here are 15 of the most essential gadgets you should invest in that are recommended by nomads currently exploring the world as we speak:
Portable Monitor
For digital nomad people whose jobs rely on heavy graphics, a TON of text, or other eye-straining tasks, investing in a portable monitor allows them to see their jobs clearly without adding bulk to their backpacks.
Portable monitors are like tablets, but more lightweight and more energy-efficient.
External Battery (or power bank)
You don't have to be a digital nomad to know the importance of a powerbank. If you've gone on a weekend getaway or roadtrip with the kids before, you know how quickly one can drain a phone, tablet, or other gadgets.
Investing in an external battery (or two) could prevent a lot of stress during your travels. Don't buy anything less than 10,000 mAh.
International Adapters
If you're traveling in another country, don't be caught without adapters ready because this could mean a whole day being unable to work.
Think ahead and shop for the adapters (for your laptop, chargers, and other important devices you'll be using) even before you land in the country you're traveling to.
Your own Electronic Cables
Just like having international adapters ready, it is also good to prepare your own electric cables (micro-USB, USB-A, USB-C cables).
Yes, you can buy these cables from any country. But did you know how hard it is to explain what kind of cable you need to someone who speaks a language differently than you?
Backup Cellphone
A backup phone is a must-have regardless if you're going to be working while you travel or not. You have no idea how many people lose their phones while visiting a beach, eating out in restaurants, or even in the hotels where they're staying.
Having a backup phone, even just a basic phone for calling and texting gives you the peace of mind that you can contact your friends, call the police, or send emergency messages if your main phone gets damaged, stolen, or lost.
Lightweight (but powerful) Laptop
For digital nomads, their laptops are probably their bread and butter. Online jobs these days are everywhere and if you have the skills, you can basically work anywhere in the world.
You do have to own a laptop. When choosing a laptop, don't just consider the weight of your laptop (since you'll be bringing this device wherever you go). Make sure the device is able to accommodate your work-related tasks as well. Is it powerful enough to run CAD?
And while you're at it, invest in a laptop stand as well. Not many people know this but laptop stands force you to sit properly, which in turn, reduces neck and back pain.
Mobile Hotspot (aka pocket wifi)
Don't rely on the internet connections from your hotel, the restaurant you're dining at, or other places you're stopping by. Make sure you have your own mobile hotspot, by which you can get internet access from wherever you go.
After your laptop, a mobile hotspot is probably one of the best investments to make, so go for the highest quality you can find.
External Hard Drive
For those whose job requires them to save files "the old way." Many people save files in the cloud these days, but if you're stuck in a place where the internet suddenly gets choppy or disconnected completely, you'll be glad you have your external hard drive with you.
Plus, not all files can fit your online storage anyway.
Noise-cancelling Headphones
Worried about getting peace-and-quiet so you could focus on work? Yeah, many of these digital nomads don't have super powers to block noise from their new location as well.
What they do have are high-quality noise-canceling headphones that actually work in blocking noise.
 USB Hub
So you've settled on a new location and rented out a place near the beach. You create your temporary office and lay down all your gadgets nearby, then you realize there aren't enough connections to accommodate everybody's laptops.
With a USB hub, this isn't going to be a problem. Some USB hubs are pretty powerful and could connect multiple devices at once without loss of signal to any device.
Don't be caught unprepared when you become a digital nomad. The successful digital nomads have been able to keep this lifestyle of moving from one place to the next, working with the same company even if they're jumping cities or countries because these nomads are prepared for such a lifestyle.
I hope these 10 devices could help you get started as you embark on an exciting journey as a digital nomad.