Top Tips for Planning Your Destination Wedding in 2021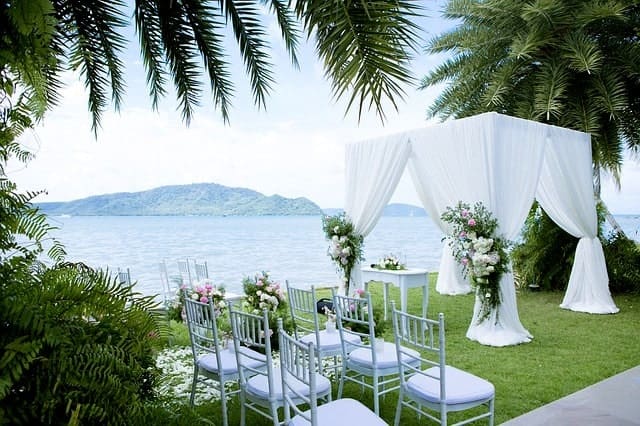 Destination weddings have been all the rage for years, and it's especially popular in these times when couples want to get away from it all whilst celebrating their vows with their close friends and family. Destination weddings are decidedly more intimate than the usual affair, but it doesn't mean they can't be as grand, either. In fact, they can be grander because you don't have that many guests to contend with, so you can spend the money on other accouterments, whether it's a beautiful setting in a villa in Provence or a superb food and drink menu. But planning a destination wedding comes with more than a few factors to consider, so here are some top tips for planning your destination wedding in 2021.
Select Your Location Wisely
Most couples who plan a destination wedding already have a destination in mind – it could be the place where they went on their first holiday together or the place where he proposed. Either way, you should select your location wisely and ensure that it's safe and has whatever resources you may need. Of course, it has to have suitable accommodations as well – for instance; you may want the place to have a lovely home or villa which you can rent and stay in with your guests. Luckily, plenty of large houses to rent are readily available in many locations within the UK or even farther afield, like Provence, Lake Como, and even Cape Town!
The more accessible the place is, the better, of course, and make sure there are no travel warnings or health or political issues in the area. Here's another tip: when considering your location, weigh the feasibility of travel for elderly guests and those who have mobility issues.
Choose Local Vendors
You can save money if you choose to go local with some of your food and flowers, for instance. If you are in the tropics, go for local flowers. You may even want to be more adventurous with your food choices and feature the area's local delicacies and specialties. But, of course, it wouldn't do to serve something too adventurous – just something that your guests may want to try as well.
Seek Help from a Professional 
If you would like to take some of the burdens off your shoulders, you can seek help from a professional planner, particularly an expert at destination weddings. Then, instead of wasting precious time trying to explain what you want to a caterer or venue representative (and having it lost in translation anyway), you can depend on an expert to take care of the intricacies of your wedding.
Visit the Place Before Making Your Decision 
One of the most crucial things you should do is visit the place first before deciding. You can take a weekend off and go to the venue and accommodations prior to making arrangements. If you can't take time off, make it a point to arrive there a minimum of five days before the date, so you have enough time to deal with any last-minute details.
You can make the gathering even more fun by planning a unique itinerary when your guests begin arriving; a welcome party is a good idea, and you can dedicate one day where your guests can explore the area and do a group tour or wine tasting activity.