Discover Riverboat Ameristar Casino Vicksburg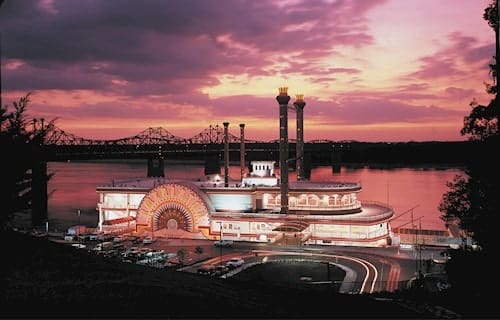 If you're looking for a fantastic riverboat casino experience in Mississippi, head to the dockyards of Vicksburg. On the banks of the Mississippi River, you'll find the amazing riverboat casino Ameristar.  The Ameristar Casino in Vicksburg is the largest dockside casino in the state and attracts folks who want to experience an iconic Mississippi riverboat.  While you're sure to want to discover the establishment's delights for yourself, here's a look at some of the best features the casino has to offer and which you won't want to miss out on.
The Casino Games
The Ameristar Casino brand was created way back in 1954. Today, the Ameristar riverboat casino in Vicksburg is a very popular destination. The 70,000 square-foot casino includes around 1,200 popular slot machines and 27 table games, including classics like blackjack, craps, roulette, and specialty games like Mini-Bacc.
You can also play a variety of poker games, such as Cajun Stud and Head's Up Hold 'em; and there's a dedicated poker room with friendly tournaments and great jackpots. In fact, the Ameristar Casino's poker room is the only one in all of Vicksburg. Furthermore, if you enjoy high-rolling, you can bet and win big at the exclusive tables in the Ameristar Casino's high-limit room.
The End Zone Sports Bar
If you're a sports fan, you'll want to hang out at the riverboat casino's The End Zone sports bar. With over 100 seats and 23 large-screen televisions, it's the ideal place to watch and bet on your favorite sports.
It's easy to place bets on a wide variety of sports, including football, hockey, basketball, baseball, soccer, tennis, golf, auto racing, boxing, UFC, and cycling. Both professional and collegiate wagering options are available, and the type of bets include straight bets, match-ups, parlays, futures, point spreads, and more. For more information, check out this excellent Ameristar Vicksburg sportsbook review at betting.us.
The Hotel
The Ameristar Casino's hotel features 148 gorgeous rooms to make your stay as relaxing as possible. The rooms have been designed with a crisp and modern look and luxurious comfort.  Each room includes exquisite bespoke furniture, European-style bedding, LCD flat-screen TVs, high-speed internet access, and high-tech lighting.
There's also free valet parking and a complimentary shuttle between the hotel and the casino. You can choose from a deluxe king room, a deluxe queen room, or an executive suite.  The latter is the ultimate in luxury and features a king-size bed, two 42-inch LCD TVs, and a relaxing spa. If you take an executive suite, you even get access to a private outdoor swimming pool.
The RV Park
If you don't require a hotel room because you're bringing your accommodation with you, there's good news.  The Ameristar riverboat casino site includes a fantastic RV park. There are 67 drive-through spaces for RVs and the site contains all of the amenities and services you could want. Furthermore, you get a beautiful view of the Mississippi River.
The RV park includes a laundry room, a lobby with courtesy coffee, a 30 – 50 AMPS service, cable TV, internet access, a pet walking area, modern bathrooms, and a swimming pool.
The Dining Options
The appeal of the Ameristar Vicksburg Casino Hotel goes beyond great gaming, accommodation, and amenities. You'll also discover the establishment has three tempting dining options, ranging from deli sandwiches to juicy steaks. At the Heritage Restaurant, you'll find an all-you-can-eat home-style menu. At Bourbon's, you can try the chefs' mouth-watering Deep South dishes, including seafood favorites. And at Bella's Bakery and Café, you can chill out in a casual and friendly atmosphere and try some specialty pizzas or sandwiches, as well as famous Southern dishes like Gumbo and Po Boys.
The Bottleneck Blues Bar
Great casino games? Check. Excellent accommodation options? Check. Fabulous dining facilities? Check. That leaves just one thing: entertainment. The good news is the Ameristar Casino Vicksburg provides some of the best nightlife entertainment in all of Mississippi.
Throughout the year, you'll discover live events and concerts that range from rock to blues to country. You'll find all the action at the Bottleneck Blues Bar, which is an intimate setting with giant crystal chandeliers dangling from the black ceiling and bar stools and table tops heavily decorated with bottle caps.
The bar also features the infamous "junk wall," which is littered with items like old vinyl records, dice, broken plates, and trombone cases. You're sure to be just as entertained by the bustle and music of The Bottleneck Blues Bar as much as you're entertained by the slots and table games at the riverboat casino.
************************
Image Credit:  VisitVicksburg.com