10 Things To Do in Santa Fe to Experience the City Like Never Before
The famous city has always been known for 'Marching to the beat of its own Drum'! Having any guesses as to which city I am talking about here? One more clue is having the official nickname 'The City Different'.
Yes, right guess, " Santa Fe" the City in Mexico. Having a wide array of historic sites, hundreds of art galleries and a colorful culinary scene increases the charm of this city. Do you know That Santa Fe is the oldest capital of New Mexico! It can now be understood why it carries all the traditional and cultural values of Mexico City.  Santa Fe is the perfect blend of Native American traditions, Old Spain, and the Wild West.
Touring Santa Fe will give you an exuberant feeling. Let's cover some of the best ways to treat oneself to the top things to see and do that Santa Fe has to offer.
Georgia O'Keeffe Museum
One of the cool places to traverse! Well known for its painting, drawing, and sculptures. Art lover? This place embraces and stuns you. It screens a film detailing O'Keeffe's Life, story, and growth as an artist. The museum presents and advances the artistic legacy of Georgia O'Keeffe through the museum's inspiring arts and archival collections.
The timings are very flexible and manageable. It is open every day from 10 a.m to 5 p.m and on Fridays till 7 p.m
Santa Fe Farmers Market
 Visiting the local market of any famous and ongoing place is every tourist's dream. Only museum and monument exploration can be dull. Coming in acquaintance with the good feel of local flavors, enjoying the live entertainment and shopping from various vendors give one an ethereal feel. It is a substantial market having everything you want. Looking at vendors selling local products can be enlivening. It is a famous place for live music and festivals. Wines, chocolates, local gifts, pieces of jewelry are a charisma here.
Ski Santa Fe
Bad luck if you visit and forget this adventure. It is a place where families can visit and enjoy immensely. Are you ready to Ski through a pool of trees? The place where adults, as well as their children, learn to Ski! Nonetheless, Snowboard lessons for Ski beginners are available at Chipmunk Corner. Packages for children and adults are obtainable at multiple levels. Ever experienced local cuisine of special spots? Here you can savour some green Chile stew and spaghetti also.
Meow Wolf's House Of Eternal Return
Would you want to perceive something perpetual – something which will be so impactful as to leave an everlasting memory? You need not wait any more, take a trip to Meow Wolf. It is a house that holds an Arts collection of more than 100 artists in one place. Am I giving you heebie-jeebies? An intense artwork and your best-loved music with it. Quite like a daydream, living in your world full of jubilation. Not spoiling your surprises, have a visit, Many more surprises are waiting for you.
The Santa Fe School Of Cooking:
Yahoo! want to know more about how this Mexican cuisine is prepared? Want to be a chef for one day? Santa Fe School of cooking is holding onto you. Hand-to-hand classes to cook and learn how to make the New Mexico style Tamales. Many more apart from tamales, available in workshops like – salsas, green Chiles, Rellenos, Frito pie.
Canyon Road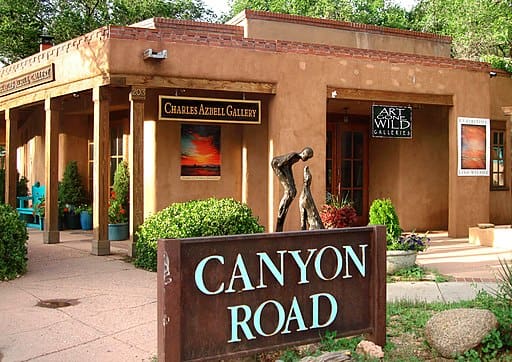 Wikimedia Commons by MARELBU
Why visit this road? Well, it is because of its ranking in the top-most want-to-do list in Santa Fe and the reputation it has procured through its commercial arts. I must say! There is no place Like Canyon Road elsewhere in the country. Delightful restaurants, the neighborhood feel, stepping yourself in the soothing wind sculpture garden at Wiford Gallery, the pace, the artwork, these spots give you the most satisfying experience ever.
Sunset spots
Cotton skies, boundless vistas, enthusiastic high desert twilights are a perfect combination! Find some Sunset spots to catch sunset views and enjoy the beautiful landscape. Okay! I will recommend some sunset spots- Sun Mountain on Santa Fe's East Side, Atalaya Mountain just a few peaks over the Sun Mountain, The cross of the Martyrs a few blocks from The Santa Fe Plaza and La Fonda's Bell Tower Bar.
Museum Of International Folk Art
Though Meow Wolf has its optical charm, the Museum of International Folk Art is not less impressive. There can be no comparison between them. All the diverse cultures can be seen here under one roof. There is a collection of International folk art that is vast and considered the largest in the world. Great place for families and friends! This museum provides accessibility to wheelchairs. It makes an everlasting impression on your mind. Have a visit!
Liquid Light Glass
Maybe you never imagined how mesmerizing glass is! Liquid Light Glass is the perfect studio for you. In the studio, you will find glass blown art, sculptures, vases and bottles. It houses glass blown art in the form of sculpture, vases and many more. Here one can feast one's eyes on the owner and the founder, Elodie Holmes giving live demos to create colorful glass art! One can take glass blowing classes too.
Have a visit to Downtown Plaza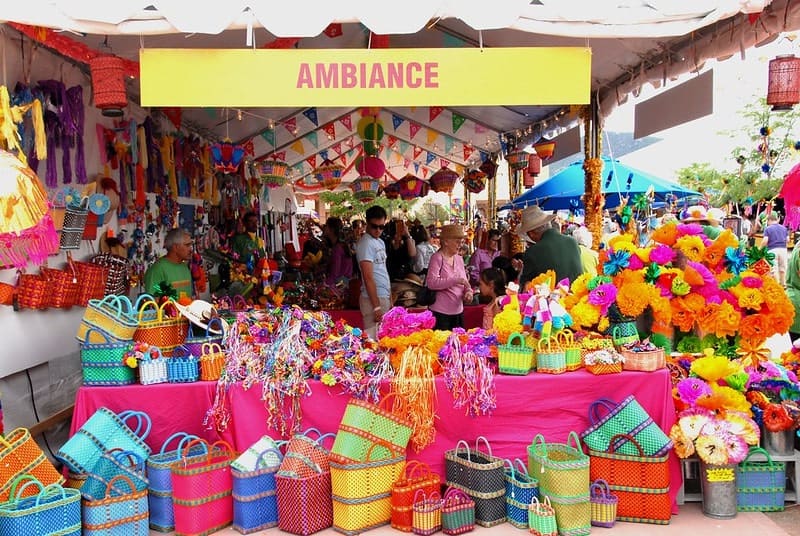 Want to go on a mouth-watering ride? Downtown Plaza is a refute. Here one can sample the best local and street foods. With the food comes, the city's long and fascinating history revolves around native, Hispanic and Anglo cultures. Downtown Plaza never disappoints! It is a walking tour of around two and half hours duration. Do not miss it if you are a food freak!
CONCLUSION
Every city has its specialty, this is the summary of all the thrilling and relaxing things you can do to feel the city like never before. Santa Fe is the most recommended tourist place. Now one can know everything about this place, so pack your bags and fly off!
******************************
About The Author: 
Lia

is an avid travel blogger and an eminent traveler who has a passion for discovering new places, meeting new people and having enriching experiences. She has been working with various travel publications online and offline, providing them quality and meticulous content catering to the range of informative articles in the travel and social media niche. She is fun-loving and ambitious and likes to document very personal and passionate accounts of her travel. Currently, she is working with

Avacation Different

.