What to Know Before Transporting Your Car to or from Hawaii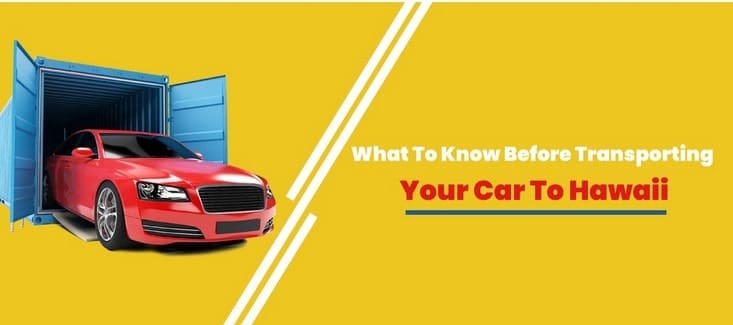 Even with Hawaii's robust public bus system, nothing quite beats exploring the various islands' beauty with your own car. However, while renting a car can be a good option for short-term stays, it's not that feasible for those who are planning to stay long-term or even for good. In this case, shipping your car to Hawaii can be an excellent idea since it will give you the freedom to explore what the islands have to offer at your own pace. However, before you do, there are a few things you need to know.  In this article, you'll discover the top things you need to know before shipping your car to Hawaii, which involves different processes from shipping car from Hawaii to mainland.  In this article, you'll discover the top things you need to know before shipping your car to Hawaii, which involves different processes from shipping car from Hawaii to mainland.
After all, shipping your vehicle to Hawaii can differ from shipping car from Hawaii to mainland. With that said, continue reading to learn everything there is to know before transporting your car to Hawaii.
You can only ship your car to Hawaii.
One of the first things you need to know before transporting your car to Hawaii is that car shipping is your only option. This is because no roads connect Hawaii to the US mainland, so driving your car there is impossible.  The lack of physical roads or bridges to and from Hawaii is primarily due to the vast ocean between Hawaii and the nearest states on the US mainland – Alaska and California.
Fortunately, many car shipping companies offer competitive rates for their services, so shipping your car to the islands doesn't mean depleting your savings. In fact, you can even find good deals that will allow you to find the cheapest way to ship car to Hawaii.
Car shipping involves four steps.
Although the process may differ from company to company, shipping your vehicle to Hawaii typically involves four primary steps – booking, preparing, turning it over, and delivery. First, you need to find a car shipping company of your choice and book your preferred shipping date with them.
Once you have a set date, you can start preparing y  our car for shipment. This means cleaning it, removing any personal items, double-checking that everything's in working order, ensuring you have the correct paperwork, among others.  Then, you can turn over your car to the car shipping company's representatives once the shipping date comes. They can come to your house in door-to-door services, or they will meet up with you at the dock for port-to-port services.  Lastly, on the other side, the car shipping company delivers your car to your doorstep in Hawaii or at the nearest port.
Your car shipping company of choice matters.
While the numerous companies available these days can make choosing difficult, it's best to know that who you choose plays a significant role in your car's safe arrival in Hawaii.  After all,  a reliable car shipping company will ensure that your car remains safe throughout the process – from loading it to the ship to its arrival at the port or your doorstep. This means they will do what it takes to ensure you receive your vehicle exactly how you left it when you handed it over to them.
Aside from this, a reliable company can guarantee transparency in all your transactions, ensuring that there are no surprise fees or missing information in your agreement.
Shipping personal items with your car is NOT allowed.
Although it will be convenient to do so, shipping your personal items with your car isn't allowed by most car shipping companies. This is because it can potentially result in safety issues, both for you and those handling your car.
Moreover, it presents more liability for the car shipping company, especially if something gets lost while in transit. Because of this, many companies refuse to ship a car with personal belongings inside, so make sure to clear your car before handing it over at the port.
The shipping times are only estimates.
Another thing you should note is that the shipping times your car shipping company provides are only estimates. This means that you can expect your car to arrive in Hawaii within that given period, but it's not set in stone.
For example, the time it takes to ship a car from Florida to Hawaii is typically around 13 to 20 days. However, this can change, especially since your car has to cross a vast distance. So, sometimes,  your car can be delivered earlier or later than what was estimated.
Some seasons are incredibly busy for car shipping companies.
July and December are usually the busiest months for Hawaii, with more tourists flocking to the islands during these times. Moreover, summer is exceptionally hectic for many car shipping companies because this is when most people tend to relocate.
So, suppose you're shipping your car to Hawaii. In that case, it's best to do so during the slow months, which are typically from September to November, as well as February.  However, if shipping your car during peak seasons is inevitable, it's best if you book your shipment date as early as one month before your preferred date. This ensures that the company has enough time to find a spot for your vehicle on the cargo ship.
Registering your vehicle within 30 days after its arrival is a must.
Once you receive your vehicle in Hawaii, you need to register your car with your new home state within 30 days. For this, you have two options: get an in-state registration with new Hawaiian plates or opt for an out-of-state permit.  The latter will allow you to use your current registration and plates, but this is only valid for a year after issuance. Aside from this, you also need to pass an inspection, buy Hawaii car insurance, and show your car shipment receipt to avail of either option.
Final Thoughts
Hawaii is a beautiful island state that has plenty to offer both its visitors and residents alike. In fact, its stunning beauty and friendly residents have convinced many to move to the islands permanently, with as many as 12,500 people relocating to Hawaii annually.
If you're one of them, having your own car will make getting around more convenient, and it will allow you to explore the islands at a more leisurely pace. However, you need to know a few things before shipping your car, such as the ones mentioned above.