13 Incredible Family Vacation Rentals in the USA for Your Next Unforgettable Getaway 
A fantastic vacation home with unique amenities can make your family's vacation an unforgettable experience.
For families who love to travel, 2020 was a year when we all had to postpone our summer vacation plans. Today we know that spending getaways in a fantastic and fun destination will be possible again.  So after months of waiting for the day when we could travel again, it's finally time to begin planning a future family getaway.  Domestic destinations in the United States provide an excellent opportunity to explore our own beautiful country, keep our family as safe as possible, and always following the COVID-19 restrictions and social distancing requirements.
When traveling as a family, we must plan and choose a destination with activities, attractions, and accommodations suitable for everyone. We also have to define what our trip will be about, maybe it will be a visit to an amusement park, a new experience in a big city, or it could be that our family wants to enjoy a unique beach destination. We could even think of a mountainous town where we can experience fun activities to connect with nature together.
Choosing A Place To Visit
Throughout the US, many incredible destinations with amazing things to do and attractions can make your family's vacation an unforgettable experience. Still, when we talk about places to stay that are family-friendly, we must do a more time-consuming search to ensure that our stay can be as comfortable and safe as possible.
This list of gorgeous vacation rentals can be the inspiration you are looking for when selecting the destination for your next family summer vacation. You can find luxurious rental houses, affordable cabins, or condos that will not break the bank, check out this great selection of places to stay and start planning that long-awaited family summer vacation. Some of these properties are in the best family-friendly travel destinations (Best Vacation Rankings, U.S. News).
The Fun House at Reunion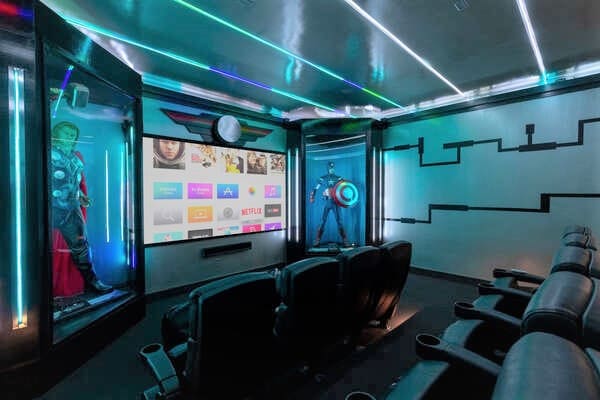 (Orlando, Florida)
Just minutes away from Orlando's world-class attractions, fans of Disney characters will enjoy the best vacation in this five bedrooms and 5.5 bathrooms villa. Up to 14 guests can stay at The Fun House at Reunion is a stunning home with beautifully themed rooms, a private pool, a fantastic theater room and game room where the whole family will make magical memories that they will remember forever.
Angler's Inn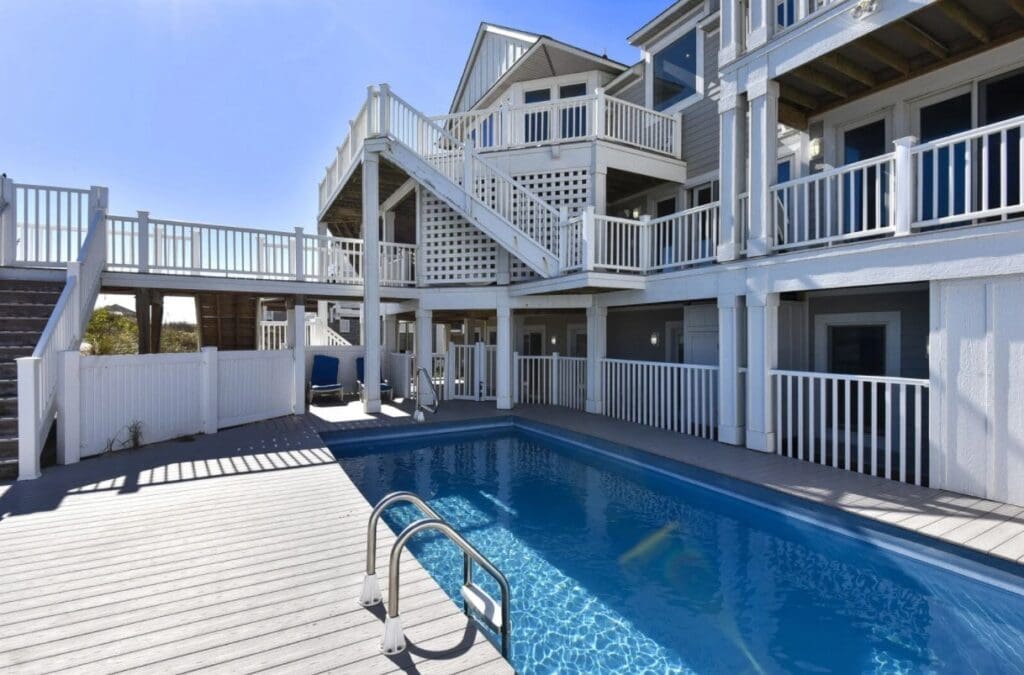 (Outer Banks, North Carolina)
When you plan to have an unforgettable family reunion in the Outer Banks, you must book this oceanfront house featuring eight full baths, three half baths. An excellent and fantastic pet-friendly home with a private pool, hot tub, elevator, and all the amenities you could hope to find in luxury accommodation.
Galaxy Quest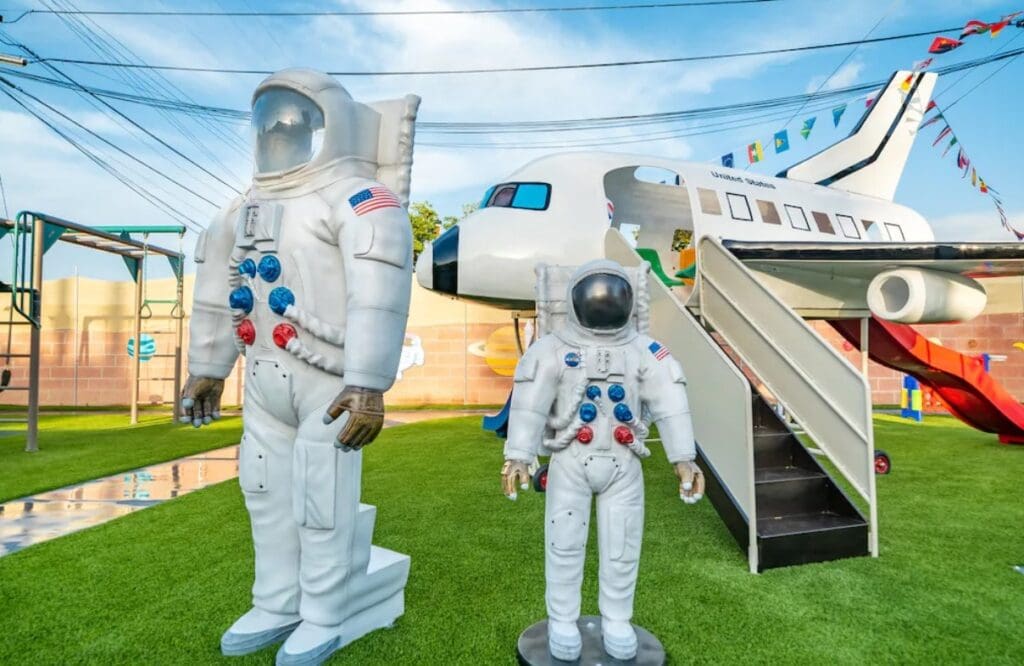 (Anaheim, California)
Children and adults who love outdoor space will enjoy every minute of their stay at this three-bedroom home that's a 7-minute drive from the parks. This is a superb rental house with everything you could imagine for a world lifetime experience, from a galaxy-themed arcade, an outdoor playground with swings, slide spring riders, kiddie rides, pedal path, mini-golf, and more!
Tree Castle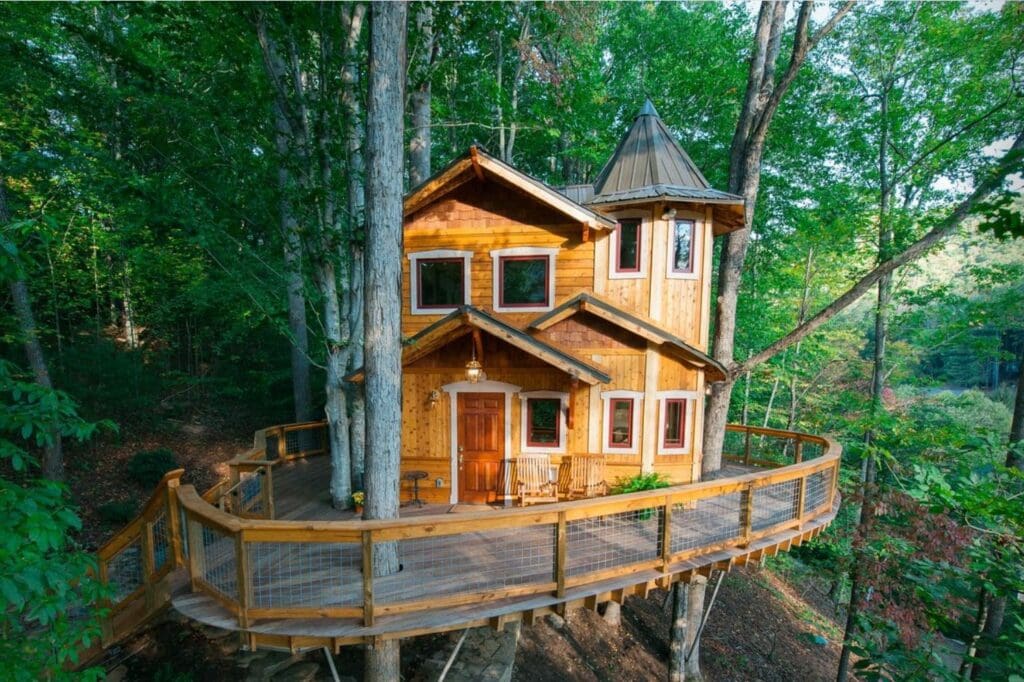 (Asheville, North Carolina)
Enjoy a vacation, living the best experience in a treehouse custom-built by quality artisans that accommodates four guests comfortably. This property is unlike anything else you have ever seen in that it started as a "treehouse" and morphed into a "Tree Castle" that has all the amenities you could desire. Start planning an unforgettable vacation by booking this cozy house in the summer and surround yourself with leaves, birds, and glimpses of the surrounding mountains.
2 Bedroom Bayfront Condo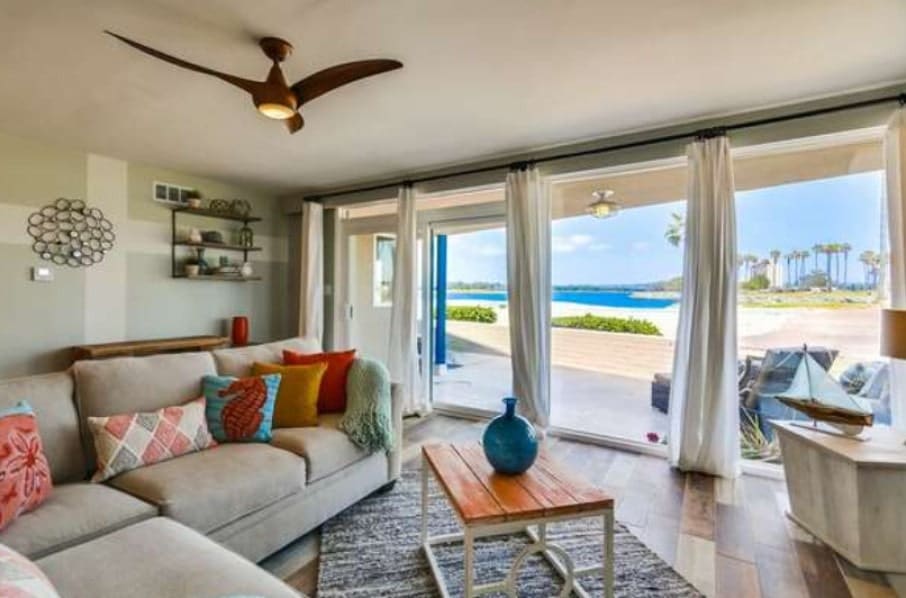 (San Diego, California)
Stay with your family at this two-bedroom and one-bathroom incredible bayfront condominium in San Diego. The property has a wonderfully intimate feel to it, with beach access and a patio just for you on the ground floor. An excellent condo perfect for your next family getaway to San Diego is just a few minutes to Sea World, The San Diego Zoo, Balboa Park, and San Diego International Airport.
Neal Creek Retreat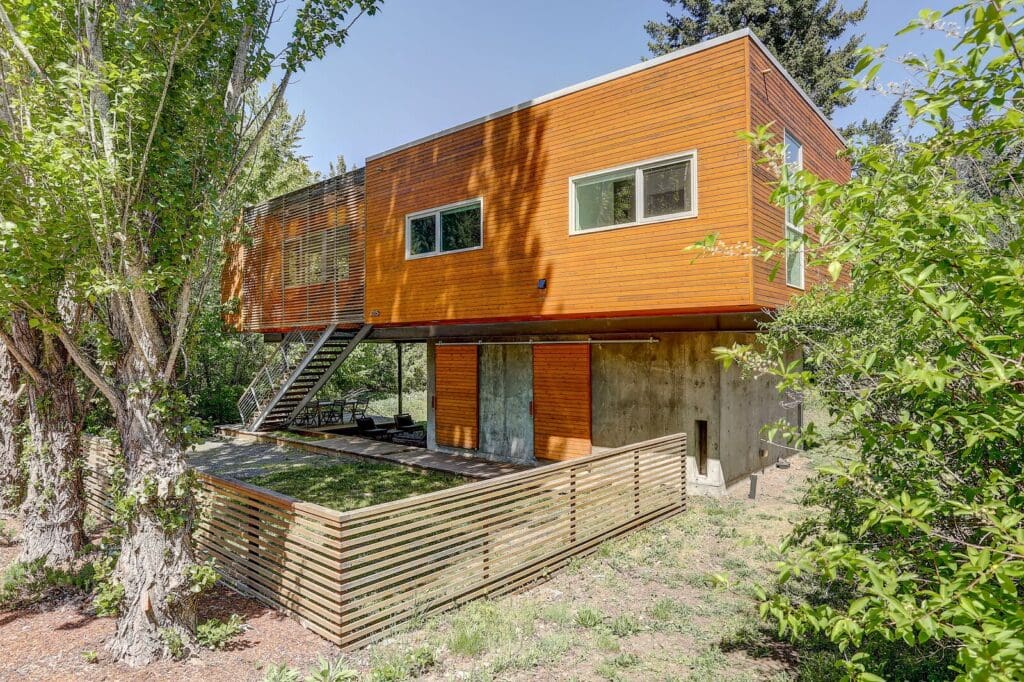 (Hood River, Oregon)
This beautiful river view property features the ultimate combination of urban design, environmental building, and rural natural surroundings—a two-bedroom home in Hood River, Oregon, that accommodates comfortably up to 6 people. If you are looking for a family vacation that is all about outdoor activities, this is the perfect rental for you. Neal Creek Retreat offers to vacationers and recreation enthusiasts the opportunity to windsurf, mountain bike, kayak, golf, ski, hike, fish, or just relax in the unhurried pace of a natural paradise.
Wexler's Barbie House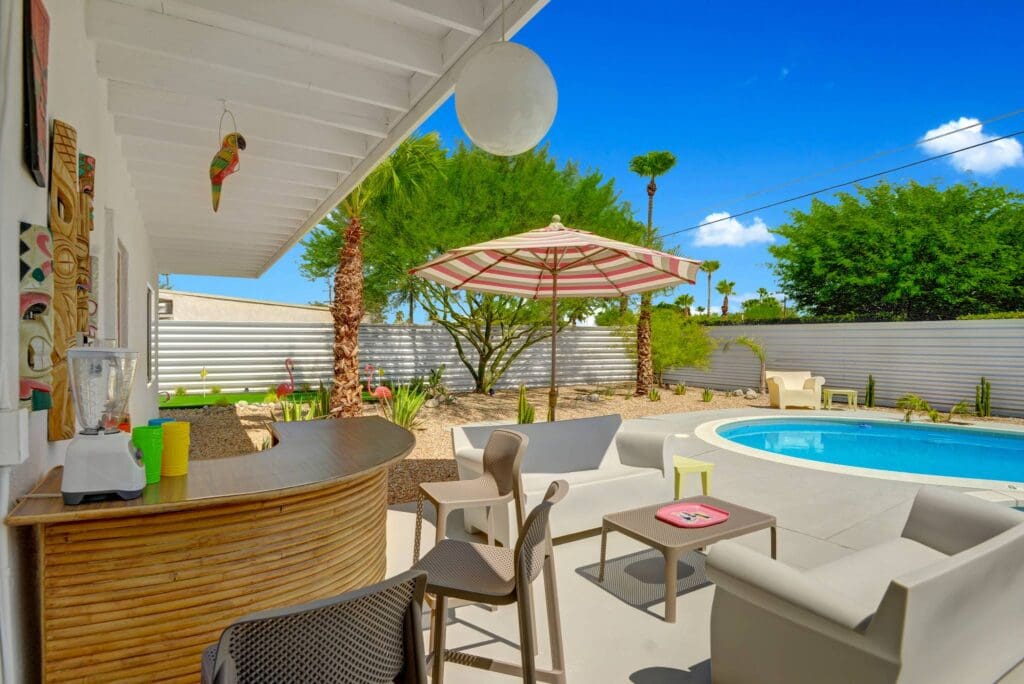 (Palm Springs, California)
This one-of-a-kind house was designed by Donald Wexler, a well-known Mid-century architect, in 1959 for the Mattel Family, paying homage to the "Barbie" doll. A four-bedroom home with a private pool wrap around magnificent alpine views making it the ideal place to spend a dreamed Palm Springs vacation with children.
Paradise Play Resort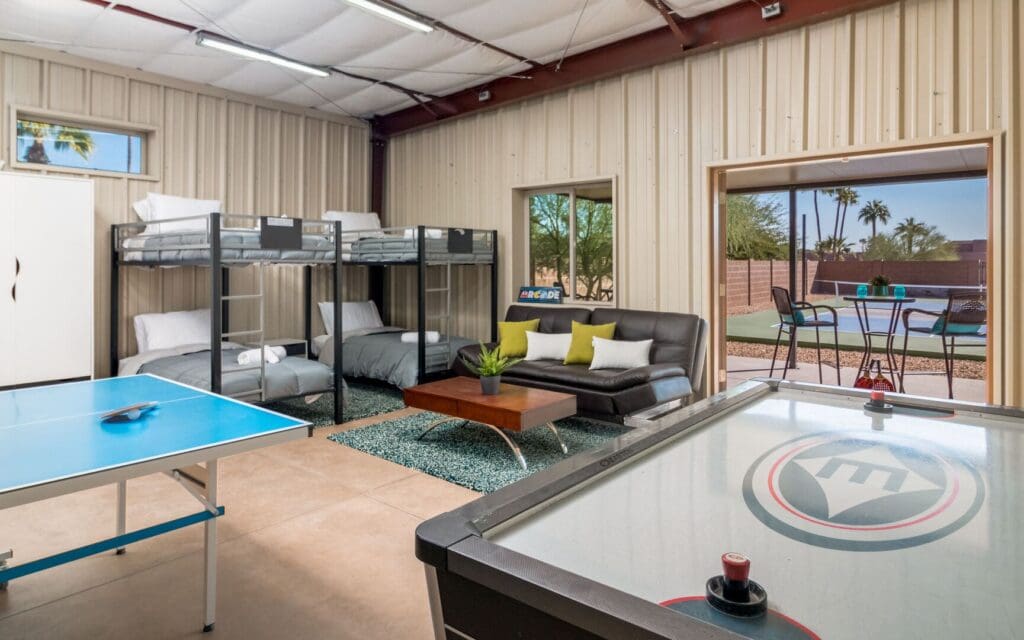 (Scottsdale, Arizona)
This kid-friendly 3,300 square home with six bedrooms and three bathrooms can easily accommodate 18 guests. Paradise Play Resort offers convenient amenities for that family reunion you've wanted to schedule so you can enjoy a vacation in Arizona together. Experience outdoor living at its best with a full-size sports/pickleball/volleyball court, massive putting green and chipping area, heated swimming pool, clean spa, and plenty of outdoor games for guests of all ages. You're going to love the location – close to the best golf, dining, and shopping.
Big Bear Treehouse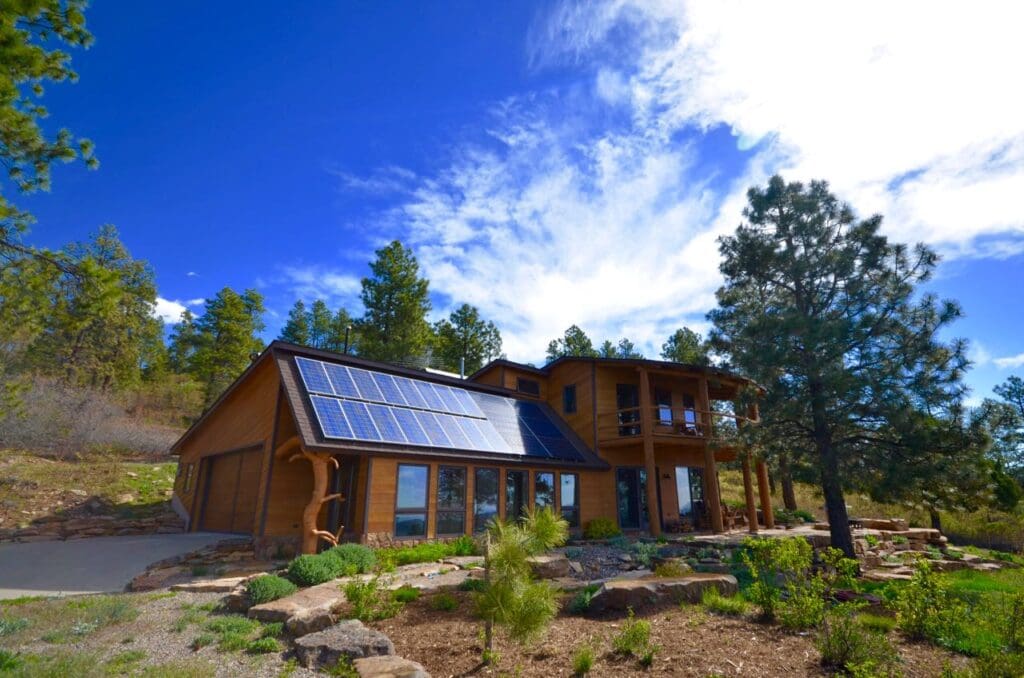 (Durango, Colorado)
If you've always wanted to take an earth-friendly trip with your kids, this two-bedroom home will make your dream come true. Big Bear Treehouse is a mountain view home tucked into a hillside high above Durango, Colorado, perfect for a small family that enjoys connecting with nature together. Stay here and experience a luxurious vacation with unique amenities such as a sauna, Japanese soaking tub, gourmet kitchen, large decks, and patios.
Summer Hour Retreat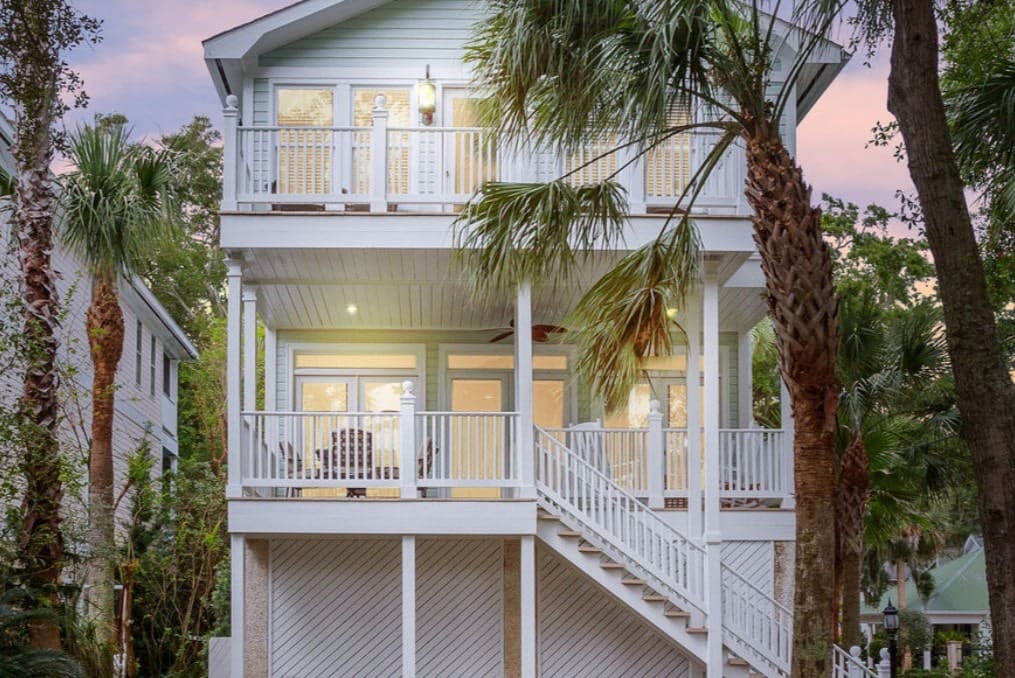 (St. Simons Island, Georgia)
Visit St. Simons Island with your family and stay in this three-bedroom retreat with space for up to 6 guests. It is located within walking distance of restaurants, shops, swimming pools, and proximity to the Atlantic Ocean. Children are welcome at this multi-level property, where you can make the most of every island moment.
Secluded Tiny House with Water Views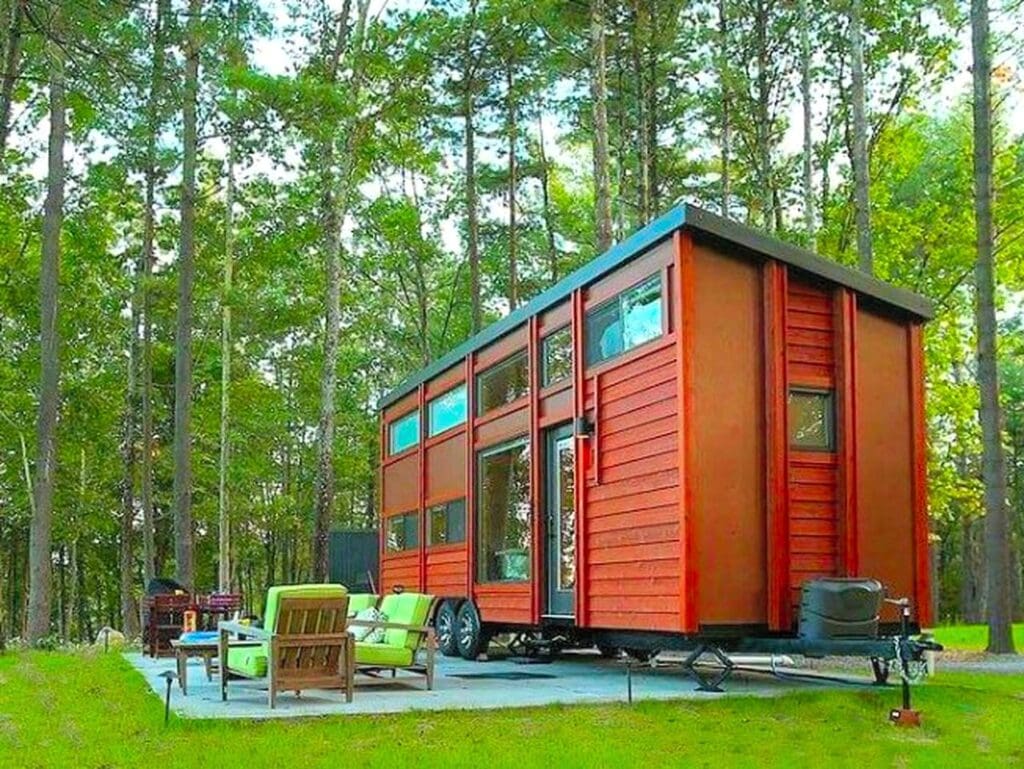 (Catskill, New York)
When you want to "unplug" your kids and connect with them, a glamping vacation will be the perfect way to relax and have fun together. This beautiful tiny home with lots of windows can be the best vacation rental to have a new experience as a family. The tiny, secluded house can accommodate five guests. It is located along a beautiful creek near Catskill, New York, and has a gorgeous space to enjoy outdoor cooking and dining. Guests also have access to an outdoor swimming pool.
24 Cass Street Five Bedroom Lakeside Home

(South Haven, Michigan)
This home is the perfect setting to relax and enjoy the ultimate South Haven vacation with your family! You will love roasting s'mores, gathering around the fire pit, hanging out in the hot tub, or simply sitting bluff side in the swimming pool. 24 Cass is a pet-friendly home that offers five bedrooms and five and a half bathrooms, including two master suites overlooking Lake Michigan.
South Shores Lake House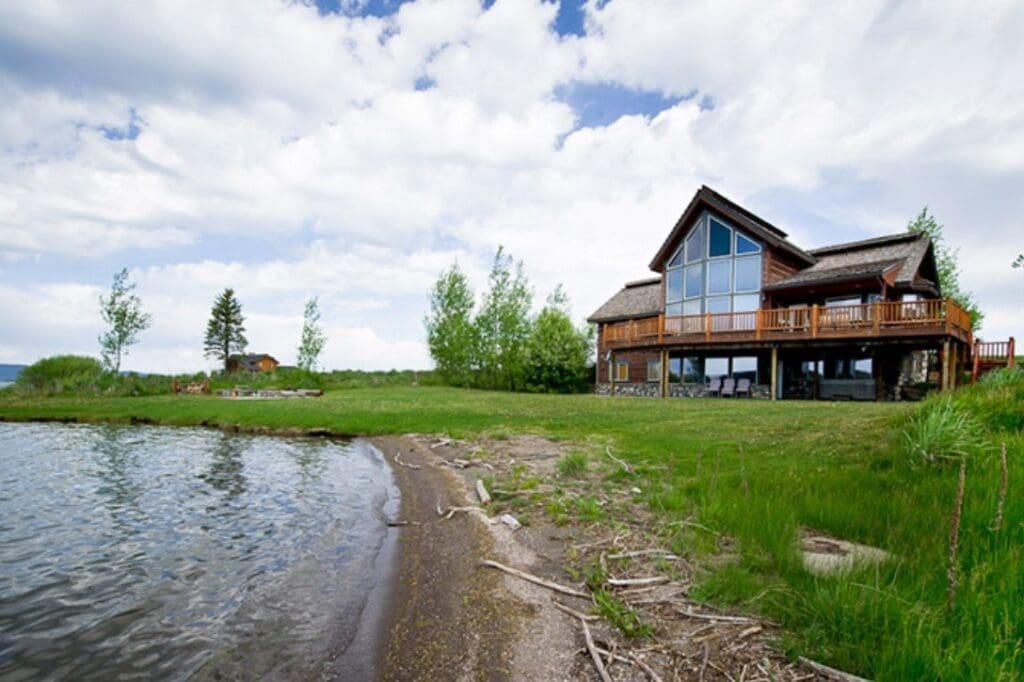 (Island Park Reservoir, Idaho)
The whole family will love this elegant, yet rustic mountain lodge located right on the Island Park Reservoir. This four-bedroom cabin is in the perfect spot for water sports and a great time on the water and is a short 45-minute drive to the west entrance of Yellowstone. Upon entering the home, you'll be greeted by a welcoming rock fireplace and a walk-out door to the back yard, and a private hot tub.