Discover Why Tokyo Should Be On Your Must-Visit List!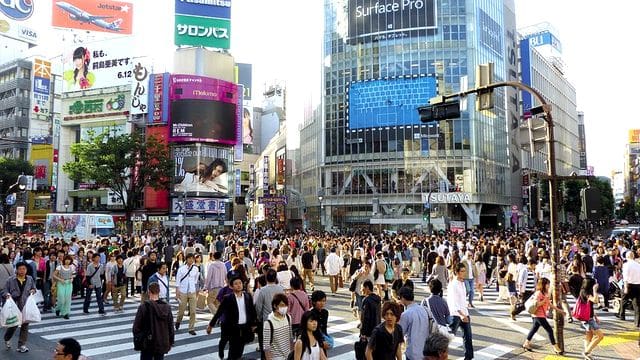 Tokyo, Japan's capital, is the world's most populous metropolis. It will be home to the summer Olympic Games next week and, even though we may not be able to visit it now due to post Covid-19 limitations, it's a fascinating destination for those interested in history, culture, fine dining, and the latest in technology.
Tokyo seduces visitors with seemingly unlimited offerings of shopping, entertainment, culture, and dining. Divided in several districts, each of them stands out because of excellent museums, charming parks, historic temples and skyscrapers. At Bonzah we are passionate about travelling and we are convinced that Japan's capital is a great place to visit.  Fascinating, mesmerizing, and interesting, Tokyo is for many a fantastic entry point to the eastern Asian cultures.
A Few Basics
Moving around Tokyo is relatively easy with its superb public transport network. Despite English being widely spoken here, it's wise to learn a couple of common phrases in Japanese.  Invest in a bilingual map Japanese-English so that asking for directions from the locals is easier. Public transport is excellent and all metro stations are both in English and Japanese.
Do you feel tempted to visit this city? Here are some highlights you can't miss during your stay!
Top Tokyo Sites
Sensoji Temple
Sensoji is, perhaps, the most famous temple in Tokyo and the oldest Buddhist temple in the city as well. Let its five-story pagoda and the intense scent of incense take you back in time. There are different events held here throughout the year which are very interesting to see! Despite the original building dating from 628, the current one was rebuilt after being destroyed in WWII.
Sensoji Temple is also known as Asakusa Kannon Temple as it is dedicated to Asakusa Kannon, the Buddhist god of mercy and happiness and it's one of the most popular and colorful in Tokyo.  As you approach the temple, visitors first enter through the Kaminarimon or Thunder Gate. It's the outer gate of Sensoji and the symbol of Asakusa and the entire city as well. A short shopping street leads visitors from this gate to the second one, the Hozomon. Here you can purchase traditional souvenirs and dishes.
Beyond the Hozomon Gate you can see the main hall and a five-story pagoda. The Asakusa Shrine is only a few dozen meters to the left of the temple's main building. Take your time to wander around the grounds and admire the different structures.
If you want to, you can take part in rituals including lighting incense, writing wishes on paper and tying them to a tree, or cleansing themselves at the dragon fountain. The giant red lantern that hangs on the main gate is an iconic symbol and lots of tourists take pictures of it every day.
The Imperial Palace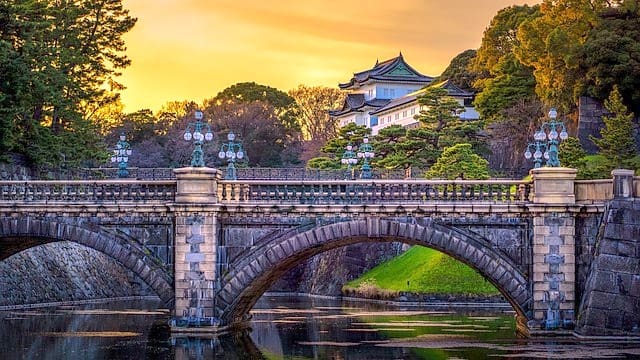 The Imperial Palace is located on the former site of Edo Castle. It's a large park area surrounded by massive stone walls and moats in the center of Tokyo, only a short walk away from Tokyo Station. The Imperial Family lives here. From Kokyo Garden, the large plaza in front of the Imperial Palace, visitors can admire the Nijubashi two bridges that form an entrance to the inner palace grounds. The one in the front is called Meganebashi and the one behind is called Nijubashi and it used to be a wooden bridge with two levels.
You won't be able to see the inner grounds of the palace but guided tours are offered all year round even though you won't enter any building. The complex consists of meticulously maintained gardens, castle ruins, and art galleries!
Even though you won't be allowed to explore the magnificent private rooms and buildings, take your time to stroll through the gardens, admire the ancient structures and feel transported back in time!  The Imperial Palace East Gardens are open to the public all year round and you definitely have to visit them! They used to be the site of Ed Castle's innermost circles of defense and, although the main buildings can't be seen today, moats, walls, entrance gates and several guardhouses still exist.
It's quite impressive indeed to see such a tranquil and placid area surrounded by skyscrapers and the busy town around it!
Experience the Busy Shibuya Scramble Crossing
Shibuya Scramble Crossing is one of the most iconic landmarks in Tokyo as it is one of the only places in the world where you can see more than 1000 people crossing the multi-cornered intersection at a time. And, believe it or not, despite this mass converging from all directions, pedestrians don't collide with one another.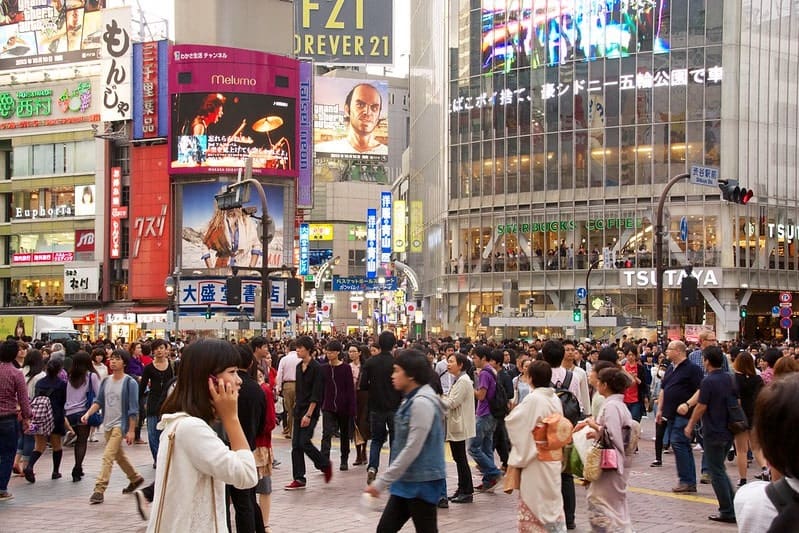 Flickr by: Yoshikazu TAKADA
Even though this crossing is hectic at all times of day, it gets a bit more special after dark thanks to the flashing billboards and neon lights.
Shibuya Crossing is one of the must-do things in Tokyo.  Don't forget to check out the famous Hachiko Statue right between the intersection and Shibuya Station before you set off on your way! Then, get lost in Shibuya, an important shopping hub in Tokyo.
Those interested in getting a sense of the crowds of Shibuya Crossing from a different perspective, make your way to the top of Mag 7. There's a viewing platform on the 7th floor and you'll even be able to order a drink to take outside!  The glassed-in viewing area looks right over Shibuya Crossing!
But Shibuya offers much more than a busy zebra crossing. It's a popular shopping and entertainment area in Tokyo and one of the most colorful districts in the city. It's the center for youth fashion and culture and where many fashion and entertainment trends are born in Japan. There are many large department stores too!
The Tokyo Tower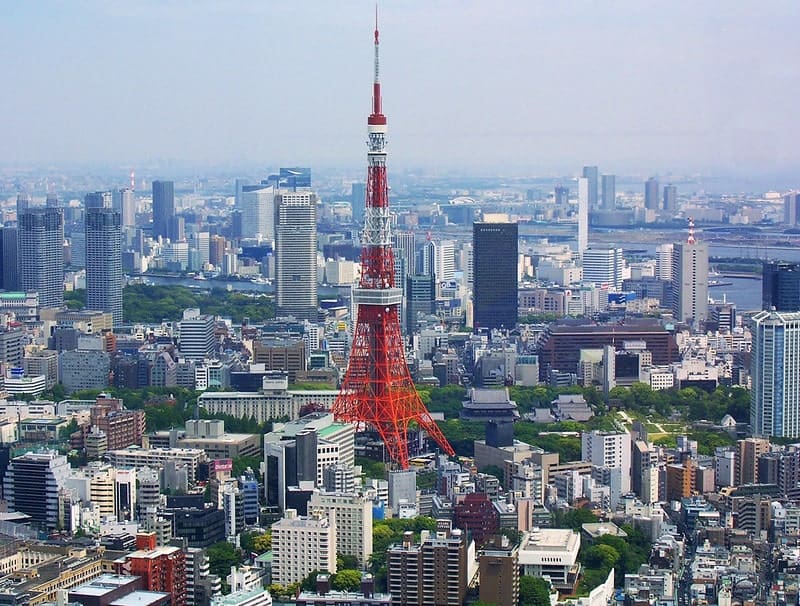 Flickr by: James Willamor
Standing 333 meters high in the center of Tokyo, Tokyo Tower is hard to miss in the city's skyline. It's the world's tallest, self-supported steel tower and one of the tallest structures in the country. If you'd like to gaze at the city from above, then you can't miss it.
The tower's main deck at half its height can be reached either by elevator or a 600-step staircase. There are also look-down windows embedded in the floor to stand on, a souvenir shop, and a café.  The top deck is 250 meters high and offers a birdseye view of the city. Make sure you choose a clear day for this attraction as when visibility is good you can even see Mount Fuji in the distance.
At the base of the Tokyo Tower, there are restaurants, museums, galleries, and even an amusement park. Beautiful during the day, it's even more beautiful at night when all its lights are lit up.
Climb Even Higher at Tokyo Skytree
Haven't you had enough of the panoramic views of Tokyo? If so, don't miss the views from Tokyo Sky Tower. This impressive tower is 634 meters tall and it's an unmissable spot in the city's skyline. The wide windows offer stunning panoramic vistas all the way out to Mt Fuji. Watching the sunset from there is absolutely romantic and this is why it's a favorite amongst local and international couples! At its base, there's a shopping centre and an aquarium.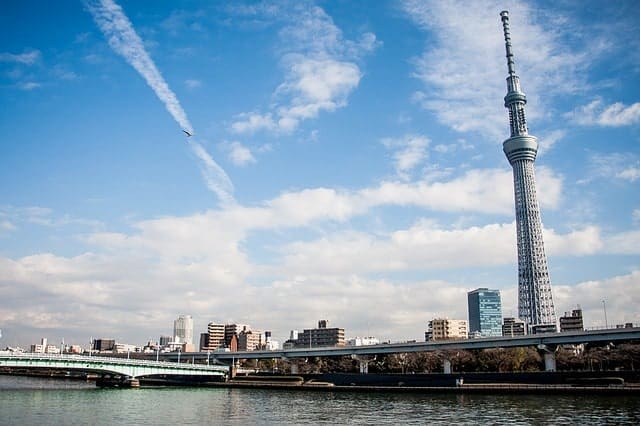 There are two enclosed observation decks: Tembo Deck and Tembo Galleria, located at 350 meters high and 450 meters high respectively. Tembo Deck spans three levels with great views from all of its floors. The top floor is particularly interesting as it has the best 360-degree panoramic views of the city. There's a restaurant in the middle floor and there's a café on the lowest floor, which also has some glass panels on the floor that allow visitors to see all the way down to the base of the tower. A set of elevators connects the first deck to Tembo Galleria: a spiral ramp that gains height as it circles the tower. It's made of steel and glass and it makes it easier for courageous visitors to see all the surrounding Kanto region.
Shop for Electronics in Akihabara
Located in central Tokyo, Akihabara is an area famous for its many electronics shops and for having shops and establishments devoted to manga and anime. It's definitely the place to go whether you're looking for large electronics or a particular component. From the newest computers or the latest mobile phones to second-hand electronic junk, there's nothing you can't find here!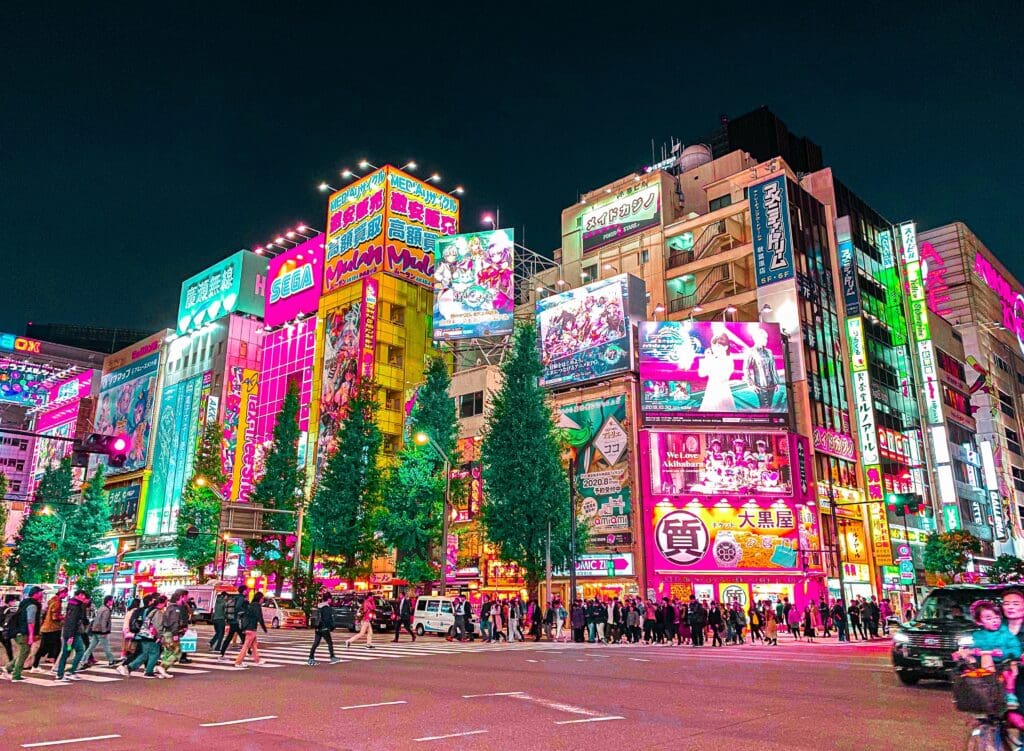 Photo by Jezael Melgoza on Unsplash
When you're done shopping or browsing, you can chill at any of the maid cafes or manga cafes in the area. Manga cafes are particularly interesting as customers can read comics while they have their coffee.
Akihabara is the favorite hangout for otaku, those huge fans of anime, manga, and video games.  If you're one of them, head to Comic Toranoana or Media Land!
Make a Stop at Meiji Shrine
Meiji Shrine honors Emperor Meiji and Empress Shoken, who had led the country through a period of rapid modernization starting in the second half of the XIX century. Initially built in 1920, the main shrine and other buildings were destroyed during the IIWW and they had to be reconstructed. Together with the adjacent Yoyogi Park, they make up a large forested area within the densely built city. The spacious shrine grounds offer walking paths that are great for a relaxing stroll.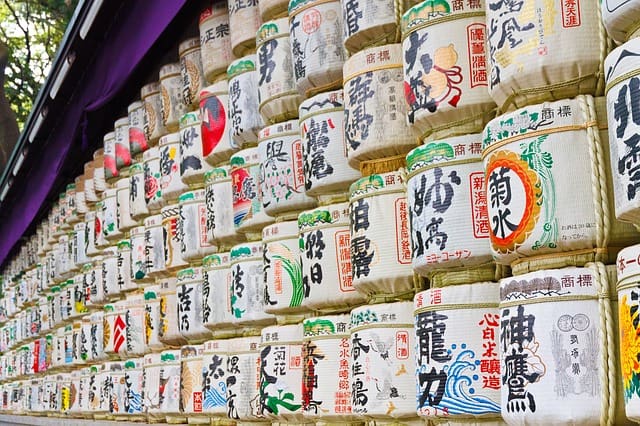 The main complex of shrine buildings is located near Harajuku Station while the northern entrance is near Yoyogi Station. The entry into the shrine grounds is marked by a massive torii gate after which visitors can see a tranquil forested area. Visitors can participate in different Shinto activities such as buying charms and amulets, writing wishes on an ema, or making offerings at the main hall. It's one of the most popular shrines in the country and it's usually chosen by couples to celebrate their weddings there.
While you're there, don't miss the new Meiji Jingu Museum where you can appreciate displays of treasures from the shrine's collection including interesting personal belongings of the emperor and empress and a carriage that the emperor used.
Visit Tokyo National Museum
The Tokyo National Museum is the oldest museum in the country and with over 110,000 items in its collection, 89 of which are priceless National Treasures, it's definitely a must-see in Tokyo. Any of the museum's buildings could be a museum of its own so get to Ueno Park early and save a full day looking at as many items on display as you can.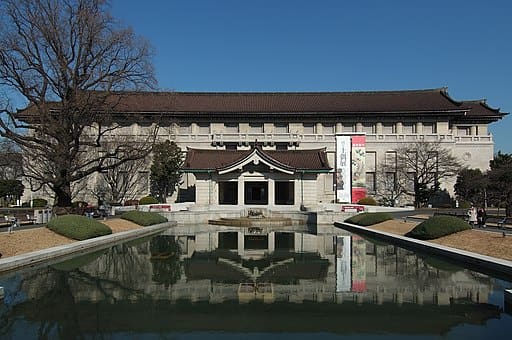 Wikimedia Commons by: Wiiii
Honkan is the main building and it provides an extensive overview of Japanese art and history encompassing Buddhist art, kabuki costumes, samurai swords, intricate metalwork, and much more. The Toyokan building exhibits archaeological artifacts and artwork from China, India, and other Asian regions. Those interested in Japanese archaeology can't miss the Haisekan building with the Special Exhibition Gallery, Japanese Archaeology Gallery, and Thematic Exhibition Room. Another highlight is the Gallery of Horyuji Treasures, where visitors can admire an impressive collection of over 300 Buddhist treasures from Nara's Horyuji temple.
Visiting Tokyo National Museum offers one of the best opportunities to learn about Japan's history and culture. As you stroll through the exhibition halls you'll appreciate exquisite calligraphy, paintings, samurai armors and swords, delicate pottery, delightful kimonos and Buddhist scrolls just to mention a few of the fascinating items there.
Visit Edo-Tokyo Museum
Visiting Edo-Tokyo Museum is an invitation to a trip back in time. Before becoming the cosmopolitan and techy city of Tokyo that we know today, this area was referred to as Edo and this museum showcases the way that people used to live through unique displays. Located in the Ryogoku district, the museum's permanent exhibition vividly illustrates life in Edo, the old Tokyo.
The full-scale model of Nihonbashi Bridge, which allowed people to pass into Edo, is an absolute must-see. There are also many recreated buildings such as the Nagoya apartments. Visitors are able to experience and learn about Edo Period architecture, cultural heritage, political climate, commercial situation, and much more. There are also recreations of means of transport, houses, market areas, stage settings of theatrical performances, and much more! It's a fascinating museum for people of all ages!