A Handy Los Angeles Travel Guide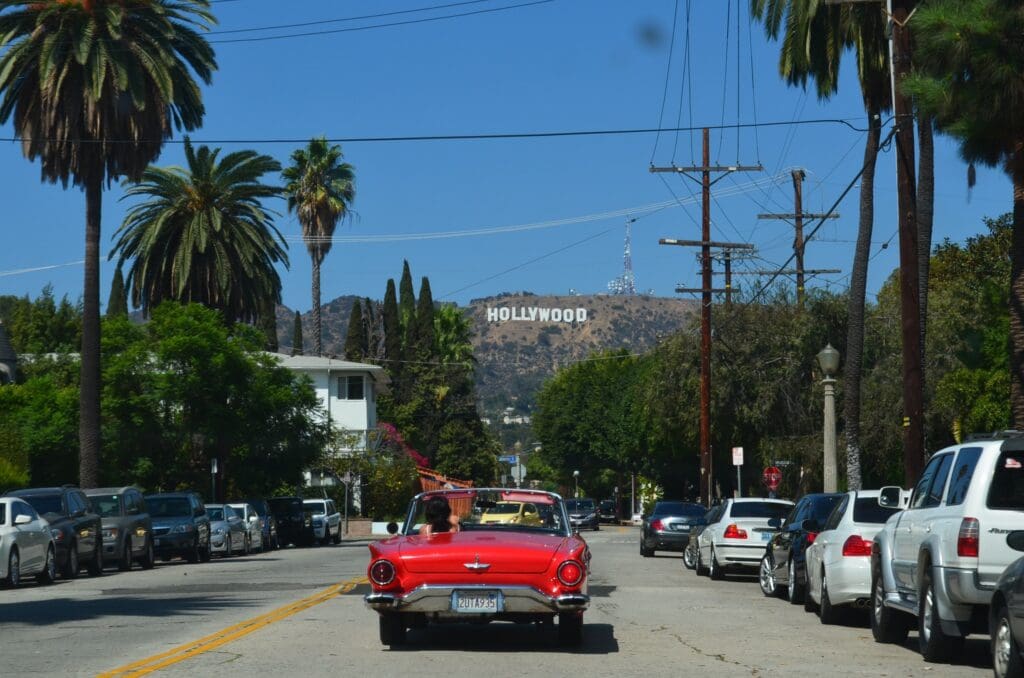 Los Angeles is undeniably one of the great American cities. It has an amazing history, the film and TV industries, and the sun-kissed Pacific Ocean is a short car or bus ride away. If you visit LA, there are tons of things for you to do, but there are a few dangers you should watch out for as well.
Our Los Angeles travel guide will help you navigate the streets of the City of the Angels, one of the most fascinating cities you'll ever visit.
Only Take Licensed Taxis
If you arrive at LAX, the Los Angeles International Airport, you'll find plenty of transportation options. When you head outside, you'll see buses that will take you to various neighborhoods, or you can also grab one of the taxis from the long line that's typically there at all hours of the day or night.
Getting a taxi is fine, but make sure only to hire one of the licensed ones. You'll often find individuals driving vehicles that they say are taxis, but you won't see the company's name or phone number on there. Sometimes you'll have drivers with nondescript black Lincolns that they claim are taxis, but they're not licensed, so they don't have an employer to hold them accountable for their behavior.
It can be a problem if you get into one of these cars because you never know when the driver might exhibit some road rage while on one of LA's numerous freeways. Also, if they don't have a meter that's running while you're on your way to your destination, they might try to charge you a ridiculously high price when you arrive. If you do take one of these unmarked cars, then at the very least, agree to the fee before the trip starts.
Visit Hollywood and Sunset Boulevards
Sunset and Hollywood Boulevards run for many miles parallel to one another. You can catch a bus there from most parts of the city, and this is one of the optimal places to walk around and enjoy some glorious sightseeing.
You'll find the Hollywood Walk of Fame with all the stars there, as well as the famous Grauman's Chinese Theater. It has been there since 1922, and while you can certainly see a first-run movie there, you can also take a picture with one of the costumed characters who are always milling around the entrance.
Visit Dodger Stadium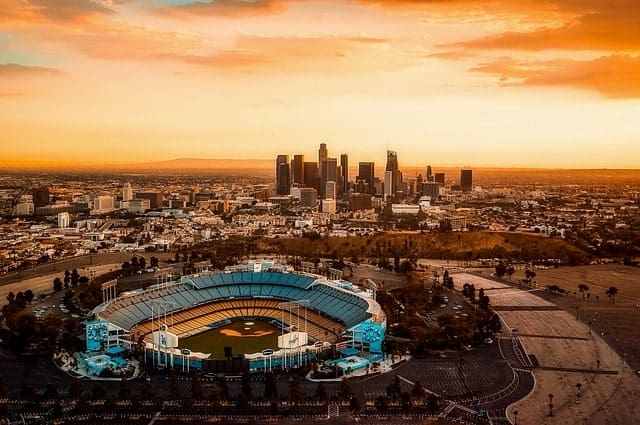 You might take a quick bus ride from Hollywood to Los Felis, where you'll see shady, picturesque back streets and quiet, bungalow-style homes. If you walk into the nearby Echo Park neighborhood, you'll find Dodger Stadium, home to the defending World Series Champions. In 2020, during the pandemic, the team brought home the city's first professional baseball championship since 1988.
If there's a game going on, you can check out Chavez Ravine and one of MLB's most beautiful stadiums. Have a couple of Dodger dogs and listen to the talk from the stands around you in English and Spanish. Dodger fans have a laid-back, West Coast attitude, but they can still get vociferous and let the umpire hear about it if they don't like the strike zone.
Visit Santa Monica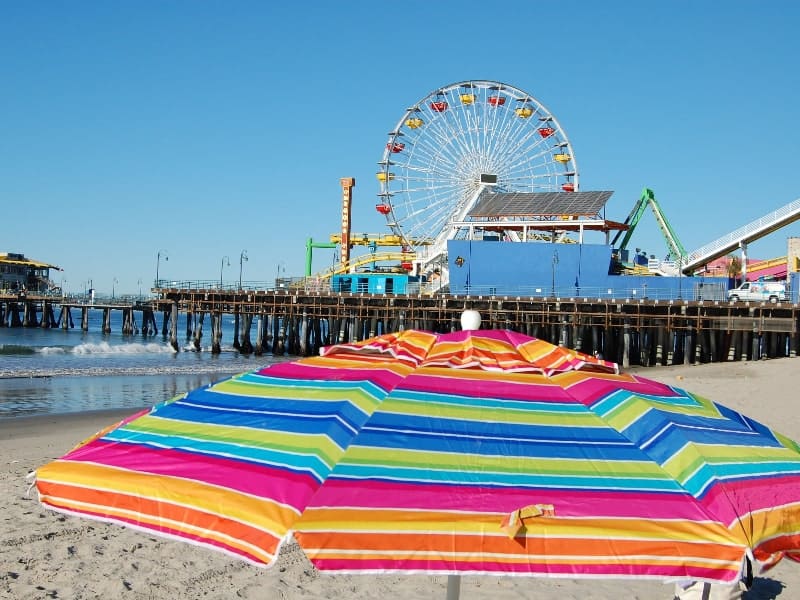 You should next catch a bus or take an Uber to Santa Monica. It's the best place to enjoy the Pacific Ocean while watching the weight lifters pump iron at Muscle Beach.  There are also cyclists, surfers, punks, hippies, drifters, and all manner of other interesting human beings, all mingling together and enjoying one another's company. If there was ever a place to let your freak flag fly, this is it.
Santa Monica is one of the best places in the country to get a tattoo. There are several world-renowned parlors, and a piece of skin art might be the perfect way to commemorate your trip.
Visit Downtown
In Downtown, you'll find several upscale restaurants, and the Staples Center, home of the defending World Champion Los Angeles Lakers. Lebron James and Anthony Davis now call LA home, and you can see where legends like Shaq and Kobe once dominated the court.
If you're wandering around Downtown, watch out for Skid Row. It's an enormous homeless encampment by the bus station that covers several city blocks. You're usually fine around there during the daylight, but go there at night, and you're begging for someone to mug you.
Your LA trip can be unforgettable. Just make sure to stay safe and don't do anything reckless while you're there.