Top Tips About Fort Lauderdale Everglades Airboat Rides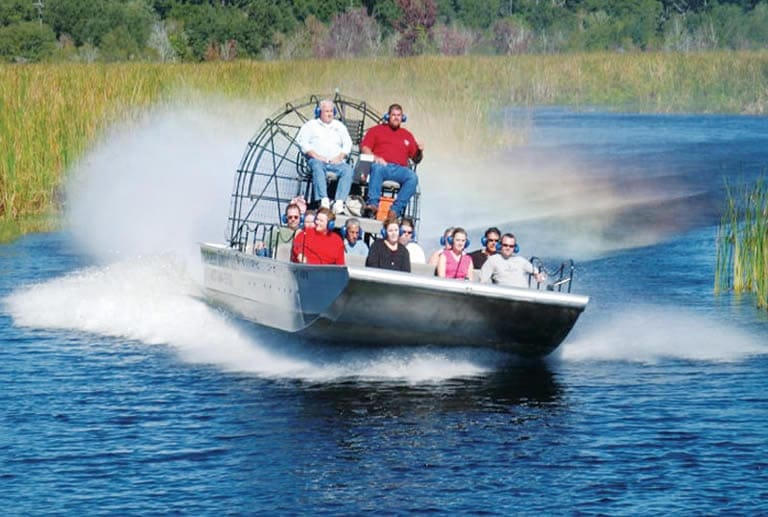 You've picked Fort Lauderdale in Florida as your holiday destination. Great choice, especially if you're all about that beach life. The sunny climate and hot temperatures will get you that lovely tan but let's face it, the beach can get a little repetitive. It might be the relaxation you deserve, but it can become a little monotonous. How about a change of scenery altogether and some excitement? Everglades Airboat Rides are always an option for you to discover Florida's most beautiful and intriguing nature reserve. Most folks don't realize the Everglades are located just a short distance away from Ft. Lauderdale.  So get ready to strap in and go for a thrilling guided airboat ride through the wide open expanses of Florida's Everglades.
#1 Choose the Right Season
Starting off with weather considerations, you should know that Fort Lauderdale has two main seasons: the dry season and the wet season.
The dry season usually takes place between December to the middle of May. Humidity at that time of the year is lower, and temperatures are more moderate, sitting between mid-50 and 80 degrees Fahrenheit (12 to 26 degrees Celsius). It is the most popular season for people to visit Fort Lauderdale due to the lower humidity and sunny weather. However, it also means more people are vacationing at this time, making the place busier.
The wet season takes place between the middle of May and November. Humidity is much higher, and Fort Lauderdale will see most of its rainfall occur during that time of the year with almost daily showers during the summer.  Temperatures will hover around 90 degrees Fahrenheit (32 degrees Celsius) with high humidity. Fewer people visit Florida at that time of the year.
Either season is good for visiting the Fort Lauderdale, but you will have to decide which works best for you. Dryer and cooler, but with more people, or wetter, hotter but also fewer crowds. It will come down to personal preference, but it is something you should take the time to think over before taking off on your Florida adventure.
#2 Airboat Rides Require Some Preparation
It is always best book your airboat rides in advance. Showing up on the dock at the last minute might not guarantee you get a ride, as they will most likely be already fully booked. It is much better to prepare for your ride.
You should, first of all, take the appropriate clothes with you. As previously mentioned, Fort Lauderdale's weather is mostly hot, so you should dress comfortably according to the weather. Checking the weather services is a great way to find out if you should bring just shorts, t-shirts, and trainers, or if you should pack in an extra poncho in case it decides to rain. Of course, colder days will require jeans and long sleeves. It is best if you focus on being comfortable, no expensive clothes or jewellery.
Furthermore, it is essential to stay hydrated, so remember to take some drinks with you. Water is always preferable over sodas, as sugary drinks can make you thirsty, but the choice is yours. You might find that most Everglades swamp tour operators have a drinks cooler on board and will often supply water, but bring yours anyway to stay on the safe side.
Most preparation evolves around the weather, and the most important thing you should always do is take your sunscreen with you. This advice could be used in general when visiting Fort Lauderdale. The last thing you want is to get sunburned, as it will dampen your experience. Sunglasses are also a must to protect from getting that sun in your eyes. Also, consider taking some insect repellent to keep those mosquitoes at bay.
#3 A Fast and Smooth Eco-Ride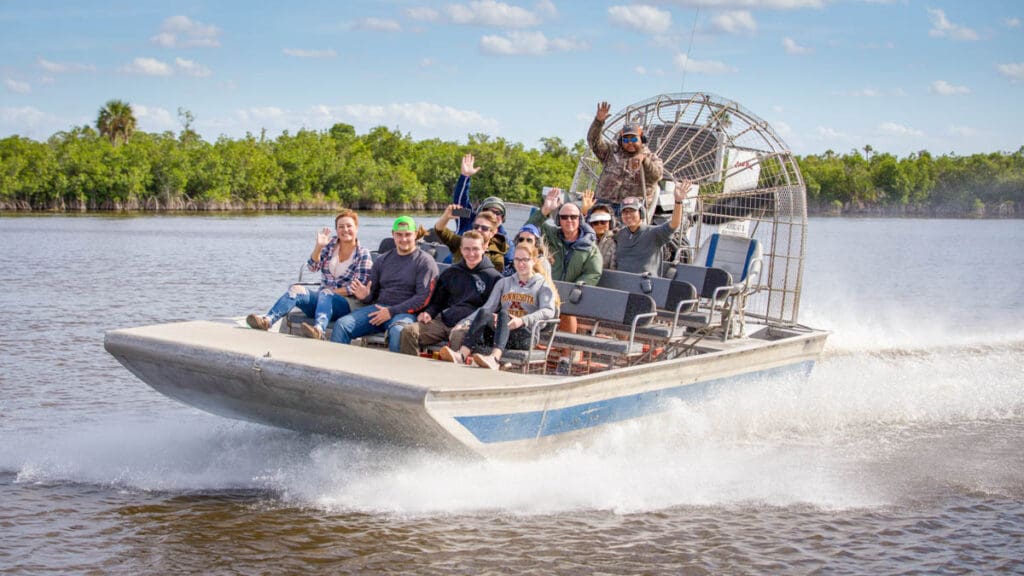 Were you expecting a slow ride across the Everglades? Then you should probably attach your seatbelts! Airboats glide over the surface of the water, and they are pretty fast. That giant propeller of theirs allows for incredible speed and mobility. You should therefore expect a pretty thrilling ride, so bear that in mind before making a booking.
The great news is that, unlike traditional boats, airboats do not induce seasickness. As they glide, you don't get the motion that often causes people to feel ill. It can be a game-changer if you happen to be prone to feeling ill when riding boats. It is an excellent opportunity to enjoy boating without the negative aspects.
Another great advantage of airboats is that they have little impact on the environment. Since they glide, they don't affect animal life or plant life much. Ecotourism is crucial to keep the Everglades intact, and you will be pleased to know that airboats are some of the most eco-friendly ways to travel.
#4 Safe for your family
If you're hesitating to book an airboat ride because you have your children with you, you shouldn't worry either. They won't feel sick, and they should enjoy the ride as if they are in an amusement park. The gliding is smooth enough for younger children to fall asleep during the tours, which is a good thing if they need to rest a little. All and all, airboat rides are more family-friendly than most people would think.
Another thing worth mentioning is that many airboat companies operate private tours, meaning you can book your tour with you and your friends/family alone. With the COVID crisis, most people do not want to be close to strangers due to health reasons. Private booking is something you should always try to request when you're booking your ride to stay on the safe side.
#5 Expect to encounter some unique animals
It would be hard talking about the Everglades without mentioning one of its most fascinating features, the famous American alligator. While most people know about their presence in the Everglades, you might be surprised to discover that it is one of the scarce places where you can observe such impressive creatures in their natural environment. It is an excellent opportunity for you to see something unique to Florida.
Naturally, you can encounter many other reptiles such as crocodiles and lizards, but beyond that, the Everglades is home to a great diversity of birds. One of the most exciting and rare species is the pink-colored Roseate Spoonbill. If you are an avid bird lover, touring around the Everglades could very much be worth your time.
Beyond this, there are also various mammals, and it would be hard not to mention the Florida panther. There are only a few of those panthers roaming the swamps, and catching them in action might not be so easy. It is essential to know this if your journey's sole purpose is to encounter a panther, it might not happen. However, you are more likely to come across the odd-looking Florida manatee as those aren't as rare. In short, Florida Everglades is a great destination for animal lovers and should provide you with some unique animal sightings.
Enjoying your holiday is always easier when you are better informed and know what to expect. As you can see, there are a few aspects to take into consideration when deciding to visit the Everglades. Those points will help you to prepare and make the most of it. Have fun discovering Fort Lauderdale, and never be afraid to ask questions when booking any organized tour.
****************************
About The Author:  Captain Wayne grew up near Fort Lauderdale Florida and is a true native of the Everglades. He has been piloting airboats since the age of 19.  This certified United States Coast Guard Captain with 30+ years of experience doing Everglades airboat rides fell in love with the Everglades at a very young age. It is his passion to show the Florida Everglades to people from all over the world.