8 Fun Activities in Reykjavik Iceland for Families Traveling With Kids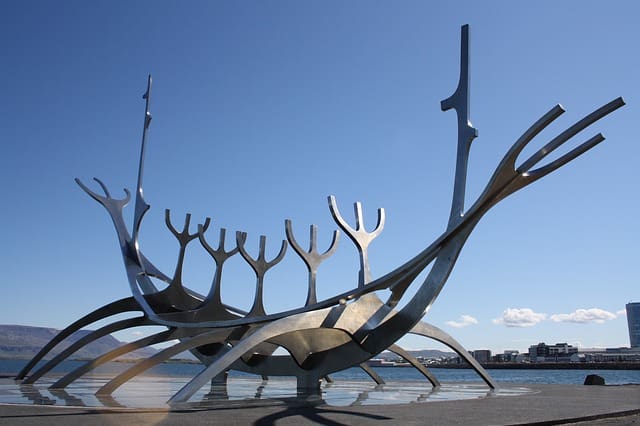 If you're looking for some fun family-friendly Iceland activities, I have several great suggestions for you. There are many fun activities in Reykjavik & Iceland for families with kids. They include a walk to the scenic waterfront to see the Sun Voyager, a breathtaking view from the famous Hallgrímskirkja Tower, a visit to the Wonders of Iceland museum, an afternoon at the Laugardalur geothermal pool and going to the Reykjavik Zoo.
Reykjavik is a safe travel destination for families vacationing with kids. You might want to join a Reykjavik Folklore Walking Tour to hear stories about the Elves, Troll and Magic of Iceland, or feed the birds on the Reykjavik pond. The city has an exciting culture and provides a very safe environment for family fun.  Below are some family-friendly destinations and activities when visiting Reykjavik & Iceland:
1. Laugardalslaug Geothermal Swimming Pool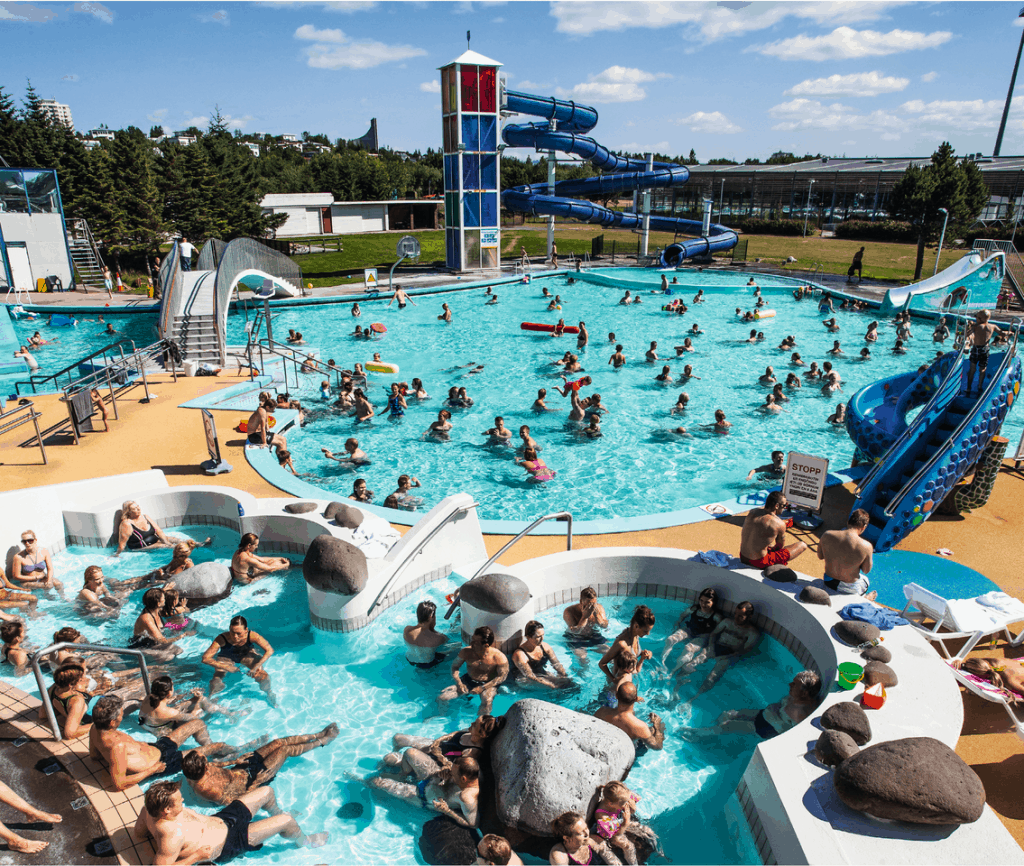 Source:  VisitorGuide.is
Laugardalslaug Geothermal Pool is one of the many family-friendly Iceland destinations. Icelandic people love their geothermal pools and my family loves this place.
There is a reason why Reykjavik alone has 18 thermal pools. Laugardalslaug Geothermal swimming Pool is a perfect place to spend a couple of hours on family vacations. Getting to the pool is easy. You can jump into a taxi, board bus number 14 or simply walk as it's only a one hour walk from downtown Reykjavik. As for the cost, a visit to the pool is quite affordable. The swimming pool also features steam rooms, volleyball courts, slides, and more. The different activities make the pool perfect for adults and kids of all ages.
Length of stay = About 2 hours
2. The Wonders of Iceland museum at Perlan
The Wonders of Iceland museum at Perlan forms a perfect family-friendly Iceland destination for your first day in Reykjavik. With high-tech displays on Icelandic volcanoes, glaciers & wildlife and including a simulated ice tunnel and a Northern Light Planetarium.
This Museum is located at the top of one of the highest hills in Reykjavik, making it a perfect destination to have a 360 degree view over the city while enjoying a cup of coffee at the coffee house located on the top level dome of Perlan. It is an ideal spot for families traveling with kids. The safe, educational and fun environment of the museum makes it an ideal destination for kids of different ages. Perlan also offers a perfect environment for some family photos.
Length of stay = About 2-3 hours.
3. Reykjavik Whale Watching and Puffin Tours
There are many Reykjavik tour companies that are more than willing to take you whale watching and puffin spotting. However, the duration varies. Make the necessary arrangements with your chosen tour company to avoid inconveniences. For families, especially with kids, I'd recommend shorter or private tours. They are more customized to suit your different needs. Some of the tour companies also have age restrictions. The experience allows you and your kids to see these beautiful creatures in their natural habitat.  I recommend doing this activity in the summertime.
Length of the activity should be about 3 hours but it varies based on the tour operator.
 3. Hallgrímskirkja Church Tower
The top of the Hallgrímskirkja Church Tower gives a perfect and breathtaking view of Reykjavik city. This is an ideal activity for the entire family. You use a lift to get to the top of the church. The tower offers an excellent spot to take great photos and also get your bearings. While at the top, you can see the entire city. The breathtaking view is simply unforgettable.
 4. Horse riding:
Iceland has a history of horse riding. Your kids can get an opportunity of a lifetime with the experienced horse riders guiding them through. The unique Icelandic horses give you the utmost riding satisfaction. The breed is calm and offers an excellent experience for kids.
5. Dog sledding
Icelanders have never used dog sledding as a way of transport. But it's an activity you can enjoy here. You will enjoy a 40-50 minute ride with highly-trained dogs. Huskies are not your average canine friend. They are highly trained to undertake their duties with unrivaled perfection. Dog sledding allows one to capture images of the breathtaking sceneries for the memories.
Although dog sleds on snow are fun and enjoyable, Icelanders also have modified options for the summer season.
6. See Massive Icebergs

This is another of the many family-friendly Iceland adventures. Iceland is known for its big Glaciers. There are many options on how to enjoy seeing or being on the glaciers of Iceland.
You could check out the largest man-made Ice tunnel at Langjökull glaciers, this experience is called Into the Glacier. Then you could also go south and visit the majestic Jokulsarlon – Glacial Lagoon by the largest Glacier in Iceland & Europe called Vatnajokull.
Many tour companies offer family trips with glacial boats on the beautiful Jokulsarlon. With a typical glacial boat lasting 1 hour, this is a perfect way to get an experience of a lifetime with your family. But keep in mind it's a 5 hour drive from Reykjavik so I recommend to stay somewhere in the South if you are going for this excursion as the 10 hours drive from and back to Reykjavik, plus the time to really enjoy the Glacial Lagoon equals a very long day for the family.
7. Learn About Viking History in Iceland
A visit to Iceland also presents a perfect opportunity for you and your family to learn about Viking history and culture. Who isn't curious to know more about the Vikings?
The Sun Voyager sculpture forms a perfect start to learn about the Viking's culture. Here you could read something about the voyages of the Vikings from North America, Russia and even to the Mediterranean sea. You can imagine the first Viking called Ingólfur Arnarsson settling in Reykjavik around 874.  After this you could go to the Settlement Exhibition where you can see the remains of one of the first houses in Iceland and learn more about the ways of the first settlers here.
8.Take a trip to some of the beautiful waterfalls.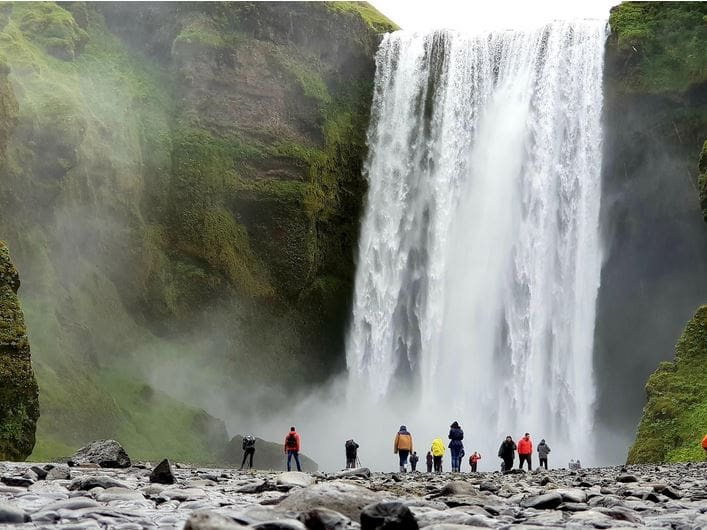 Iceland hosts some of the most beautiful waterfalls. The waterfalls are so many that you might be spoilt for choice. It's like everywhere you go, there's water cascading down in a beautiful fall. However, some of the waterfalls can be a bit dangerous for your kids so please take all safety precautions and follow the rules.
The majestic Gullfoss located on the Golden Circle is one of the most famous waterfalls you might want to visit in Iceland. It is an excellent destination for your kids. You can also check out the Svartifoss Waterfall. It is a beautiful waterfall in the Vatnajokull National Park. To reach it, you might have to hike to about 1.5 kilometers. With the even terrain, the hike is ideal for kids of different ages. You might also want to visit Seljalandsfoss and finally Skógarfoss waterfall if you are traveling in the south (maybe on your way to the Jokulsarlon – Glacier lagoon).
9. Visit the Reykjavik Zoo and Family Park
There you will find the domestic animals of Iceland but also Reindeers, seals and Arctic Foxes. Inside there is also a fun family park with play areas and some rides that are open in the summertime.  My family visits the Reykjavik Zoo often during the year.
10. Check out the Árbær Open Air museum
Árbær is the historical museum of the city of Reykjavik as well as an open-air museum. It's purpose is to give the public an insight into the living conditions, work and recreational activities of the people of Reykjavik in earlier times. They also have some domestic animals in the summertime and that's when we like to visit this great museum.
You can also see there real turf house which is like the houses J.R.R Tolkien was influenced by when he wrote about the Hobbit holes for the world of Middle Earth.
There are many family-friendly Iceland travel destinations. With waterfalls, glaciers, museums, and culture, Iceland is an ideal travel destination for all. The rich Viking culture spices up your trip to Iceland. The city also offers some mind-blowing experiences like Flyover Iceland. The culture and customs are unforgettable. It is a safe haven where kids can play and interact freely. You'll definitely love the many affordable activities for kids and adults. From whale watching to geothermal pool bathing, Iceland is quite a perfect city for family vacations and family trips.