Magical Napa Valley Road Trip: 7 Beautiful Wineries You Must Visit
Napa Valley is to wine what Disneyland is to California. It is the meeting point of winemakers and exquisite wines. In 2018, Napa Valley welcomed 3.85 million visitors. It has over 500 wineries, providing the perfect climate and soil to harvest legendary wines. With such an overwhelming range, Napa wineries offer an exploratory trip to wine drinkers and connoisseurs for a wonderful Napa Valley road trip.
Considering the popularity of Napa Valley in the wine business, picking one Napa winery for wine tours and tastings may not be easy. Here are seven shortlisted wine cellars to treat your oral and nasal palate
Ballentine Vineyards
Ballentine Vineyards in Mt. St. Helena is famous for hand-crafted red wines. It has over a 100-year-old legacy in winemaking. Betty and Van Ballentine, the co-founders of this winery, are also a couple dedicated to their business.
Climate and soil exposure adherence in Ballentine Vineyards helps grow red varietals like Cabernet Franc, Cabernet Sauvignon, Zinfandel. Although these variations are rich in flavors, you might miss out on a delicate fruity variant. So, while on a trip, don't forget to carry your Bottle of Merlot wine.
  Luna Vineyards
Luna Vineyards was established in1995 at Silverado Trail in the Napa Valley. It is the largest producer of Pinot Grigio. The winemaking team at LV uses natural fermentation methods in the wine cellar. The inviting property also offers incredible wines' quality.
2020 is the 25th year of Luna Vineyards. The tours and tastings at Luna Vineyards (LV) delight all wine enthusiasts. Catch the Silverado Trail scenic views overlooking the Luna Vineyard as you indulge in exquisite Pinot Grigio and Cabernet Sauvignon.
Silver Oak Cellars
It took a handshake between Ray Twomey Duncan, a Colorado entrepreneur, and Justin Meyer, a trained winemaker, to co-found Silver Oak winery in Napa Valley in 1972.
In two decades, Silver Oak's cabernets became the most sought-after wine in restaurant wine lists. The state-of-the-art winery got selected as the world's first LEED Platinum Winery. Silver Oak's brands include classic wines like Twomey, Ovid Napa Valley, and Timeless Napa Valley (expected in Fall 2020). You may indulge in shopping some high-prestige variants at their exclusive Silver Oak gift shop.
Beringer Vineyards
An American wine icon, Beringer Vineyards symbolizes the timeless appeal of the Napa Valley. It's 142 years of winemaking that impress wine drinkers and connoisseurs. Beringer has many firsts in winemaking history. In 1876, the first Beringer harvest happened. It was among the first to operate hand-dug cellars and the first to give public tours in 1934.
Visitors get the chance to taste the famous wines in the Old Stone Winery of Beringer. Other novel features include unique architecture, elegant stained-glass windows, a picnic area, a public tour to explore family history, and the winemaking process.
V. Sattui Winery
Founded in1885, V. Sattui Winery is a family-owned business that churns over 60 different wines, with a dozen wines scoring 90+ point ratings. V. Sattui Winery is a unique destination for events, weddings, picnics, and cheese shops that offer over 200 varieties. The wine is available from the company's organic vineyard to the consumer. Visitors are welcome for wine tastings by appointment.
V Sattui earned the "Winery of the Year" honor in 2018 for the 15th time at the Winemaker's Challenge. It is a dog-friendly place too. So get your kids and furry friend to come and play in the sun in the winery while you indulge in a wine tasting session.
Stony Hill Vineyard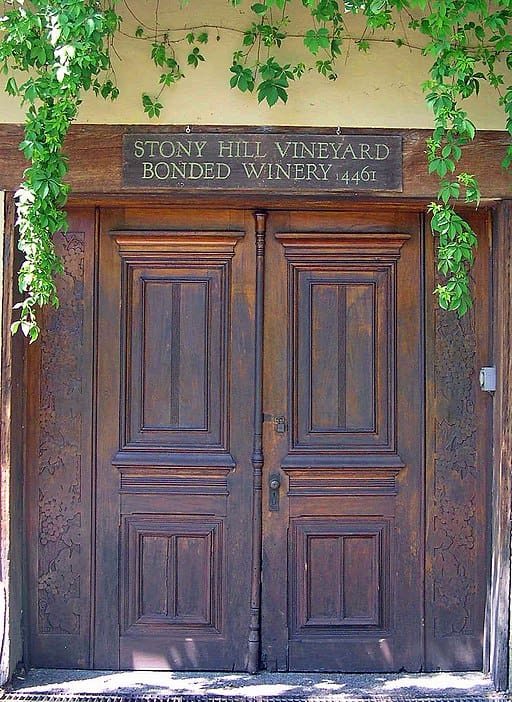 Wikimedia by: Stony Hill
Stony Hill has some aged wines of Napa Valley. Situated between St. Helena and Calistoga towns,  Stony Hill has been making wine for over 60 years. The winery first planted grapes in 1948. Wine tourists get to walk through the original plantings before they wind up at a family home for wine tasting.
The luscious vineyards of Stony Hill are Napa Green Certified and provide ample wine even after periods of drought.
Cade Winery
Cabernet Sauvignon lovers can head straight for Cade Winery. It is situated atop Howell Mountain and is Napa Valley's first LEED Gold Certified estate winery. Here, the state-of-the-art winemaking premises help minimize the adverse impact on the environment.
When you book your event at Cade Estate, you get the privilege to tour the impressive luxury wine cave. You also get to visit the fermentation tank gallery, tasting lounge & courtyard, and private winery terrace.
Conclusion
Napa Valley, California, has hundreds of vineyards producing epicurean wines for different tastes. Napa wineries contribute a large part to the American economy. Most elevated vineyards at Napa provide the right atmosphere for grape cultivation.
Plan a tour of the scenic vineyards at Napa Valley to enrich your knowledge of the wineries and wines. It will help you add a memorable taste to your celebrations.
***********************************
Image Source: WallpaperFlare.com