Learn About Yachting Vacations – Should You Go Bareboat, Skippered, or Crewed?  Here's Important Tips You Should Know This Before Renting a Boat

If you're thinking about renting a yacht for your next vacation, it is of prime importance that you know your different options. Renting a boat or yacht is not as simple as you may think. To be able to fully enjoy the experience, you have a number of important factors to consider.
As we want to simplify everything for you and we're all about giving you the best experience possible, we've prepared this comprehensive post that will enable you to intelligently decide on tricky boat renting options that everyone who wants to gloriously enjoy the sea absolutely needs to know.
Things You Should Be Able To Answer Before Renting A Boat
Knowing the answers to the following questions will make it easier for you to look for the perfect boat to rent:
Are you experienced when it comes to sailing or boating?
What are you after during your sailing holiday?
How many miles do you want to sail?
Do you prefer having more time spent in harbors and bays?
How many people will you bring with you?
Three Yacht Renting Options That You Need To Choose From
Once you've clearly come up with a sailing preference and plan after clearly answering our listed questions, you may then proceed with renting a boat. But upon renting one, you'd be asked if you want to go bareboat, skippered, or crewed.
The following question will be very easy for experienced sailors to understand. But for most who are not as experienced, such a question can be confusing and intimidating.  You need not worry as if you'd read on, you'd easily be able to know the difference between the three. So much so that come the time that you're asked the question, you'd easily be able to give an answer.
Option No. 1: Going Bareboat! Choosing a bareboat charter.
Going bareboat would make you fully responsible for the entire trip. A bareboat charter means that the boat will be handed to you in a completely "bare" fashion, in that, you would be the one responsible for the following:
sailing
navigation
anchoring
mooring
fueling and even cleaning
all your meals
Opting for a bareboat charter will give you the ultimate liberty on how you want to sail and navigate. It will also give you the best level of privacy.
However, you will also have full responsibility for the boat across all factors and endpoints once your rent begins. It would not come with a captain so you would have to be the captain yourself. Given that, you will be required to show proof of ownership of a boating license.
Expert sailors that don't own a boat prefer chartering bareboat because they get to control everything that goes on on their sailing holiday. If you're an expert sailor with a boating license, a bareboat charter will fit you. If you have no experience whatsoever, you'd be better off if you'd choose either of the next two options.
Also, remember to make some arrangements regarding the legalities when you choose this option. This will ensure that, should anything happen and you're faced with one of those tedious boat accident lawsuits, you have adequate support and representation to help you out. After all, when going out into the open ocean to relax and make some memories, the last thing you want to happen is having an accident and needing to face it alone – rather be prepared for the unexpected so you can sit back and be rest assured!
Option No. 2: Going Skippered! Choosing a skippered yacht.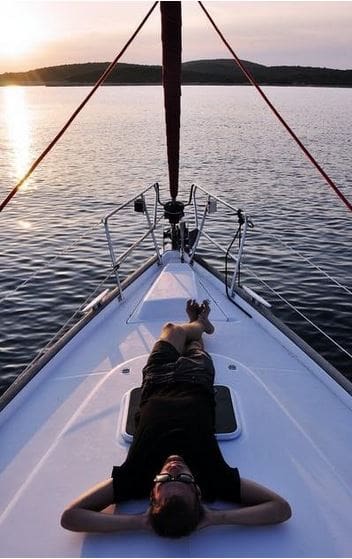 If you have no experience whatsoever when it comes to chartering a boat, skippered yachts will be best for you. A skippered yacht comes with a skipper or captain with a duly certified license who can control, manage, and sail the yacht for you. The skipper will be fully responsible for managing his or her crew members as you enjoy your sailing holiday.
Skippers are masters in sailing. They have excellent knowledge of the sea and they can guide you every step of the way in your sailing holiday. When getting a skippered yacht, don't forget that you need to give your skipper his or her own cabin together with food and drink provisions.
Beginners in sailing and those with advanced knowledge will highly benefit from sailing with a Skipper as they are experts in the field.
Option No. 3: Going all-out crewed! Choosing a crewed yacht charter.
This last option is one that will provide you the ultimate luxury. A crewed yacht charter is pretty much what its name suggests. It's a yacht rental that comes with an entire crew. A whole team that will be dedicated to giving you the best sailing holiday experience without even lifting a finger.
A crewed yacht charter includes the following:
An experienced skipper
A cook
A hostess
Cabin staff
The skipper will be the captain of the boat and will deal with everything that has to do with sailing so you could fully relax. Your cook will prepare everything for you. All you have to do is approve his or her menu and wait for mealtime. One or two cabin staff will help in the cleaning and administrative management of the yacht.
Do note though that all your crew members need to be provided with complete food and drink provision. Each also needs to have a cabin of their own. A crewed yacht charter is the most expensive kind of charter because you will be totally free from all sailing and administrative responsibilities during your holiday.
Some yacht charter companies even offer the option to rent a cabin in a crewed yacht charter.  This is an affordable option for a couple, but keep in mind that you will be sailing with several other couples that you do not know in advance.
Sail Away Wisely!
If you're looking for yachts to rent, do check out Isabella Yachts Phuket. They provide the best options for all kinds of boat charters and would give you the easiest time when it comes to planning, handling, and managing your sailing holiday.
When choosing a charter, always start with the kind of experience that you want. If you want a totally private sailing experience and you have a boating license, going for a bareboat charter will be best for you. If you don't have a boating license and you want to sail without having to navigate, moor, and anchor, a skippered charter will be ideal for you. But if you don't want to lift your finger at all and simply just want to enjoy a hassle-free sailing holiday, then going for a crewed charter will be best.