Top Things To See and Do in Dubai – See the Best in Just One Day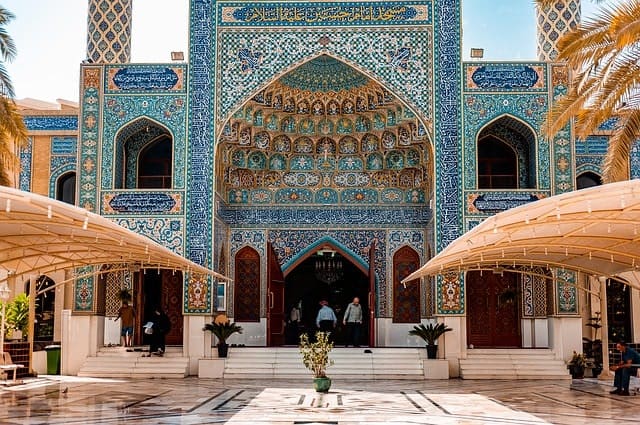 Dubai is like no other place on earth. It is amazing how it transformed from being a desert without buildings to a paradise for tourism, finance, and dramatic architecture, in addition to becoming a global business hub. It has impressive buildings, modern, futuristic, and cutting-edge structures that have set new standards in construction. Here you can find unique places like the world's tallest building, the biggest shopping center, artificial islands, all of which make Dubai an appealing must-see destination.
You could spend many days exploring Dubai, but if you're short on time, this guide tells you what you should see in 24 hours in Dubai.
Burj Khalifa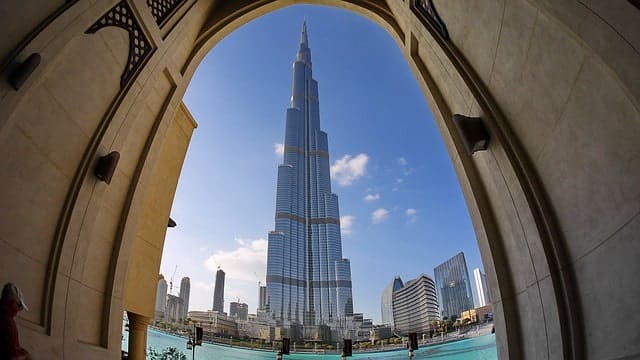 The tallest tower in the world! It is 828 meters high, and since its inauguration in 2010, no other building has overtaken it in height. It's one of the beautiful buildings in the world with Magnificent architecture. The view from the top is phenomenal! The building itself, more spectacular on the outside than it is on the inside. Inside it is just like any other standard 5-star hotel. They are utilizing a vanilla flavoured air freshener, which is an assault on the senses. The ideal time to visit is in the evening because the lighting makes the place look more stunning. However, Levels 124 & 125 during peak hours get congested. The world's fastest elevator takes you on 125 in less than a minute. When you're at the base and try to look up, it is difficult to notice how high it is; as the peak is far away, it appears very small. You can observe the whole of Dubai from the high floor of this tower. The Burj Khalifa has the highest observatory in the world at 442 meters, with 360panoramic views.
It is possible to take a boat ride at the Burj Khalifa lake. Fountain and Lights show in the evening from 6:30 to 10:00 PM, which runs after 30 minutes. Better to book the ticket online to get some deals.
Desert Safari Dubai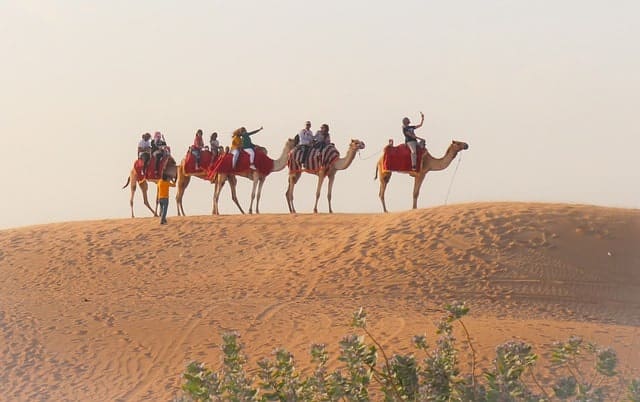 Most of Dubai's attractions are made on the waterside. In some instances, just five kilometres west of the great city, buildings vanish to make way for the desert. It's the place where one of the most booked trips- Desert Safari is made. This tour is the traditional "Desert Safari". Besides the time through the dunes at full speed, this excursion likes the sunset in the desert. Also, it consists of dinner and shows of various types, such as the famous belly dance.
During safari trips, cars also speed through the desert up and down dunes and lean-to unsuspected limits. It cannot be said that it is ideal for people with back problems or pregnant women. However, some tour operators offer desert safari without dune bashing. The tour operator with which I went, also provides a safari without Dune even with the discount. You can read more about my desert safari experience here.
The Dubai Mall
The Dubai mall has its second-biggest shopping mall with over 1,200 stores. Indeed, a minimum of one full day to enjoy the whole mall. There are stores of almost every international brand. Big brands like Dior, Armani, Dolce & Gabbana, Gucci even have stores mainly for children. The Dubai mall also has an aquarium within the shopping center, with a Big window through which you can observe all kinds of marine animals. Anyone who desires to try a great and different shopping experience just drive to the Dubai Mall.
It's well organized with sufficient & Relaxation rooms. There are lots of restaurants throughout the mall available on the G floor and LG floor. McDonald's & Pizza hut is on the top floor number two. The mall also has navigation maps in many places. So if you find it hard to navigate, you can check on the map.
Dubai Frame
Tagged by The Guardian newspaper as "the largest photo frame on the planet," Dubai Frame is a massive frame inaugurated in 2018. It is probably the most visited place in this city. From its 150 meters high, the Dubai Frame provides magnificent surroundings. One of the purposes of creating it was for people to look at 'New Dubai' and 'Old Dubai' from the same points. On the one hand, it shows modern Dubai and the opposite side, old Dubai. Adult ticket cost is 50 Aed while kids are 20 and. As compared to other tourist points in Dubai, it's affordable enough.
Xline
If you're enthusiastic about heights, In Dubai, you'll have a hard time choosing where to start… But why not continue to challenge vertigo with the Xline in Dubai Marina? It's just one kilometre from the urban zipline and is among the craziest activities in the city. It runs with an average speed of 80 km / h. You will only have to meet the following requirements: be between 12 and 65 years old, measure more than 130 cm, and weigh between 50 and 100 kg.
Sheikh Mohammed Cultural Center
A must-see for everybody enthusiastic about the culture and history of different countries: the Center will explain how the ancient nomadic Arabs lived and educate you on their lifestyle and customs. You will also discover the history of Dubai and the UAE, become familiar with the emirate's ruling empire, and be able to participate in Islamic prayer.
Conclusion
Dubai has so many things to offer. I've just highlighted a few important places you should visit during your one day trip to Dubai. Though you might not be able to see it all in 24 hours, you should consider them while playing your trip. This trip itinerary covers tours to shopping, adventure to culture, and best to familiar with Dubai. Depending upon your interest, you can schedule a trip. If you plan to visit safari in the evening, you should pay a visit to Burj Khalifa in the morning.
Let us know in the comments what you would prefer to visit on your Dubai trip.
******************************
About The Author:  Saqib Ali is a 27-year-old travel blogger based in Dubai. He works as a full time blogger and travel writer, but finds time to squeeze in his passion for travel blogging—especially as an authority on all things Dubai. Read more from Saqib at Dubaitraveladventure.com